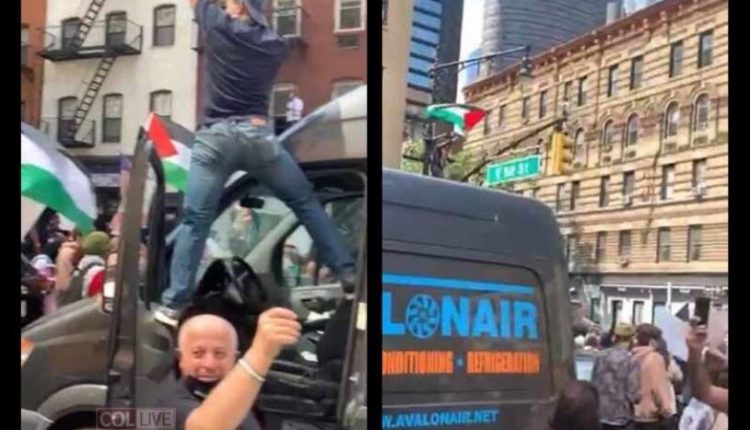 HVAC Company Fires Employee For Violent Anti-Israel Protest
AvalonAir fired one of their employees who was caught on camera using the air conditioning company's vehicle in the anti-Israeli and pro-Palestinian protest in Manhattan that turned into a violent rage. Full story
By COLlive reporter
The pro-Palestinian protest near Times Square in New York City last Thursday turned out to be violent as Jews were beaten and attacked.
A Lubavitcher who chossid watched video footage of the event noted that one of the protesters, speaking out against Israel while repelling thousands of Hamas terror missiles, was there with a commercial vehicle.
The company was AvalonAir, an air conditioning installation and repair service in Westchester County, New York. De Lubavitcher contacted the owner to inquire about his views and policies.
The owner John Bresnan was deeply concerned to learn how his employee represented the company. The employee was soon fired, COLlive.com was told.
In a public letter, Bresnan wrote, "Avalonair would like to offer our deepest and most sincere apologies to our Jewish neighbors and friends."
"One of our employees was seen with our trucks and in our uniform at a pro-Palestinian protest in Times Square. This protest was violent and innocent people were physically injured, "he wrote.
"We do not support this employee's opinion," he said. "We do not in any way support terrorism or violence against our Jewish neighbors and friends. We do not condone this behavior of our employees. We were shocked and disgusted. "
"The offending employee has been addressed and we ensure that this abusive and inconsiderate behavior will not be repeated by our employees in the future."