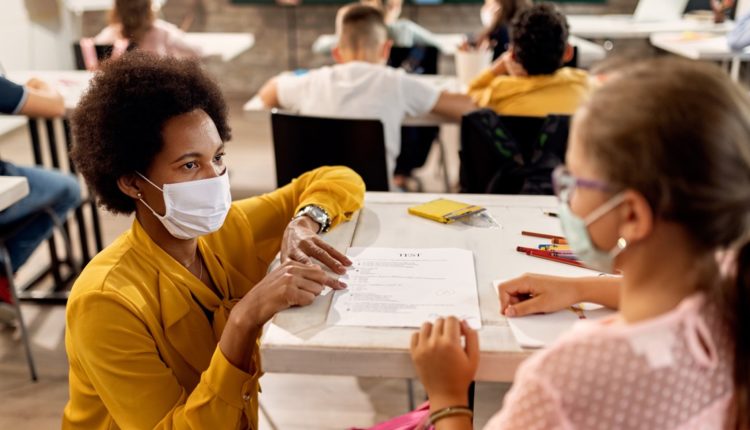 Howard County Schools masks required for 2021-22 school year
Masks are mandatory for everyone, regardless of vaccination status.
HOWARD COUNTY, Md. – Howard County Public Schools follows Centers for Disease Control and Prevention (CDC) guidelines when it comes to masks in classrooms.
According to Howard County Public School System Superintendent Dr. Michael Martirano, masks are mandatory at school for all students, staff and visitors, regardless of vaccination status.
Masks are also required on school buses, but not required when eating or drinking or outdoors. However, they are recommended for unvaccinated people.
dr. Martirano outlined further plans to ensure students are ready when students return to class, saying that HCPSS will continue to track several items, including:
Student meals: Meals are provided free of charge to students and are served and eaten in cafeterias. Elementary school students are given an assigned seat card to provide details if a close contact situation arises.
PPE supplies:

HCPSS maintains an inventory of PPE supplies, including face masks and sanitizing wipes, for the needs of students and staff.
Disinfecting hand gels will remain in the school buildings.

Additional care:

The current plexiglass will be retained.
Health Rooms will continue to maintain a designated isolation area.
General cleaning and disinfection will be performed in all school buildings, in accordance with CDC guidelines.

Air quality (HVAC):

Preventive maintenance of HVAC units is underway.
Before the start of the school year, HCPSS has replaced 12,439 air filters in the HVAC units that serve all HCPSS buildings. In some cases, HVAC units are equipped with two air filter tracks, one for a pre-filter and one for a final filter. In these cases, MERV 8 air filters were installed in the pre-filter position and MERV 13 air filters were installed in the final filter position. If there was only one air filter track in the air stream (ie there was no pre-filter), MERV 13 air filters were installed.
In the summer of 2021, HCPSS employees and outside contractors verified the operation of airside outdoor air valves and economizers for more than 900 HVAC units in all HCPSS buildings. Shortcomings were identified and remedied at the time or were identified for follow-up work, which will be completed before the students return on August 30.
HCPSS employees have or are in the process of verifying the operation of more than 900 exhaust fans in all HCPSS buildings. Minor deficiencies were identified and rectified immediately; other shortcomings were noted for follow-up work, which will be completed before the students return on August 30.

Screenings for disease: HCPSS will continue its process of self-diagnostic screenings. Parents/guardians are also reminded to perform health checks every day before their children leave the house. Details about health checks and when students should stay at home can be found online.
COVID-19 testing: HCPSS remains a voluntary K-12 COVID-19 testing program which will provide free COVID-19 testing for students and school staff who develop COVID-like symptoms or are identified as close contacts while in a school building.
COVID-19 dashboard: HCPSS continues disclose the number of positive test results self-reported to HCPSS of students, employees or visitors in school/office buildings during their contagious period.
"This is not a decision I have taken lightly. Getting our students back to school in person is a top priority," Martirano said in a press release on Friday. "We recognize in this case that 'an ounce of prevention is worth a pound of cure. I know not everyone is comfortable wearing a mask and I appreciate the cooperation of our community as we continue to fight this pandemic."
HCPSS continues to carefully evaluate several considerations in making decisions, including guidance and recommendations from health professionals and experts from the CDC, American Academy of Pediatrics, Maryland Department of Health, and Howard County Health Department; and feedback from stakeholders, including emails/phone calls from parents, students and staff.
"The health and safety of our staff and students is of the utmost importance," said Martirano. "There has been an increase in COVID-19 cases and we have a significant proportion of students who are not yet eligible for the vaccine, which requires layering. The use of face masks has proven to be an effective measure to prevent the spread of COVID-19. prevention and universal masking indoors will help us keep schools open."
RELATED: Masks are required again in parts of the RDW. Here's where
RELATED: Find Out What Your School District Is Doing About Masks This Coming Semester
RELATED: CHECK: When is the COVID Pandemic Considered Over?
WUSA9 is now on Roku and Amazon Fire TVs. Download the apps today for live news broadcasts and video on demand.
Download the WUSA9 app to have the latest news, weather and important stories at your fingertips.
Sign up for the Get Up DC newsletter: Your forecast. Your commute. Your news.
Sign up for the Capitol Breach email newsletter, featuring the latest news and an overview of the investigation into the Capitol riots on January 6, 2021.