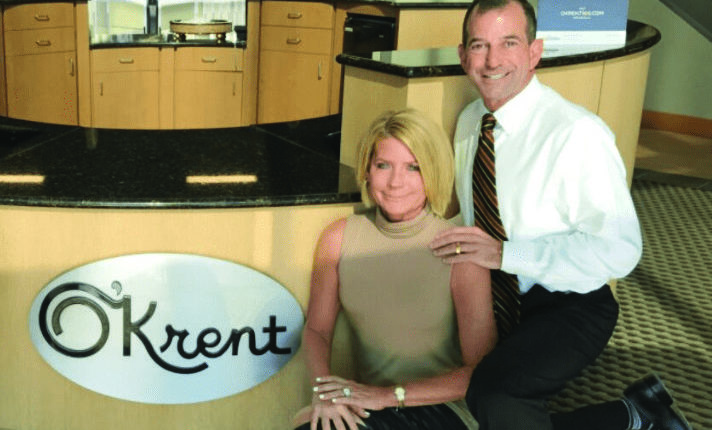 How to successfully live together, work together
To cooperate or not to cooperate, that is the question. The thought of spending every waking hour with your partner can be daunting. Will I have time for myself? What if we disagree on something? How can we reconcile family/family life and work meetings? To answer some of those questions, FCNews spoke to Rod and Madeleine Bayless of RFMS; Sam and Margie O'Krent of O'Krent Floors; and Jim and Donna Mudd of Sam Kinnaird Flooring. Following are some of their tips for partnering successfully with your significant other.
---
Donna and Jim Mudd
Sam Kinnaird's Flooring, Louisville, Ky.
Running a business and working full time while raising a family may seem like a chore, but for Donna and Jim Mudd it became second nature. They have known each other for 48 years and do almost everything together, so working together was not a challenge. "The first time I saw Jim Mudd, I was standing behind the counter of a Ponderosa Steakhouse," recalls Donna Mudd. "He had come in with his coach and I just thought he was the bomb." Fast forward 48 years later and the couple has been married for 46 years. During that time, Jim realized he wanted to run his own business and get back into the floor with his tennis partner and good friend Sam Kinnaird. The two opened Sam Kinnaird's Flooring with Merv Huber, Jim's friend from high school. Donna started helping in the shop part-time when she was an elementary school teacher, working from 5-8pm until transitioning to full-time. Although Jim and Donna do not work side by side because of their positions within the company (Jim works in the executive offices; Donna in the shop windows), they manage to see each other every day for lunch, talk about all things business and are active together in the NFA. Jim served as NFA president while Donna was the carpet chair for many years.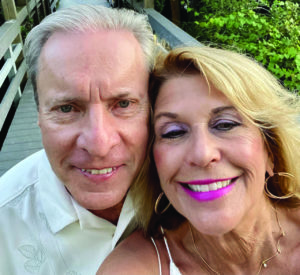 "[Working together] definitely gives us a lot to talk about at home," said Jim Mudd. "Good, bad or indifferent." Donna explained that while they don't work in the same office or even in the same building, it doesn't affect the business decisions they have to make together. For example, they discuss advertising, what stock they bring in, what products they put on the floor and also go to markets together. However, when their workday ends, they know when to turn it off. "When we get home, she usually tells me what problems she had during the day and I'll tell her what problems I had — if there were problems, what always is," Jim Mudd said. "Then it's like, okay, that's it! And we're going to have fun." To work successfully with your partner, the Mudds suggested knowing when to stop talking about work. Instead, explore shared hobbies, sports, listen to music and just spend quality time together, while also making time for yourself as an individual. "You have to have a good relationship and a lot of agreements outside the company," said Donna Mudd. "There is life next to floors."
---
Rod and Madeleine Bayless,
RFMS
Rod and Madeleine Bayless, who are from Tuscaloosa, Ala., have been married for 15 years. Ever since they closed their eyes at a football game in Alabama, the two have been inseparable. They now share two children and a business. The decision to work together was not meticulously planned, according to Madeleine Bayless. RFMS founder Terry Wheat made the decision to move into retirement and a second generation would take over. That second generation included his daughter, Madeleine. After Wheat's decision was made, Madeleine said she knew she wanted Rod by her side almost immediately. "I have always admired both his work ethic and strategic business thinking," explains Madeleine. "I knew he was the right partner for me in this venture." As they balance their son's soccer games and run RFMS, they say their work and private lives blend seamlessly because of their solid relationship and ability to talk freely with each other.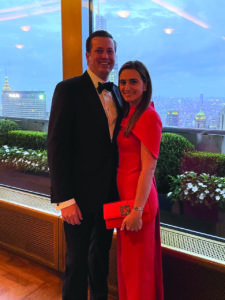 "Everything goes together, but the great thing is that we are always on the same page," explains Rod Bayless. "Whether at work or at home, we are always on the same line and running in the same direction, which is very convenient." While they may end up on the same page, sometimes it takes a constructive conversation to come to an agreement they both think is best for the company, the couple said. "Of course I think if you work together, be it a spouse or a co-worker, there will be disagreements," Madeleine Bayless noted. "Luckily, Rod and I are both very outspoken people. We generally say what we think, even when we know the other person might not agree. And we're okay with that. We've been together for a long time and there's a very deep respect in the other's opinion whether it's exactly the same or not." For other couples considering a business venture together, Rod recommended making sure friction isn't an issue. is."[If] they do everything they can to avoid friction, it's probably not the best idea to work together," advised Rod. "You have to have the ability to say, 'Hey, I don't agree with that.' To run a successful business, you have to be willing to look at both sides and work through it."
---
Sam and Margie O'Krent,
O'Krent Floors, San Antonio, Texas
Sam and Margie O'Krent, childhood sweethearts, got to know each other when they were just 14 and 15 years old; they have been married for 37 years. Growing up in the family business, Sam saw his great-grandparents, grandparents and his parents working side by side at O'Krent Floors. While Sam would follow in their footsteps, Margie said she never thought she'd get into the family business herself. Margie O'Krent had worked for a major public accounting firm for six years, and after getting on the trail of a partnership, she knew it wasn't for her. She then switched and applied to American Airlines, where she became a flight attendant. "I went into our marriage and said, 'I will never, ever work in the family business,'" recalls Margie O'Krent. That was short-lived. Finally, Sam asked to tap into Margie's financial skills to deal with a problem in the store. From then on, the two would work together at O'Krent Floors.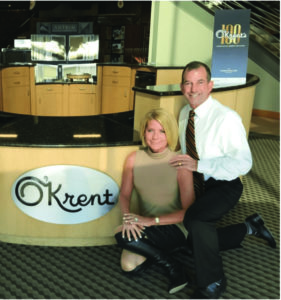 Aside from balancing each other, the couple said they pride themselves on their communication — something they said is essential not only when working together, but in a relationship in general. Even when it comes to something only one of them is involved in, the duo said they are constantly copying each other on emails and participating in the daily conversations and strategic planning. By focusing on their communication during their workday, there is no longer a need to repeat it at home, they noted. "An employee's husband, they usually only hear the bad things about the company," explained Sam O'Krent. "You go to work, you come home, and if you start talking about your day, you're talking about the bad things. Now we're in a situation where we don't have to inform each other about what's going on — good or bad." Another way to work together as a couple is to embrace your differences, the couple said. when working with your partner, it's vital to have mutual respect for each other and the ability to set clear, concise boundaries, the couple explained. "There will be problems," said Sam O'Krent. is different from a marriage because it involves other people as well and there are business ramifications.When making business decisions, [you have to focus on] what is best for the business."