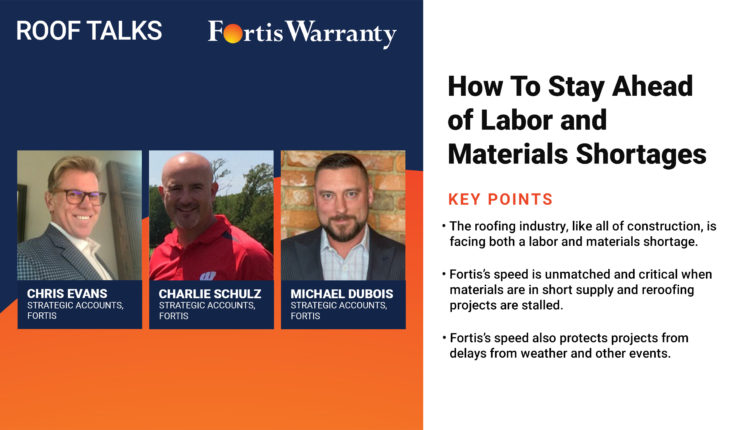 How To Stay Ahead of Labor and Materials Shortages
The roofing industry is embroiled in labor and material shortages, which makes it challenging to say the least – and not just for roofers. Organizations with extensive roofing portfolios also need to navigate the best action plans for their assets.
To find out how Fortis Warranty is helping the industry address these shortfalls, Roof Talks host Daniel Litwin sat down with a trio of experts from the company's Strategic Accounts team, Michael DuBois, Charlie Schulz and Chris Evans.
Overall, Fortis's ability to provide robust reconditioning solutions, backed by a Lloyd's of London backed warranty, makes it easier for portfolio managers to get the most out of their homes.
Fortis will never prematurely replace a roof it doesn't need, and thorough, proprietary assessments and service ensure that attention is only paid to what needs attention.
"[Clients] don't have to wait six months to get their roof done," said DuBois. "The conversation is exactly this: we can be on your roof in four weeks. … We can be off that roof a week, maybe two weeks later, and you won't have to worry about anything after that.'
That speed also translates into benefits in terms of total downtime and protection against natural disasters, weather conditions and other potential delays.
"The duration of our projects can be considered [around] 30% of the time investment that an equivalent renovation project would take," said Schulz. "That translates into much less impact and downtime for the customer. … [We're also not] opening up the building to the elements to the extent that a renovation project would."
Follow us on social media for the latest updates in B2B!
Twitter- @MarketScale
Facebook- facebook.com/marketscale
LinkedIn- linkedin.com/company/marketscale