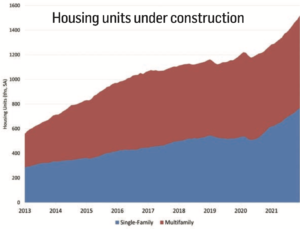 Housing: Builder market hopes to weather the storm
"Given these market challenges, we expect single-family home construction to remain flat this year and decline in 2023 as higher interest rates weigh on housing affordability," said Fan-Yu Kuo, an economist at NAHB.
Construction results are mixed when viewed on a regional basis. The largest decreases in the number of new-build homes occur in the south and west (18% and 21%), respectively. The Northeast recorded the largest spike, growing 13% to 173,000 units, followed by the Midwest (2%) at 217,000. However, these data should be taken with a grain of salt, as they can be skewed by peaks and troughs in key regions, observers say.
Single-family home developers are walking a tightrope in their efforts to balance competing forces. "On the one hand, strong positive demographic forces and underlying economic fundamentals are supporting earnings in new construction," said Sarah Martin, senior economist at Dodge Construction Network. "On the other hand, sharp negative pressures have come from tight supply, high material prices – due to the supply chain disruptions of the pandemic – and now rising mortgage rates that could thwart expansion."
By contrast, the seasonally adjusted rate for multifamily homes fell 27% to 469,000 in May, offsetting strong gains from the previous month as apartment demand grew, according to the Census Bureau. Yet this figure is only 3% behind the May 2021 growth rate of 485,000.
"We expect both multi-family construction and remodeling to continue to grow this year, although high construction costs and affordability issues are making some developers increasingly cautious," said Robert Dietz, NAHB senior vice president and chief economist.
Dodge is equally optimistic about market growth, predicting that the number of households will increase by 4% to 707,000 units by 2022. At least two demographic trends will underpin the development of vibrant levels of multi-family housing. "First, a significant number of households are expected to move to less populous locations outside of central cities, Dodge said. "Second, more millennials and others are expected to remain tenants or become homeowners by choosing condos as attractive alternatives to more expensive single-family homes."
Indeed, a deep dive into housing data indicates that it is premature to sound the alarm. While private homes approved by building permits in May fell 7% below the revised rate of 1.82 million in April, this rate is nearly the same as the May 2021 rate, the Census Bureau reported. The lion's share of building permits comes from single-family permits, which are down 5.5% from the previous month to 1.05 million. Permits for units in buildings of five units or more fell 10% in April to a seasonally adjusted rate of 592,000, but that figure is almost 17% higher than a year ago.
In addition, the 283,000 private homes that have been approved but not yet started were up 12% from a year ago and slightly more than April 2022, the Census Bureau reported. This is a stark reminder that builders need a steady stream of wood and other building materials to keep projects moving.
Macro issues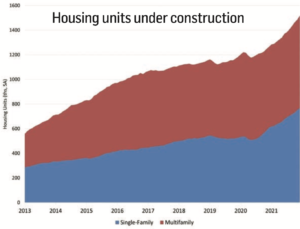 To fight inflation, the Federal Reserve continues to tighten monetary policy and raise interest rates. Fannie Mae estimates that the monthly principal and interest payment for the purchase of a mid-price home has increased by $500 since the beginning of the year due to the rapid rise in mortgage rates. "This will undoubtedly slow the economy, and we expect a modest economic recession in mid-2023 given tighter financial conditions and increased economic uncertainty," NAHB's Dietz noted.
All of these are major concerns for new home developers, as builder confidence fell for the fifth straight month in May, reaching its lowest level since June 2020, NAHB reported. Supply chain disruptions and rising borrowing rates threaten to exacerbate affordability problems in the coming months. "Higher home costs are pushing buyers out of the market, especially first-time buyers and first-time buyers," explains NAHB's Kuo. "The best way to alleviate growing affordability challenges is for policymakers to address ongoing supply chain disruptions to help builders reduce construction costs and increase production to meet market demand."
These and other issues have a trickle down effect on construction dealers serving new home buyers. "Flooring is still (roughly) service and freight," said Doug Davis, president of Artisan Design Group in Dallas. "The supply chain has been difficult with material delays, shipping delays, etc."
While some of the housing demand is expected to be sidelined with higher mortgage rates and the threat of a recession, the housing shortage is expected to continue. "Demand will come back when interest rates eventually start to fall again after an economic downturn," Kuo said. NAHB estimated a net U.S. housing shortage totaling more than 1 million homes.
When the dust settles, labor problems will emerge as the main limiting factor for housing construction. The shortage of construction workers has been well documented over the past 10 years – and 2022 will be no different. There is a record shortage of 449,000 construction workers, NAHB reported.
"Skilled labor shortages are leading to construction delays and increased housing costs and will affect the interaction between builders, subcontractors and suppliers," Kuo said. "This deficit will persist even through an economic downturn." Some regions have a smaller number of artisans than others, which can have a direct impact on the speed at which they come to market.
Trends for home buyers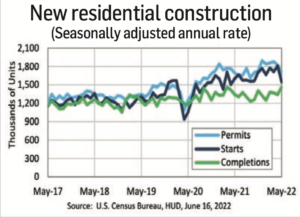 Further worsening of matters is consumer confidence in the housing market. The Fannie Mae Home Purchase Sentiment Index remained relatively flat in May, but moved closer to the 10-year and pandemic low of 63 as of April 2020. Surveyed consumers continue to express concerns about home affordability as the indicator "Good Time to Buy A new survey finds low, as 79% of respondents said it's a bad time to buy a home.
"These results suggest to us that higher mortgage rates, high home prices and inflation are likely to continue to push potential home buyers and potential sellers with lower, fixed mortgage rates out of the market, supporting our forecast. home sales will slow significantly for the rest of this year and next," Doug Duncan, Fannie Mae's senior vice president and chief economist, said in a press release.
In addition to timing, there are underlying factors that influence the choice of housing and floors for all age groups. For example, millennials and the oldest members of Gen Z have suffered most of the job losses since the pandemic and are also the most likely cohort to be renters, Dodge's Martin said. from April. "In addition, as multifamily construction shifts to smaller, suburban projects outside central cities, the proportion of large, luxury high-rise projects could decline and suppress overall construction going forward."
The pandemic has led to a need for more living space and people continue to use their homes for more purposes, most notably telecommuting. According to fourth-quarter 2021 data from the Census Quarterly Starts and Completions by Purpose and Design and NAHB analysis, the average square footage of a single-family home increased to 2,338 square feet, while the average (average) square footage for new single-family homes increased to 2,561 . "We expect home size to continue growing modestly, given a shift in consumer preferences for more space due to the increased use and role of homes – including for work – in the post-COVID-19 environment," said Dietz of NAHB.
Floor choices are influenced in part by how these spaces are used. "Product performance in the new open floor plans and the way the product performs in high traffic areas [tends to favor] hard surfaces because of their durability," said Davis of ADG. "I feel like it's playing against the builder when they have to cut corners to meet affordability and miss out on customer satisfaction."
Perspective
Looking ahead, high inflation is expected to constrain consumer budgets, along with rising rents, higher house prices and rising mortgage rates. At the same time, wages remain well below the rate of inflation. "With more limited purchasing power, buyers, renters and investors who had become a big part of demand when interest rates fell are expected to pull back," Martin said. "And housing construction will slow from the record highs of the past two years. On the supply side, rising material costs, labor shortages and supply chain problems will also contribute to the slowdown of new construction."
Over the long term, Dodge said strong demographic trends and economic fundamentals will keep demand positive.
As Martin explained, "We still expect growth in both the single-family and multi-family sectors in 2022, just at a more moderate pace."