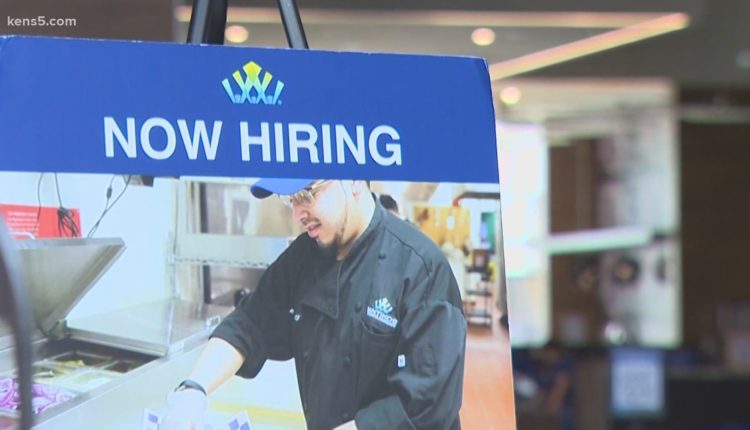 Help Wanted: SA employers looking to hire right now
commercial street
Thousands of jobs are up for grabs in the San Antonio area. This week a look at some in construction, plumbing and healthcare.
SAN ANTONIO- METHODIST HEALTHCARE SYSTEM
Thousands of employers in San Antonio are looking for people. If you're looking for a new role, here are some that offer multiple positions, some with higher pay, fringe benefits and incentives.
Methodist Healthcare System is seeking experienced registered nurses, RN case managers, respiratory therapists, and other support roles. There is room to grow, with many positions leading to leadership roles.
They have released a new salary structure for RNs depending on the specialty; they also offer an enhanced sign-up bonus for experienced RNs and other professional positions. They also offer a relocation bonus, employee referral program, tuition reimbursement, and student loan forgiveness.
For more information or to apply, visit their career website.. They will also be holding a career fair on July 15 at Saltgrass Steakhouse in Helotes from 3-7pm for positions with Methodist ER Helotes.
Stewart Plumbing focuses on commercial construction and carries out many ground projects in locations such as schools. They mainly operate in and around the San Antonio area.
They want to fill all roles, from interns to graduate journeymen, with salaries ranging from about $12-28, based on experience.
They offer several benefits, including health insurance, paid vacation, paid vacation, training, and continuing education.
To apply, call 210-658-0041 or apply locally at 8710 Business Court in Converse.
MEMCO recruits, screens and hires workers for local construction jobs, including general labor, electricians, sheet metal installers, duct installers, plumbers and other positions.
MEMCO says pay varies by position, level of experience and other factors, but normal rates have increased by $2-4 per hour due to the tight labor market, depending on position.
For more information on available positions, call 210-572-1378 or visit MEMCOstaffing.com.
Architectural Divison 8 designs, supplies and installs doors, frames, hardware, windows, access control and automated openings to local locations such as schools and hospitals, along with installing glass and aluminum storefronts.
They are currently looking for delivery drivers, material handlers, commercial door and hardware installation technicians, and glass and aluminum installation technicians.
They prefer experience but can provide on-the-job training to someone with the right attitude and interest; they do require a background check and a drug test.
The salary range is $14-16 to start, depending on the position.
Benefits include medical, dental, short-term and long-term disability, a 401k match; it is also an employee owned company.
More info/Apply: Click here. Veterans can also participate in a job market on July 8
The Liberty Group connects employees with local property managers looking for employees. They recruit and screen employees, offer training in some cases, and showcase available positions throughout the area.
Positions include doormen, maintenance professionals, chief maintenance clerks, leasing agents, assistant managers, managers and executive functions.
Experience is not necessary for most positions and training is available for leasing agents.
Starting salary at $14 – $19.65 per hour.
More info/apply: Click on here. They will also be holding an employee fair on July 8 from 10-2 at 1100 NW Loop 410, Suite 510.
After seeing a major boost in business, SeaWorld is hiring hundreds of employees to meet increased demand.
The pay is $12/hour for host/hostess, $13/hour for ride managers, $13 for day park quality jobs, $13 for resort services hosts, $12-13 for food service ambassadors, $13/hour for chefs, $14/ hours for warehouse workers, $13.50 for security guards and $16/hour for lifeguards, with a $1,000 stay bonus for lifeguards who stay all season.
They also offer full-time positions that pay more, in areas such as mechanical, carpentry, and electrical.
Experience not necessary; apply at SeaWorldJobs.com
As Santikos' business grows again, they are hiring caterers (line cooks), bartenders, servers, guest experience managers, and specialists.
Benefits include free movies, discounts and bonuses; for caterers/line cooks there is a $1000 retention bonus; for bartenders and servers there is a $500 bonus.
Visit the Santikos. to sign up website; you can also attend a career fair on July 8 at the Mayan from 11 a.m. to 4 p.m. or July 14 at the Palladium from 11 a.m. to 4.
100% of profits go back to the community through the San Antonio Area Foundation.