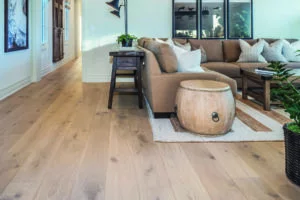 Hardwood: Upper-end goods = greater profits
lIn the current inflationary climate, one might assume that sub-segments such as the ultra-high-end hardwood flooring market — defined as products sold in the $14-$25 per square foot and up range — could take a big hit. That couldn't be further from the truth, however, as discerning consumers with high disposable incomes continue to show a strong appetite for high-quality hardwoods with equally high-quality visuals and features.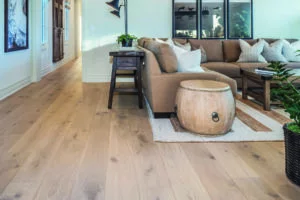 "There is definitely demand for these types of products and it tends to be somewhat recession-proof," said Dan Natkin, CEO and general manager of Bauwerk, the parent company of the Boen brand. "For those who can afford the best, they will always spend the money."
Other leading manufacturers serving the ultra-high end of the timber market agree. Ron Sadri, founder of Provenza, headquartered in Tustin, California, said he's not surprised there's still strong demand for high-quality products. "In our part of the country we pay $7.50 for a gallon of gas and yet people still shop for high-end goods. Business is still on the rise. It's crazy!"
Some industry observers say premium products are less affected by wild economic swings. "Consumers of these products are willing to cut corners elsewhere if necessary to get the best possible hardwood product on their floors," said Kevin Whaley, vice president of sales and product at LM Flooring, a division of AHF Products. "At the top end, hardwood is still selling well and will continue to sell in the future."
It's not that senior customers are completely immune to inflationary pressures, observers say. However, this category of consumers reacts differently when making their purchasing decisions in such an uncertain environment.
"All industries are concerned with inflation rates and the effect on homeowners who sell, buy, and most importantly build homes," said Julie VanWinkle, who serves as a designer concierge at DuChateau, a specialty, high-quality hardwood supplier. "When interest rates rise and stock markets struggle, everyone from the mainstream consumer to the luxury buyer knows what's going on. The luxury buyer who tends to buy the more expensive offerings tends to be better insulated. An important market for DuChateau is that 'in-between' buyer (between the mainstream customer and your luxury buyer), those on the fringe of the high-end market that traditionally has more disposable income. That's who I think will be most affected by the higher interest rates."
Nevertheless, it is critical that RSAs do not make automatic assumptions when quoting customers for high-quality wood. "When I worked in retail, we said, 'You will never offend anyone by showing them the best,'" VanWinkle recalls. "Because I was in the field training the RSAs, I'd say, 'Just because you think it's expensive doesn't mean your customer thinks it's expensive. Don't shop in your own pocket.' I learned that lesson very early in my career as a designer."
High-end hit parade
Despite the ongoing impact of record inflation, the industry's suppliers continue to roll out new products reaching the top end of the price spectrum. These range from trendy wide and long plank products to special custom floors with patented finishes and surface texture applications. Below is an overview of some of those products.
Boen Hardwood's Chaletino is a ¾-inch thick designed offering of 11 1316 inches wide x over 9 feet long. Additionally, each shelf is hand-assembled by skilled artisans and has a suggested retail price of $18 per square foot. "Chaletino is our number one, go-to product in that range," Natkin said. Chalet, the "big brother" of Chaletino, can grow up to 16 inches wide x 16 feet long, he added.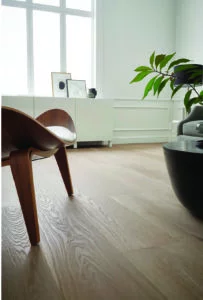 New from the LM Flooring division of AHF Product is Solano. The product that measures 916-inches thick x 7 ½ inches wide and 75 inches long, fitted with select quality Euro white oak in a 3mm dry sawn surface. Each shelf has a four-sided chamfer, which is designed to frame the product's long-grain pattern with just the occasional touch of character, according to Whaley. MSRP: $14-$16 per square foot.
Surfaces 2022 also served as the launch pad for other standout offerings. For example, the Harris Wood stand featured new luxury products in the Naturally Aged line. In particular, the company's Pinnacle Collection. Dubbed the company's 'most robust and prestigious line', the collection features European engineered white oak planks in a 9 12-inch wide, random size reflecting today's trend colors. The product, with a 4 mm sawn top layer, has been enhanced with wire brushes, micro-beveled edges and a low-gloss urethane aluminum oxide finish. MSRP: $15 per square foot.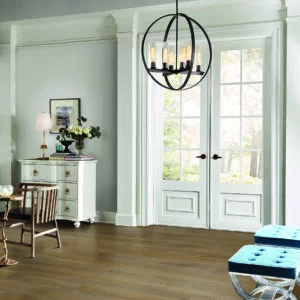 Fabrica Wood, part of The Dixie Group, continues to innovate its luxury hardwood flooring offering with products that aim to stand out from the crowd, both in appearance and performance features. Recently voted best in category in FCNews' 2022 Award of Excellence Competition, Fabrica's latest hardwood flooring line extensions directly address consumer tastes and demand for wood flooring products that are out of the ordinary. On Surfaces, the company unveiled more than a dozen new collections on three platforms earlier this year: Relic, Fortress and Bastion. Relic is a sister product of the premium Chateau Collection, which Jamann Stepp, vice president, hard surface, described as a "broad", 9 12-inch product with a cut surface of 4 mm and 58 total thickness. Relic is of the same construction, but in a clean ash type in a total of eight colors. Then there's Bastion, a European white oak with a 2.2mm face of 6″ 12 inches wide — true "clean and contemporary looks," Stepp noted. Fortress is a 7 12-inch wide rustic ash. To date, the company offers 45 SKUs in its hardwood program. Retail prices start at about $13 per square foot and go up from there.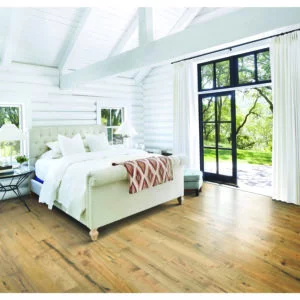 The expansive Mohawk booth showcased the high-end Karastan brand, which was expanded in 2020 to include luxury hardwood floors. The continued success and expansion of the line, dubbed "BelleLuxe", continues to demonstrate that there is still a strong market for more expensive wood amid the sea of ​​entry-level and mid-range products.
"Karastan is the industry's most coveted, most protected luxury brand," said Seth Arnold, vice president of residential marketing. "We are developing the brand to serve as a total flooring brand for the next generation to better serve both consumers and our retail partners."
Not to be outdone, Provenza put the spotlight on its Dutch Masters Collection, a high-end hardwood floor line that comes in planks nearly 9 inches wide x 82 inches long. With a total thickness of 58 inch, the off-the-shelf technical offering features light to heavy wire brushing combined with a multi-stain process that is hand-finished by Provenza master woodworkers at the Tustin, California manufacturing facility.
"It is a wide, long plank option with European oak, which provides a very clean and natural look for end users who want a more contemporary look," explains Sadri. "It is primarily intended for residential applications, but it can also be used in new high-end homes or light commercial installations."
In the award-winning space of Best of Surfaces, Shaw Floors showcased several new high-quality hardwood collections: Grand Estate and Joinery – both from the company's chic Anderson Tuftex division. Grand Estate is an oil-finished collection, a first for AT, which is launched in 10 trendy colors. The line is nearly 10 inches wide in arbitrary lengths up to 86 inches. MSRP: $23 per square foot. "It's that clean European white oak look, thick veneer, but has that oily finish that gives it that low shine," said Charla Pettingill, director of creative product design – hard surfaces.
Joinery, on the other hand, offers a wooden floor with an inlay design inspired by a Japanese woodworking design element. How it's made: The inlays are actually done before being stained, which is accomplished through a reactive process.
Mullican Flooring, proud of its Made-in-the-USA status, offers products at different levels of the market. At the top is the Castilian Premier line, which comes in the popular 9 ½-inch wide platform and is 8 feet long. The top wear layer, which is 4mm thick, has a dual-stain process in an ultra-low gloss aluminum oxide finish. MSRP: $15 per square foot.
Another eye-catching introduction of Surfaces was the new Timbertop Deluxe series from Urbanfloor. Made from Western European oak, the line comes in a 9 ½-inch wide plank format with a micro-beveled edge and lengths extending to 96 inches. The wear layer in the Deluxe version has been improved with a 6 mm thick wear layer for a total thickness of 1316-thumb.