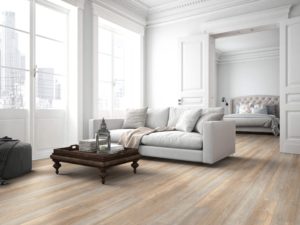 Happy Feet unveils new Made in USA collection
Chattanooga, Tenn.-Happy Feet International introduced its latest Made in the USA product, Liberty Bound. The rigid core LVP, known as SPC core, makes Liberty Bound unique in the market by providing superior impact resistance, heat tolerance and waterproof durability.
"We wanted this product to have an impact on our customers' lives and their pursuit of happiness," said Casey Johnson, CEO. "It had to outperform others in the market by demonstrating strength, stability and long-term reliability. Liberty Bound is solid, tough but beautiful, and it performs incredibly in any space."
The SPC core allows Liberty Bound to retain its shape when installed on uneven subfloors, making it functional on almost any existing hard surface subfloor. It is said to support all levels of foot traffic, making it suitable for any residential household or large commercial space. Liberty Bound's ultra-strong core with IXPE foam pad backing reduces overall sound transmission by absorbing sound. The backing, also known as premium acoustic underlayment backing, provides advanced moisture protection and shock absorption. In addition, floor adhesives, vapor barriers and subfloors are not required, making installation quick and easy.
The new product comes in 10 light colors and offers a range of luxury benefits that give customers peace of mind, the company said. The American-made LVP is childproof, pet-proof and waterproof. Liberty Bound is also antimicrobial and scratch and slip resistant, making it great for commercial or residential areas with high traffic.
"Our Made in the USA collection carries history, and its production and performance is possible through many helping hands," said Johnson. "We can do what we do because of the hard work and flooring experience of our team, but our family of independent retailers and mom-and-pop flooring stores contribute to our success."
The Liberty Bound line, distributed from five warehouses in the US, allows Happy Feet to ship almost all orders within 24 hours of placement. The company's strategy is helping to alleviate the serious supply chain problems facing most flooring manufacturers today. Liberty Bound can be found through Happy Feet's distributors across America.