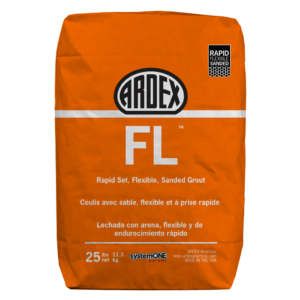 Grouts, sealants help ease the task at hand
By Jacqueline Hinchcliffe†With the arrival of spring comes warmer weather. Along with rising temperatures, there is high moisture content in the air, which can present a challenge for floor installers on the construction site, whether indoors or out. "It is important that outdoor installations are protected from the [prospect] from efflorescence," said Ian O'Connor, product manager, grout, care and tools, Custom Building Products.
He recommended a fast-drying, high-quality cement grout and a fast-setting, high-quality mortar. "What that does is trap the potential salt that would form the rash. This prevents your installation from being damaged. If the contractor, installer or property owner goes that extra mile in properly selecting materials for outdoor applications, especially in a wet and humid environment, this can keep your installation looking good for years to come."
Below is a rundown of some of the latest grouts and sealants designed to address construction site problems.
Ardex
Ardex FL is a high quality, fast curing, flexible, sanded joint that provides fuller, stronger joints and a smooth finish. The Portland cement based polymer modified grout is both freeze/thaw resistant and water repellent and opens to traffic in just 90 minutes. Whether a floor or wall application, ArdexFL is suitable for indoor and outdoor installations of porcelain, glass, quarry, ceramics, mosaic and a selection of natural stone tiles. Because it is naturally resistant to mold and mildew, it is ideal for use in areas prone to water ingress. Ardex FL is available in over 30 shades, making it ideal for a
wide variety of indoor and outdoor projects.
bostik
For those looking for premixed grouts for easy and quick installation, look no further than NeverSeal from Bostik. This commercial grout offers color accuracy, water resistance, stain resistance and crack protection. Plus, it's UV stable, which prevents colors from yellowing, darkening and fading and never needs to be sealed, according to the company.
NeverSeal has an installation speed that is up to 50% faster than traditional grouts, according to the company, and contains Bostik's Blockade antimicrobial protection, which inhibits the growth of mold, mildew and bacteria that can cause stains. NeverSeal also contributes to LEED credits, making it attractive to those who make it a point to stay environmentally conscious.
Custom Building Products
Prism Ultimate Performance, a latex polymer modified formula based on calcium aluminate cement, aims to set a new standard in cement based grout technology. The product consists of a specially crafted blend of lightweight recycled glass and fine aggregate sand that provides a smooth, creamy consistency that is not only easy to spread, but also easy to clean.
In addition, Prism will not smudge or obscure regardless of tile type, temperature or humidity, and will maintain a uniform, consistent color. It cures quickly, requires no sealer and is ideal for both floor and wall installations. Whether used on countertops, bathtub surrounds, showers or any other high traffic area, this grout resists shrinkage, cracking, powdering and wear and will not fade.
jam
As products across the industry are making a point to be more environmentally conscious, Stauf is following suit with its ACS-210 True Seal acrylic concrete sealer/primer. This formula is low odor, free of solvents, isocyanates and is certified as very low emission. In addition to its environmentally friendly properties, ACS-210 True Seal has a moisture barrier that is specially made to reduce the moisture pressure (85% RH) of a damp subfloor to an acceptable level needed to install the floor. The formula spreads easily, creates a dust-free and even absorbent surface and is ideal for concrete subfloors.