Global RAIS resurrects tenKsolar's panel and racking technology
It is common for technologies to exit the solar energy market. The industry is constantly growing and changing, and not every manufacturer survives.
What's unusual is that a solar technology that's been dormant for half a decade is resurfacing under a new name.
In 2017, solar rack and module manufacturer tenKsolar closed its doors. Today, the technologies are available again from a new company called Global PRESIDENT.
Greg Cox, co-founder and president of Global RAIS, and his business partner Todd Broome are responsible for reinvigorating tenK's own interconnected solar modules and kit-based racks. Cox is an environmentalist and former solar contractor who in the past used dual-tilt systems and installed several projects using tenK technology on Broome buildings.
tenK was founded in 2008 and closed its doors nine years later. The manufacturer was known for its prepackaged "wavelets" that were mainly installed on the commercial market. Solar panels, racking and microinverters were sold together as kits.
Many tenK systems began to fail after implementation due to a microinverter manufacturing problem that caused water damage. A report said 100 installations in Minnesota alone were out of order in 2015.
tenK resolved the microinverter failures when it went bankrupt in 2017 due to an unrelated issue. Global RAIS plans to help previous tenK customers replace failed inverters with its current, compatible microinverters.
When tenKsolar closed its doors, Cox was working on several projects, so he acquired some of the company's remaining product inventory.
"I was curious what would happen to the technology," Cox said. "It was really good technology and I was sad to see it go away."
So he and Broome set up a company to buy tenK's intellectual properties. At that time, tenK had ceased all activities, sold the rest of its inventory and laid off its employees. But the former owners still owned the IP and patents of the technology.
Cox and Broome offered the former tenK owners to acquire the technology, including 30 patents related to the design of solar modules and scaffolding. The pair officially acquired tenK's IP in June 2019 and were preparing to revive dormant solar technology once investors were assured. But then COVID-19 hit.
"COVID was actually a blessing in disguise for us despite all the devastation," Cox said. "It has allowed us to really rethink and strategize and position ourselves to be successful. It is clear that we have learned lessons from what tenK has been through and that we will not repeat some of the same processes. I'm a big believer that we should walk before we run."
Intentional panel shading
The company name Global RAIS is a reference to one of the most important patents on tenK's technology. It stands for "Redundant Arrays of Integrated Solar." What sets Global RAIS's solar panel technology apart is its solar cell structure.
"Instead of being a serial architecture where each cell is connected to the next cell and so on — and you build voltage as you add cells and add modules — this IP allows us to build everything in a matrix fashion," Cox said. . "So each cell is connected to the next cell through multiple pathways."
This means that individual cells in Global RAIS panels can still perform without interference from neighboring cells that are underperforming; while solar cells with typical connections can underperform if adjacent cells experience performance loss, such as shading or microcracks.
Global PRESIDENT demonstrated the durability of its panels in a side-by-side test with a competing module brand by simulating shading and damage to the panels with a baseball bat, bullet holes and even by throwing an entire sink at each panel. Thanks to the parallel cell structure, the Global RAIS module continued to produce power during the test.
This ability to work through shade and other obstacles makes Global RAIS panels suitable for commercial roofs with obstacles such as HVAC systems that cast shade all day, Cox said. The company cares so little about shadow that Global RAIS's system is designed to work with shadows.
The double tilt racks place the panels back to back at an angle of 26° and 16° in each row. With those different panel angles and the compact nature of the rack, shadow between the rows is inevitable during the day. But Global RAIS is betting that the ability to place more panels on a surface and reduce that inevitable shade means these systems will outperform traditional arrays.
"It allows us to put a much higher density of potential energy generation in a smaller footprint because of the shadow," Cox said. "With traditional solar energy, you have to take that shade into account. We don't have to deal with that, so we can put a much larger amount of power into a smaller footprint."
The system can be designed in east-west, north-south or any orientation outside the azimuth, and it can be mounted on the ground. The panels and racks are sold together as one package and cannot be combined.
Global RAIS modules currently use Northern Electric Power BDM-800 microinverters with custom firmware that adapts to their low-voltage output, but the company is also exploring other collaborations. DC-coupled storage integration is made easy with Global RAIS' module-level electronics package, which features configurable voltage controls that eliminate the need for an additional battery management system.
"That storage-ready module is an important part. If there's one thing that really convinced us to get back on the market now, it's this direct-to-storage piece," Cox said.
Learning from past mistakes
The revival of a solar technology that left the industry years ago has made Cox reflect on the choices that led to tenK's demise. He saw an opportunity to fill a niche in the market with this hardware he loved enough to pursue the patents, but he also sees opportunities at the institutional level to work differently.
Global RAIS is pursuing B Corp certification, which means smoothing corporate governance among employees, being transparent about company performance and, of course, prioritizing sustainability within the company and at the very top of the supply chain.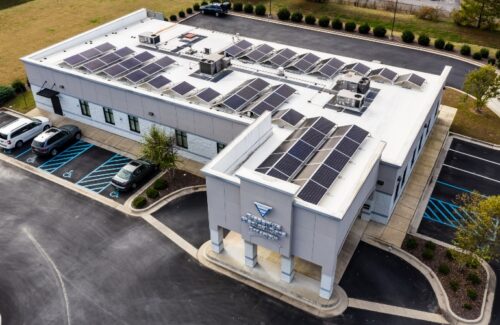 The company also plans to install solar systems for customers providing critical public services during natural disasters, such as food banks and medical centers.
"We want to do good with this product, and we need to do good with this product in places where it's going to make a huge difference to how people live," said Robin Cox, Chief Sustainability Officer at Global RAIS. "In many places you need reliable, readily available clean energy, so the B Corp certification allows us to do that within the same corporate structure."
After pursuing and acquiring the rights to a dormant solar technology, re-establishing manufacturing operations and meeting a pandemic, Global RAIS solar modules and racks are a reality. The company has sold its first projects, but this is just the beginning of its re-entry into the solar energy market.
"We don't have a magic mirror," Robin Cox said. "We don't know what the future holds, but we teach and learn better by doing it ourselves. As the business grows, our intention is to do it differently and figure it out along the way."