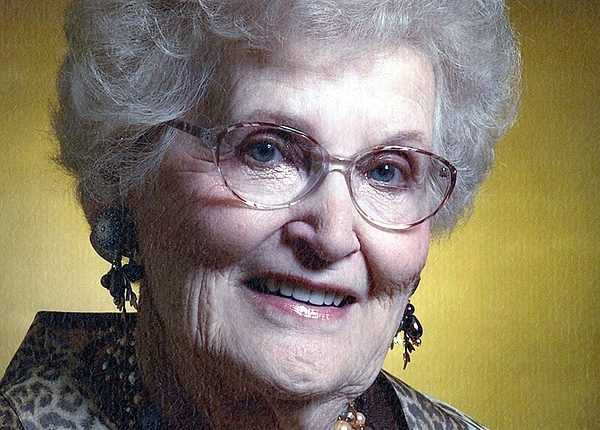 Gertie B. Parker Watson, was born on October 30, 1925 to Granville and Josie (Black) Gaston in Mount Ida, Ark. She died on July 1, 2021, at the age of 95.
Gertie graduated from Norman High School in Norman, Ark. in 1943. She married Coy Parker on November 25, 1944. Gertie and Coy had two daughters, Sharon and Rebecca.
Gertie had many jobs over the course of her life, including working in the shipyard, operating the switchboard and selling Stanley stainless steel. She worked for the Hot Springs Plumbing and Hardware in 1944.
Coy was a plumber and started his own company in 1962, which became Parker Plumbing. Gertie worked in their office, doing books and answering the phone. She ordered all the parts and scheduled the calls. The company grew over the years, eventually employing four to six plumbers.
Gertie received her Master Plumbing License in 1975, becoming the first woman in Arkansas to earn her Master's License.
Coy died in November 1974.
Gertie married Lawrence (Larry) Watson in 1975. They continued to own and operate Parker Plumbing until she retired in 1995.
Larry and Gertie joined others to fix up Jones Park, clean, mow, paint and raise money for basketball goals, covered chairs and picnic tables.
Gertie realized that she had a penchant for political life and volunteered in several elections and worked in election polls. She even went to Bill Clinton's inauguration and one of the balls in Washington, DC. In 2007 she became a Justice of the Peace and served in that capacity until December 2010.
Gertie was a co-founder of the National Park Christian Church in Hot Springs and is a current member of the Hot Springs First Christian Church. She was also a member of the Emblem Club, Civitan, VCR Club and Red Hats.
Her favorite occupation was working in her garden, and you would see her there working evenings and weekends. She had the most beautiful garden and flowers and won Garden of the Month more than once.
Gertie is preceded in death by her parents, Granville and Josie Gaston; brothers, JD Gaston and Everett Gaston; sister, FloElla Parker; husbands, Coy Parker and Larry Watson; daughter, Sharon Parker Tappana; great-grandson, Dayton Michael Johnson; and grandson, Michael White.
Survivors include daughter Rebecca Parker; grandchildren, Chris (Darlene) Johnson and Joni White. Also great-grandchildren, Jaclyn (Lee) Lobbs, Kimberly (Jon) Parsons, and Cole Smoke; great-great-grandchildren, Preston (Jennifer) Stanfill, Lexi (Kyle) Fisher, Jefferson Lobbs, Ayden Parsons, and Jayce Plumley; and great-great-great-grandson, Louie Stanfill; plus a large number of nieces; cousins; and other family members.
Services will take place on Tuesday, July 6, 2021 at 11:00 AM at the First Christian Church.
Burial in Cemetery Memorial Garden.
The visit will be at the Hot Springs Funeral Home on Monday, July 5, 2021 from 5:00 PM to 7:00 PM.
The family would like to thank Kindred Hospice and all its caregivers. Thank you for taking good care of her and for loving her.
Arrangements are through Hot Springs Funeral Home.
Online condolences at https://www.hotspringsfh.com.