Gamesa Electric to unveil new central inverter at Intersolar Europe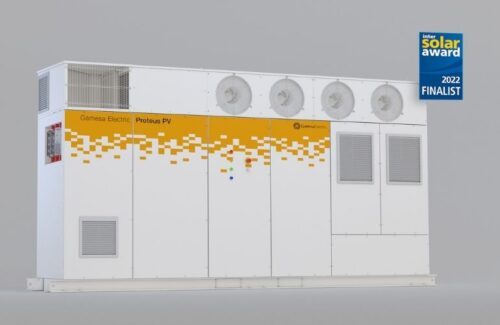 Gamesa Electric will showcase its updated family of high-performance inverters for solar and energy storage applications at the upcoming Intersolar Europe exhibition in Munich. Gamesa Electric Proteus is a central inverter up to 4700 kVA that reduces the LCoE of renewable projects thanks to its efficiency, reliability and power density.
"We are excited to showcase our updated and improved Gamesa Electric Proteus family of solar and storage inverters at the upcoming Intersolar," said Enrique de la Cruz, sales director of solar & storage at Gamesa Electric.
Using the CoolBrid liquid-air hybrid cooling system, the Proteus inverters achieve an efficiency of 99.45% and a THD<1%, providing higher output, reliability and equipment durability. In addition, the CoolBrid cooling system achieves 104℉ at rated power and 131℉ at 90% of rated power.
The Proteus inverter family offers battery-powered energy storage solutions, both AC-coupled with the Gamesa Electric Proteus PCS and DC-coupled with its solar inverters, ready for DC connection to the field at any point in the plant life.
Gamesa Electric Proteus has been selected as one of the finalists for the Intersolar Award 2022 to be presented at the event. In addition, Gamesa Electric will showcase its product at an event at booth B3.250 on Thursday, May 12 at 10:30 AM GMT+2.
News from Gamesa Electric