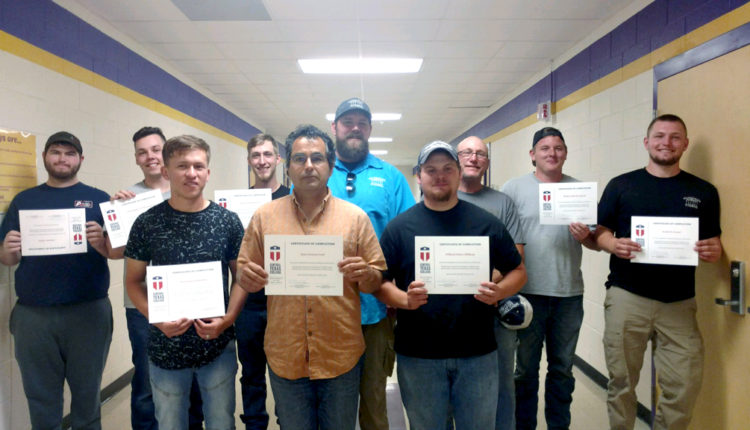 Free plumbing, trades industry courses available to Highland Lakes adults
Recruitment is now taking place for a free, employer-sponsored plumbing course in the Highland Lakes. The course starts on May 11 and lasts two semesters. Classes are on Tuesdays from 6:00 pm to 9:00 pm at the Hill Country Builders Association, 1401 Broadway in Marble Falls.
The course is taught by Master Plumbers James Forest, in collaboration with Complete Care, and Lucas Brandenburg from Brandenburg Plumbing. Courses count towards 1,000 hours of on-the-job credit required for licensure.
Area adults can be trained to enter one of three different professional careers through a free program facilitated by Workforce Network Inc., a nonprofit dedicated to creating local employment.
Workforce Network focuses on increasing the Texas workforce in the trade sector. Since 2017, Gail Davalos, Director of Stakeholder Relations, has been helping facilitate a scholarship program to provide free training to adult students. This year, the network is running plumbing, electricity and certified medical assistants courses in the Highland Lakes.
"We want new people to enter these fields because there is really high demand for these types of jobs," said Davalos.
Eligible candidates must be 18 years of age or older, pass a background check, participate in face-to-face interviews with recruiters, and live in the Highland Lakes. They must also be motivated to start a career in the field covered by the course.
"We want to make sure this is someone who wants to work in the plumbing business and not just someone who wants to learn how to maintain his own home," explains Davalos.
In addition to providing first-hand experience, program counselors are also working to find student employment opportunities, Davalos said.
Funding comes from economic development companies in Marble Falls, Burnet and Llano, which have invested a total of $ 43,890 in sales tax in the program. The Texas Workforce Commission linked their contributions to grants.
Those interested in the program can start the application process by calling 830-613-1240.
brigid@thepicayune.com