 Frank Hromas Jr. | Obituary
1926 –
2021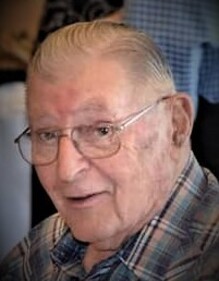 Funeral services celebrating and honoring the life of Frank Thomas Hromas, 95, of Enid will be held at the Brown-Cummings Funeral Home Chapel on Saturday, July 17, 2021 at 2:00 PM, conducted by Pastor Gary Miller. Burial will follow in the Waukomis cemetery. Military awards are performed by the United States military. The services are overseen by Brown-Cummings Funeral Home.
Frank was born on May 19, 1926 at his grandfather's ranch on the northern outskirts of Waukomis, Oklahoma, to Frank and Agnes Hromas and passed away from this life on July 10, 2021 in Enid, Oklahoma. He was a lifelong resident of Waukomis and attended Waukomis Public Schools. After graduating from high school in 1944, he enlisted in the United States Army. He served and fought mainly during the liberation of the Philippines. He spent a year with the occupying forces in Japan and returned home in 1946. He farmed with his father west of Waukomis until 1949, when he met and married a Hennessy girl, Leta Louise Staggs. They were married for over 65 years until her death in 2014.
His 80-acre farm west of Waukomis couldn't support his family, so in 1952 he made a train out of his tractor implements, drove it into town, and traded Harry Landwehr for a new TV and phonograph. He moved the farm to the city and started working as a plumber and electrician at Waukomis Hardware. A few years later he started working as a flour packer for Pillsbury in Enid. In 1957, he began supplying propane through Home Oil & Gas until the owners decided he should become Waukomis' plumber, electrician, and HVAC expert. In 1969, he and his brother-in-law, Ernest Maly, bought Waukomis Hardware, where they continued plumbing, electrical, and HVAC work.
Throughout the '60s and '70s and beyond, Frank was elected to the Waukomis School Board several times and served as president. He was a member of the Waukomis volunteer fire department and served as chief. After closing Waukomis Hardware, Frank became the chief inspector of Waukomis utilities. After retirement, he returned to farming by working for his lifelong friend Glen Goodwin.
He is survived by his sons, Frank D. and wife Annabell Hromas of Amarillo, Texas, Richard L. and wife Nancy Hromas of Enid, along with seven grandchildren (and husbands), six great-grandchildren and his sister Marie Cox.
He was preceded in death by his wife Leta, infant son David Lee, sister Betty Snodgrass and brother Ted.
Memorials can be made in his honor at Circle of Love Hospice or Waukomis Fire Department with Brown-Cummings Funeral Home as custodian of the funds.
Condolences and special memories can be shared with the family online at www.Brown-Cummings.Com.
published on July 13, 2021