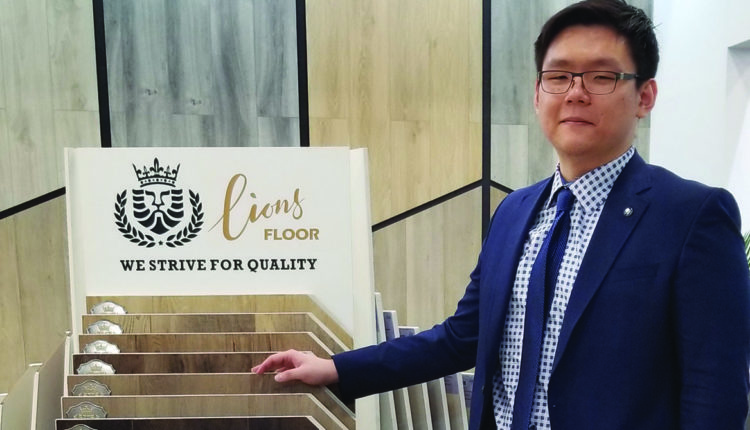 For Lions Floor, it's all about 'location'
In creating the looks, Lions Floor works with its sister company in China. There, artists take digital camera images of genuine hardwood planks to form the color films that will be utilized to mass reproduce the lines. Those films, according to Guo, are then handpicked by its own designers and shipped back to the US-based Lions Floor design team to see which ones are more viable for the market. The company files for design/pattern copyrights in both China and the US
Not only are the new SPC designs exclusive to Lions Floor, according to Guo, they were also created to provide consumers with fewer repeat patterns in a box. This results in a more realistic and natural visual, especially when it comes to hardwood replications. "We have dedicated two different color films for every single color, making it possible to make eight to 10 repeats [compared to the typical 20 repeats]," Guo explained. "We are creating a look that's closer to engineered hardwood so customers can have the beauty of wood flooring but in SPC, which offers ease of installation and maintenance."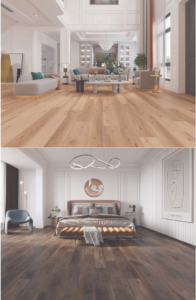 Indoor Delight is positioned as a step-up product while Bambino was developed as a more budget-friendly option, according to Guo. As for specific price points, Lions Floor said distributors and retailers will have flexibility when marking up despite the numerous price increases the category has experienced in recent months. "Indoor Delight will be very similar to our existing Natural Essence Collection—which is in the mid to high $2s wholesale," he explained. "Retailers can easily position the products anywhere from the low $4s to high $4s."
The custom collections created for the Texas market are equally impressive, according to Guo. The 16 SKUs, packaged under the Lone Star Spirit XL collection, boast versatile and refined exotic wood-like designs with the latest EIR technology and extra length profile measuring 6 feet long x 9 inches wide and 1⁄2-inch thickness. The line also includes an entry-level tier featuring eight colors in a 6-foot long x 7-inch-wide format with a 5.5mm wear layer.
"The styles are very similar to Indoor Delight but the colors are made in proportion to the Texas demand—in other words, more rustic, more barnwood and more country looks," Guo explained. "We previewed these colors at Surfaces, and we have received very good feedback on the colors."
All Lions Floor SPC products are tested in US-based laboratories for compliance with industry standards. Furthermore, all products are made from 100% ecological ingredients and are FloorScore, CARB-2 and GreenGuard Gold certified.
stocking up
With demand for its SPC products expected to continue rising, Lions Floor said it plans to continue building on its US inventories. In fact, shipments of the company's latest collections are expected to hit US shores in May—just in time for the grand opening of its new warehouse and logistics center in Houston. "All of the materials are on the water right now; we're looking to receive them during the month of April," Guo explained.
Once received, the shipments should provide distributors and retailers with enough product to satisfy roughly three to six months of sales, according to Guo. When it comes time to replenish those shipments, Lions Floor predicts future orders will be expedited as the supply chain logjam eases.
"We are confident we will be able to adapt to the schedule and make sure the inventory is sustainable," Guo added. "But the first batch of the containers we are receiving should be sufficient for us to merchandise for a quarter at a time."