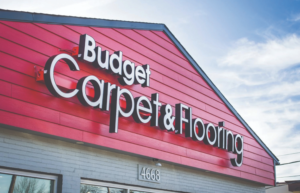 Flooring dealers post strong first half despite challenges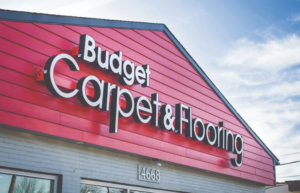 The flooring industry must have missed the memo on how 40 years of high inflation, supply chain disruptions and labor shortages would hurt business. Quite the contrary here, because floor dealers delivered an impressive first half despite strong headwinds.
Was it easy? No. Was it frustrating at times? Absolute. But when June ended, many floor dealers could breathe a sigh of relief that the first half was as good as it was, with warts and all.
"Disconcertingly strong" is how Adam Joss, owner of Columbia, Maryland-based The Vertical Connection Carpet One Floor & Home, described the first half of 2022. "We faced a major wave of COVID-19 in January, the prospect of WWIII in February/March and a steady stream of price increases throughout the first half. Despite all that, sales were strong."
Asked to recap the first half of 2022, Lauren Voit, president of Great Western Flooring, Naperville, Illinois said, "In one word? Chaotic."
Feelings like these were echoed by more than a dozen other floor dealers from coast to coast. The consensus among the group: yes, story traffic has slowed down, but ticket sizes have increased – resulting in an overall better-than-expected first six months. However, these same retailers warn that the second half could be a different story as inflation continues and may cause a contraction in economic activity.
But for now, retailers are counting their lucky stars. "We are on track to have our best year ever," said Matt Wien, owner of Marshall Carpet One and Rug Gallery, Mayfield Heights, Ohio. "In fact, 2019, 2020 and 2021 have all been record years and things in 2022 have been consistent and are slightly higher than last year. We are fortunate to have a very loyal customer base and a hard-working team that makes it all possible."
Fellow Ohio-based dealer Sheldon Yoder, owner of Columbus-based Budget Carpet and Flooring, said 2022 was fantastic, although retail sales were spotty and June was slow. As with many successful retailers, Yoder seized opportunities in other segments. "The Main Street commercial has been strong all year, so collectively, as a company, it's been a solid year," he said. "I think in recent years a lot of people have just stayed at home and remodeled their homes instead of traveling, but those dollars are now being spent on travel and entertainment. Consumers still have money coming out of the pandemic, which is why the first half of 2022 was soft, but not terrible on the retail side."
Homeowners are still investing
Three members of the National Floorcovering Alliance (NFA) rated the first half of 2022 as strong to very strong. As Scott Browne, president of Macco's Floor Covering Center, Green Bay, Wis., explained, "As inflation continues to climb, we believe consumers have prioritized investing in their homes — a trend we all hope will continue. continues."
Greg Loeffler, COO of Pierce Flooring, which has three Montana locations, said he has seen few business interruptions since the start of the pandemic. "I would rate the first half of 2022 as very good," he said. "We kept our pace for 2021 in almost every category and – as most dealers would agree – 2021 was a fantastic year. We've been noticing a slight drop in sales and activity very recently – too early to say it's due to economic pressures or a short period of downtime. Anyway, we believe we will have a great second half of the year."
In Naples, Florida, a traffic delay since mid-May has not affected what was a successful first six months for Hadinger Flooring. "I would rate the first half of the year above average," said Susan Hadinger, president. "Inflationary pressures have caused sales to be slightly higher than last year. We are hopeful that things will be even after the summer travel season."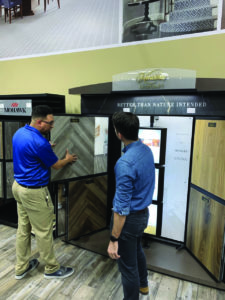 First half success is also not the domain of the largest floor dealers in the industry. Smaller retailers making less than $5 million are also doing well. "2022 has gone really well for us," said Typhannie Watson, owner of Carpeting by Mike, Somerset, Wis. "We have adjusted our sales target to get closer to pre-COVID-19 sales and we are right on track with that framing time expectation. We expected it to be slower than 2021, but not by much. Homeowners are still very interested in updating their floor, we are looking forward to the last half of the year as it tends to be the busiest."
Meanwhile, business activity in places like Arkansas is much like the recent weather: scorching. Owner Carlton Billingsley of Benton-based Floors and More explains: "The first half of 2022 has been great as all segments of our business have increased. Total sales are up YTD in 2021, which also saw tremendous growth. We have had some major projects in 2022 and the client is still investing in her home today. Banks are still eager to lend, and borrowing is still a benefit to consumers today."
Carpet Source USA, an FCA Network member based in Albuquerque, NM, has made the most of its sales efforts, according to President Don Lovato. "Our transaction volume has dropped significantly, but our dollar contribution to gross profit is slightly higher than the last two years, so that's good news," he explained. "My concern is that it will hold up into the second half of 2022, and not next year either. I don't think anyone knows the answer to that, but I'm keeping a close eye on my numbers."
Even floor sellers like Great Western's Voit, who have managed to maintain a steady flow of business, are recognizing the effort it takes to operate in today's inflation-boosted economy. "We are still in a high-pressure environment with limited resources – skilled workforce, supply chain to name a few – and escalating costs."
In southwest Florida, the red-hot real estate market has cooled to some extent, leading to a slight drop in traffic and sales for Taylor Carpet One Floor & Home, Fort Myers. But again, things have held up. As owner John Taylor said, "Overall things are still good, just not at the same level as they were a year ago."