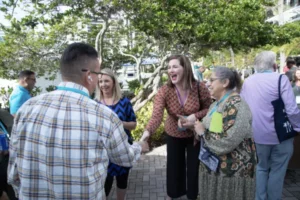 FloorCon 2022 returns with networking, education focus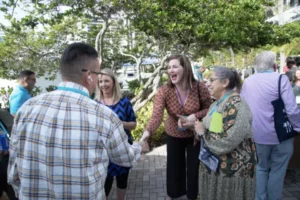 Just three months away, the highly anticipated FloorCon 2022 promises the same disruptive and transformative experience as the inaugural event hosted last year.
Positioned as an all-inclusive industry event — not just for Broadlume customers — the three-day show will take place Nov. 14-16 in Tucson, Arizona, and will feature a host of networking opportunities and educational content focused on providing flooring dealers with the information and tools needed to move their business forward.
"Our goal is ultimately to help local floor sellers be the disruptors of the industry, not the ones disrupted," said Todd Saunders, CEO of Broadlume – event organizer. "We have seen many industries being disrupted by technology. We know it's coming to the flooring industry, and we want to be the one to help retailers get through it. There is an old guard that has helped the flooring industry get to this point, and we see ourselves as the new guard that will help the industry get to the next point."
With that in mind, FloorCon 2022 will once again focus strongly on networking and learning. Educational tracks this year include Leadership & Culture, Sales & Operations, Marketing & Advertising and Technology. The event will also highlight Broadlume's new technology developments, including a new integrated payment solution, visualization capabilities and updates to its website, CRM and ERP platform. "We want to provide local floor sellers with an all-in-one technology platform that makes it easy for them to sell more floors and earn more money," explains Saunders. "That is our goal and will always be our goal."
Like last year, the talk of the event will most likely be the latest addition to Broadlume's all-in-one platform, which was unveiled at last year's show. Broadlume's revolutionary retail sales system connects a dealer's online technology to the in-store experience. The new end-to-end platform promises simplified systems, optimized marketing investments, increased profits and an enhanced consumer experience for dealers and their customers. All this is achieved by merging digital and in-store technology, including a turnkey merchandising system and in-store visualizer.
Last year, Broadlume announced this by being the first to bring Digital Retailing to the flooring industry. "Retailers using the full all-in-one platform, including the retail sales system, are moving from selling jobs at an average margin of 33% to now an average margin of 49%," explains Saunders. "Our retailers earn more money, so we know what we're doing works."
Aside from an increase in retailers' profits, the company's integrated software system also provides something otherwise unheard of in the flooring industry: a clear view of a user's ROI. "A lot of people in our industry want to talk about clicks, impressions or conversions, but as an industry we should be talking about return on investment," said Saunders. "The only way to find out is if you partner with a company that owns and builds their own end-to-end software. We can even tell you, "Hey, you spent $100 on Google Ads and your profit was $500." That's the conversation we should be having. We want to bring more than just leads to your store; we want to bring qualified consumers ready to buy."
But Broadlume knows that with any major change, even more support is needed, especially within an industry that has historically been hesitant to fully embrace advanced technology. As such, the company is strengthening its support and training teams to help retailers make the switch. "We know that support is the number 1 priority for our retailers, whether it's for our ERP system, website system or retail sales system," explains Saunders. "Retailers need our support. They want to change, they know they have to change, but they need a hand and some patience to get there. We want to be their partners in this transformation and are investing heavily in our support structure."
Overall, Broadlume said the main goal of FloorCon 2022 is to help dealers become more successful while working on their business, rather than in their business. "For us, the success at FloorCon 2022 is pushing the industry forward," said Saunders. "Our view is that as retailers use more technology, they become better retailers, make more money and achieve higher margins – that will only help us and the rest of the industry move forward."