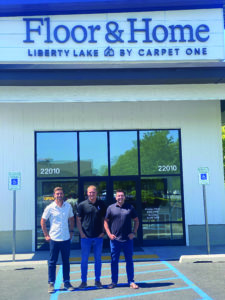 Floor & Home makes a bold 'Statement'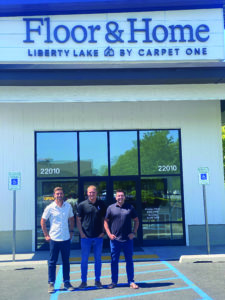 Spokane, Washington. When Daltile rolled out Statements 2.0 just over a year ago, the company knew it had to convince retailers that the revamped showroom-within-a-showroom concept would be worth the $30,000 investment, especially those who had success with the original. version. Nearly 14 months later, returns are overwhelmingly positive. A good example is Drew Barber, co-owner of Floor & Home by Carpet One, located here. Barber, who has three locations and is about to open another, has committed to Statements 2.0 boutiques in its three newest stores based on the 11-month success of the flagship location in north Spokane.
Floor & Home has always been a major tile retailer of the major brands – Daltile, Emser, Surface Art, Bedrosians, United Tile, Florida Tile, Arizona Tile, etc. But since investing in Statements 2.0, Daltile has become the retailer's largest supplier with a 40% increase in sales of all tile sales to about 80%. In addition, Floor & Home's total tile business has increased between 25% and 30%, with close ratios rising significantly from 40%-50% to even 70% for consumers walking into the Statements boutique.
What prompted Barber to take the plunge and make a $120,000 investment in Statements 2.0? For starters, he liked the showroom within a showroom concept. "It was an easy shopping experience for consumers and an easy selling experience for our sellers," he explained. "It offered all the looks and patterns a consumer would need. There were marketing campaigns. There were co-op dollars. There were online leads from the local Daltile showroom. We drank the Kool-Aid."
The simplicity of the showroom format was a huge selling point. "If you walk into a showroom and there are 30 different tile displays, it can be very overwhelming," Barber said. "This helps refine it and shows the consumer, 'Here are some wood looks, here are some concrete looks,' and it really simplifies things rather than throwing so much at it."
Simplicity translates into those increased close ratios. "They spend more time there because you have a special design table, which makes it easy to shop," Barber said. "You don't have to deal with heavy monsters and shoppers have a place to put it. It just makes for a better shopping experience."
Generate leads
Barber gets leads from a variety of sources, including the internet, social media or the local Daltile office (which doesn't sell directly to consumers), something Barber says should not be underestimated. "The Daltile team in the branch will help consumers navigate to our locations," said Barber. "And when we get consumers who have visited the Daltile showroom, they have already chosen what they want. This allows us to maintain a strong margin as the consumer has already fallen in love with a design and is willing to spend a little more than they initially planned. Again, something else that improves close ratios.
Statements 2.0 dealers also get an edge with leads coming from Daltile's website as they jump to the top of the dealer locator. "You enter your zip code or city, and it lists our elite Statement dealers first," said Patrick Warren, vice president, residential sales, dealer and showrooms. "You can select the Daltile showrooms or record yards or authorized dealers."
Barber said sales associates will sometimes direct the customer to the Statements 2.0 boutique if they feel more comfortable selling tiles, but they also see more people coming in and either asking for Statements 2.0 or moving towards it. "The presence in the center of the showroom of this sleek design of screens that all go with digital TVs is what draws them there," said Barber.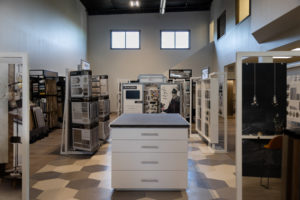 The other thing about Statements 2.0 that made it appealing to Barber was its flexibility. "It's not just one size fits all," he said. "There are different size options depending on the showroom and what you do and don't want to put in. Maybe one thing doesn't work in this market and it works in another area."
From day one, Daltile's strategy, according to Warren, has been to create continuity between the online shopping experience on the Daltile website and the in-person experience in the Daltile showroom and Statements showroom. "So when a consumer comes in, there's continuity, and once they're in, it's not a piece of tile; there is a story because there are too many bits and pieces and it is very complicated to visualize it. So we're trying to help with continuity, we want to help select them and the RSA closes it. That's the strategy."
Barber noted that Daltile has complied with everything it has presented regarding Statements 2.0. by getting co-op, we get samples here on time, we get higher margins on our product and our orders, and we offer a great shopping experience."
The proof is the pudding. In the more than 20 years of the Spokane store, ceramic tile sales have never been higher than in the past 11 months, coinciding with the launch of Statements 2.0. "We've always been strong in tiles, but as we've partnered with Daltile as a whole and added Statements 2.0, we've seen sales get even stronger," Barber noted.
Return on investment
Admittedly, a $30,000 outlay is not light. The key is the return on investment. Barber said a typical retailer in a typical market could make that $30,000 investment within a year "without a problem." That's why the long-standing success in Floor & Home's oldest store prompted Barber to place Statements 2.0 in stores that have recently opened or are opening soon. And the early returns at the four-month-old site are good. We have seen a drastic increase in our purchase orders to Daltile since we incorporated 2.0 into our business."
Ask Barber what makes Daltile the perfect partner, and he rattles off several attributes. "I think Daltile offers the best designs and a good range across the board. In terms of inventory they are probably the best because 85% of what they sell is made here in the US or Mexico, so you don't have to take it across the water bring."
And then there's the service component that Barber says is unparalleled. "Our Daltile team, from our local representative to our regional vice president, has been digging into our business, discovering how to get more inventory positions and how to be more competitive, bring in exclusive products to get more aggressive price points, and just being creative to help us be as profitable as possible."
Daltile has also helped Floor & Home to delve into other products, which has only increased sales. "For example, they've helped us diversify into outdoor pavers," Barber said. "We just completed two major projects with Daltile exterior vowels this summer."