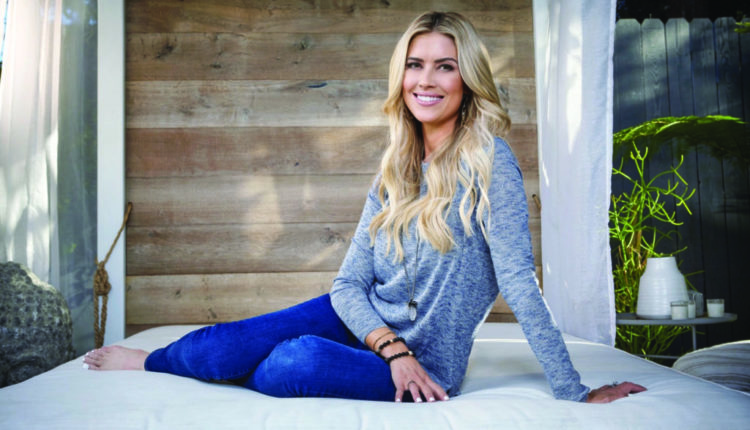 'Flip or Flop' star launches branded flooring line
By Steven Feldman Newport Beach, Calif. – Carpet stores may have lost the Stainmaster brand, but something new is emerging that has the potential to gain the most exposure at the consumer level since Pergo. The buzz is around Christina Haack, the face behind the HGTV series "Flip or Flop" and "Christina on the Coast". In this FCNews exclusive, we sat down with Christina to learn more about the launch of her eponymous SPC.
---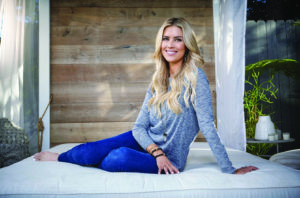 mperhaps she needs no introduction, as her HGTV shows, "Flip or Flop" and the more recent "Christina on the Coast" attract more than 20 million viewers a year. (The latter is now in his 11this season.) Add that to her 1.6 million followers on Instagram and suffice it to say she reaches and influences tons of consumers.
Christina Haack is about to launch her first brand line, the Christina Collection, which will consist of 21 high-quality SPC products. From an aesthetic point of view, the collection is designed to be as good as anything currently on the market. "I would compare it to anything I've seen," she said FCNews. "I would never sell a product that isn't attractive."
It is a line curated by a professional designer with a huge following. Not only are the styles carefully selected, but it is a wide variety of designs that suit everyone's style and reflect her taste and the latest trends. "My style is more Californian modern," she explained. 'You've got a point. But the house I just bought is Spanish. I like styles for a variety of reasons based on the But that's just the beginning. The collection is designed to perform and stand the test of time. And dogs. And children. This will be demonstrated through a video of her rottweiler running across the floor.
"Every time I do a house, I say this: I have young children and I have dogs. I don't want a floor that scratches and I don't want a floor that breaks if I spill something on it. That's what everyone wants. That is why this floor is so important. It's all about reducing a mother's stress."
Haack equated the popularity of SPC flooring with the evolution of countertop materials. "It's similar to the quartz counters that used to be the marble," she said. "Once upon a time people wanted marble because it is beautiful. Well, it's porous too. If you leave a cup on it, you're screwed. If you spill red wine on it, you're screwed. So I will only use quartz in homes with families because it relieves the stress. No mom wants to worry about someone spilling or dropping something and getting mad at someone. These SPC floors are to hardwood what quartz counters are to marble. "architecture of the house."
Question and answer
Designing is a skill of yours.
It was never something I wanted to do. I never went to design school. I wanted to be Jerry McGuire and be a sports agent.
So how does Jerry McGuire become a designer?
Design just came to my mind because I had to do it on "Flip or Flop", and then I discovered I was good at it. So "Christina on the Coast" was born because I was designing for "Flip or Flop" and that's what I knew. I approached the network and said, "I like design. I'd like to do a show where I design for a person or a couple." And they said, "Let's do it."
So is 'Christina' also involved in floors 'on the coast?'
Yes. Different floor levels. If it's anyone on a decent budget, Warren's Wood is Christopher. If it is someone on a lower budget, many people use SPC or laminate.
So you love SPC so much that you decided to create a branded collection. Is this your first brand line?
Correct. Since about 2014, I always knew I would one day do a floor line. I was in no rush because I wanted to do it right. All I know is quality. I am very special. I would never refer anyone to a product, especially a friend, unless I am 100% sure it is a good product.
You are a brand, but you needed a manufacturer.
Correct. I had never heard of SPC until about two years ago to be honest. Before that we always used laminate. I mean, we have to flip and burn on "Flip or Flop." I knew SPC because we started using it in bathrooms, because I had clients who wanted to walk their floor from the bedroom to the bathroom. So we discovered this product that started to look better and better and was really affordable.
When did this brand SPC line get legs? Or should I say, from concept to reality?
I'm in Maui, lying on the beach, and I'm getting about 16 text messages from Jessie (Warren Christopher), who I haven't spoken to in a while. And he said, 'You know you've wanted a floor for years? I found it and it is perfect. As soon as you get home, I'll introduce you to the manufacturer." And because it was Jessie, he could never bring me anything cheap, worthless, ugly, boring – if you knew him, everything had to be perfect. So I come home and check out the prototypes. Some looked great – organic colors, lighter grays – and some looked really fake. I would never do anything that looks fake. Then I started designing and developing the line together with the manufacturer.
So these products more or less matched what you were already doing in terms of design. There was a synergy.
Because I do 30 houses a year just for TV, I know what I see every day from different price levels from different customers – I know what's in fashion; I know what people like and what not. Based on that, when I look at the prototypes, I think, okay, people like completely different things. But I went from what I've seen lately, and the trends are changing. So I immediately picked as many as I thought we needed. I think I picked 15 slides.
But you ended up with 21.
Yes. I chose 15 of my absolute, 100% favorites. west coast. And then I picked a few for the Midwest.
Who is the target group for 'Flip or Flop' and who is the target group for 'Christina aan de Kust?'
I'd say the audience probably ranges from 30 to 70. Because HGTV's target audience is people who can afford homes that they are currently buying or remodeling.
Who is the target group of the Christina Collection?
The target group is literally everyone: from a novice home buyer to anyone who is renovating a house. It can be anywhere from entry level to luxury. Our demographic is everyone. You could have a $30 million luxury rental home on the Malibu coast where you don't have to worry about the durability of your floor. It is the value of the product which is scratch and water resistant.
---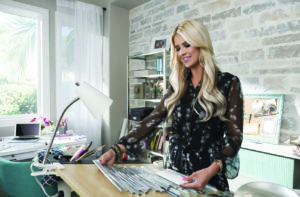 The Christina Chronicles: From Splitting Subway Sandwiches to 'Flipping' Fame
IIn 2009, my ex-husband and I were $40,000 in the hole. We just got married, we had no money, we literally split $5 foot-longs at Subway and put a little lemonade in our water because we were so broke. And I was pregnant with our daughter. One day we had lunch with a friend's dad who knew a little about house flipping and we all wanted to take risks. I've never heard of house flipping. So, long story short, we went to an auction and started selling houses.
My ex-husband felt like people would want to see us do it. I felt like nobody cares about us, that's a weird idea, your ego is very big.
Anyway, he put this little camera in front of us and started recording. We talked about life and everything we were doing and what we were going to do. We sent it to a production company and they liked it. And then, suddenly, cameras are pointed at us. It still seemed very strange to me. I felt like this isn't going anywhere, but I'm playing along. We filmed footage and it ended up being a TV show called 'Flip or Flop'. Over the years I have always been involved in taking risks. If someone tells me I can't do something I will do it and I will do it 10 times better than they thought it would be. It's been my story all my life.
My ex-husband and I used to have no money, but we had an investor. We would find the property, fix it up, sell it and split the profit.
Every house you watch in seasons one, two and three has been our livelihood. If we lost, we were we [screwed]. It was a big problem. And we used to have to use materials that were very cost-effective because we didn't have any extra money to spend.
We would go to the discount tile section of Bedrosians and choose the travertine with the holes in it which costs $0.50.
As time went on, I was able to develop my skills to make things that were affordable look really good. My ex-husband's was cheap; mine was to make cheap things look good.
Then we slowly started making more money, got bigger projects and started doing multi-million dollar flips. I will never forget: we did our first flip in Yorba Linda. We bought a house that we really couldn't afford for $2 million, and then someone told me about a company called Warren Christopher Flooring for high-quality flooring.
Here appears a man named Jessie and [his wife] missy. It's the first time I've met them and they had all these floors in their truck – it was literally like the floor cracked. This floor was great.
I put it down in front of my ex and he said, "This stuff is very expensive." I said, "Yeah, it's more than my jeep, but we have to do it here because this is a very expensive house."
Then we started using Warren Christopher for all the high-end flips.