First three solar + storage microgrids in the works for Puerto Rico resilience initiative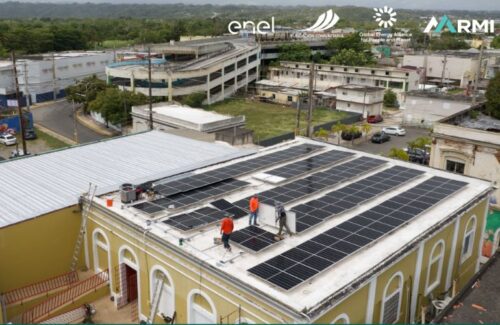 The Puerto Rico Community Energy Resilience Initiative (CERI) is celebrating the construction of three microgrid solar and storage systems, part of a new local energy resilience model. The projects under construction now include a total of 132 kW of solar power and 108 kWh of storage.
The grant-and-loan financing model, the first of its kind in the Caribbean, unlocks access to clean, affordable energy in low- to middle-income communities, improves the energy resilience of critical facilities and enables them to remain operational and their city in times of crisis. The CERI team plans to scale to approximately 350 critical facilities in Puerto Rico with the goal of unlocking the power of blended finance to drive equitable energy resilience in other countries, states and cities worldwide.
Energy resilience is critical in the region as hurricanes continue to grow and increase in frequency, causing massive destruction and power outages. Local energy systems ensure the continuity of essential services, including health, education, food and transport, during main grid outages.
CERI's approach has been piloted with three critical facilities in Arecibo, Patillas and Utuado. Working with CERI partners, each facility was able to design and install a community-owned solar and storage microgrid system tailored to their energy needs.
"Since Hurricane María in 2017, service interruptions have become common, jeopardizing community access to essential services such as health care and affecting economic development. The CERI model allows Puerto Rican communities to feel confident in their continued access to energy and benefit from cost savings," said David Haddock, VP of Administration and Programs, Fundación Comunitaria de Puerto Rico (FCPR).
The three pilot facilities were selected following a merit-based process that focused on their role in the community and service provision during outages.
Instituto Pre Vocational E Industrial (IPVI) serves nearly 2,000 students and community members each year, providing educational and social services to the elderly, the homeless, and women and children. IPVI served as a major recovery point in Arecibo after Hurricane María, ensuring much-needed aid was distributed to the community.
Located in Mameyes, Utuado, the only gas station and mini-market in the area, Valentin Service Station provides services to five neighboring communities located far from urban centers.
Jomari Pharmacy is a local drugstore in Patillas, which provides computer and printing services in addition to selling, supplying and advising medicines.
At the same time, this model addresses another important issue affecting Puerto Rico and the region: dramatic increases in energy prices. CERI uses an innovative, scalable blended financing model that is accessible to low- and middle-income businesses and non-profit organizations, along with technical support and community involvement. The IPVI project is funded through a combination of local grants and a major donation from clean energy leader Enel North America.
The participating financial institutions for the three critical pilot facilities are Banco Popular and CooPACA.
"As we reshape Puerto Rico's fragile energy system, it is critical to ensure that communities that are particularly vulnerable to power outages have reliable, affordable and clean energy," said Michael Liebman, manager at RMI's Islands Energy Program. "This mixed finance model in Puerto Rico was created and implemented not only to address critical barriers to scaling resilient, zero-carbon energy access, but also to ensure that facilities that currently pay more than double the average US electricity price, from the day of one."
The CERI team plans to expand to a demonstration portfolio of 20 to 40 projects, conducted in collaboration with local financial institutions, to further develop this model and gain the efficiencies needed to equitably share the benefits of energy resilience. increase. CERI is looking for partners to join and provide support.
News item from Enel