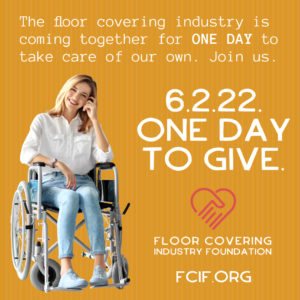 FCIF's inaugural "One Day to Give" raises $80K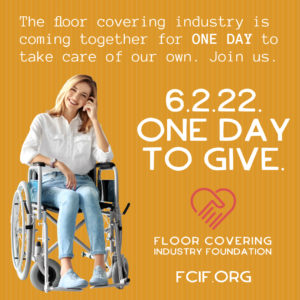 Dalton—The Floor Covering Industry Foundation (FCIF) hosted its inaugural "One Day to Give," a 24-hour online fundraiser, on Thursday, June 2. During the campaign, the nonprofit said it received nearly $80K in donations. , which surpassed his goal for the event.
"More than 25% of these donations came from 'first-time' donors," said Andrea Blackbourn, the foundation's executive director. "Of the donors who renewed previous contributions, 25% took up the +10% challenge. These results are very exciting and we look forward to repeating this event in the future."
One Day to Give has united the flooring industry to make a lasting impact on families facing unexpected medical battles that need help getting back on their feet, the organization said. FCIF is a 501(c)3 non-profit charitable organization that has been helping carpet workers and their families since 1981. struggling with serious illnesses, injuries and disabilities.
"The purpose of One Day to Give was to raise awareness of FCIF and of course encourage donations from individuals within the flooring industry." said Jeanne Matson, FCIF board member and industry advisor. "The results of this first event have been excellent and have achieved both goals."