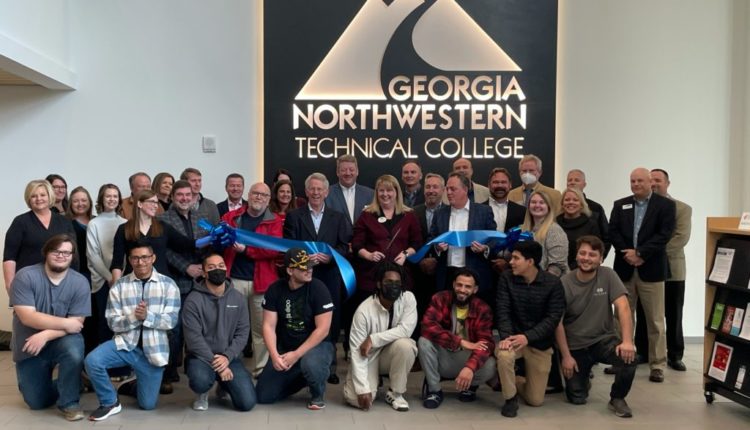 FCEF celebrates new flooring install program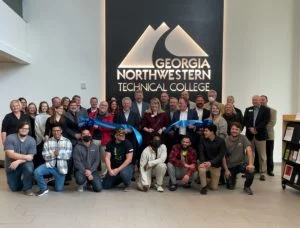 Dalton—Last week, the Floor Covering Education Foundation (FCEF) celebrated a major milestone in its efforts to spread awareness, recruit and train floor professionals. A pilot program for technical colleges and trade schools was launched at Georgia Northwestern Technical College (GNTC). Developed in collaboration with FCEF, the Basic Floor Installation Program is designed to prepare men and women of all ages for a lucrative career in flooring installation.
The FCEF and its training partners and supporters gathered on January 13 to celebrate the milestone. Along with representatives from FCEF and GNTC, the event was attended by Dalton Mayor David Pennington, representatives from the Technical College System of Georgia (TCSG), FCEF's training partners and flooring industry executives.
According to FCEF, such a program is a first for the flooring industry. It required significant coordination between current training entities, sponsors, donors, Georgia officials, and the Georgia Technical College System to introduce the program to GNTC. "Never before have we made such a concerted effort to create a technical college program," said Jim Aaron, FCEF Executive Director. "We've always wanted to lay floors in technical schools and now we're making it happen."
The first class is packed with eight students who have all applied and been approved for scholarships from FCEF to help cover the cost of the course, according to FCEF. After the first week of classes, FCEF said the students were excited about how much they had already learned and the job potential this training will offer them.
A current student, John Knowles, said the hands-on experience has been his favorite part of the class so far. "Actually doing it after you talk about it is crucial to learning," Knowles said.
Ceasar Manzono, another student, emphasized the technical and practical side of laying floors. "My favorite part of the class is math, drawing lines and measuring rooms," Manzono said.
Held at GNTC's Whitfield Murray Campus in Dalton, the program provides students with the basic skills needed to install each of the four major floor types, according to FCEF. While the first 10-week course is already underway, a second is scheduled to begin on May 16. CFI Master II Installer, Dave Garden, will serve as an instructor for the first two cohorts of this program and will also help train future instructors.
The FCEF partnered with the largest and most qualified training institutions in the flooring industry to create the curriculum for this program:
Internationally certified floor installers (CFI)
Certified Tile Education Foundation (CTEF)
National Wood Floor Association (NWFA)
The FCEF would like to thank the Georgian Representative, Victor Anderson, for providing the vision and introduction to the TCSG. Anderson is also a co-owner of Anderson Carpet One Floor & Home and understands the great need for more floor professionals, FCEF said.
"We are truly grateful to Victor for bringing this opportunity to the FCEF and helping build connections within the Georgia Technical College System," said Kaye Whitener, FCEF's director of operations. "There were so many people who came together to make this possible. It was truly a team effort and FCEF is proud to have been there to bring everyone together to achieve this common goal."
Ray Perren, deputy commissioner for technical education at TCSG, was also instrumental in getting the program off the ground, as was the team at GNTC, according to FCEF. As the launch date for the program neared, even more supporters such as Shaw Industries, William M. Bird, Congoleum, Dal-Tile, Ardex and RFMS stepped up to make it possible by donating materials and tools. Jen Zurn, co-owner of Precision Surfaces and Certified Hard Surface Installer, helped build all the modules students will use to practice their new skills.
"We even had support from the community of installation professionals who want to promote and improve their craft," said Whitener.
After completing this course, students can continue their education or apprenticeship within one of the specialties to enhance their skills and experience. Skilled individuals in this in-demand field can expect a six-figure salary, according to FCEF.
"Opportunities for floor workers are ubiquitous," Aaron said. "There are jobs available all over the country and more programs like this in our technical schools. Our plan is to partner with floor vendors across the country to implement this program in schools in their communities. Duplicating this program across the country can go a long way towards solving the installation labor crisis."
The FCEF Certified Basic Installation course is currently offered through GNTC's Economic Development Program. FCEF hopes this pilot program will be accredited by the state by the beginning of the fall semester 2022, laying the foundation for additional courses and opportunities for participants to qualify for additional scholarships and financial aid.