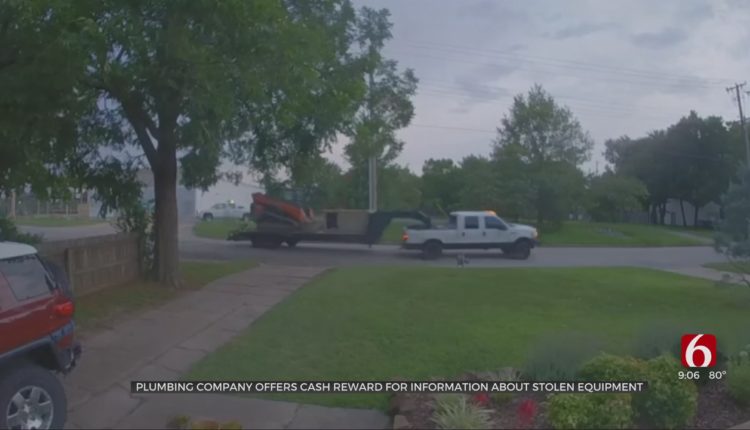 Family-Owned Company Offering $7,500 Reward After Plumbing Equipment Stolen
A plumbing company is offering a reward of $7,500, if someone can help them get their stolen skid-steer back or get the thieves prosecuted. 
The piece of equipment cost $70,000 and was stolen from a jobsite of a family-owned company.
Nearby surveillance video shows a truck pulling away from a jobsite at Harvard and 27th with C2 Plumbing's skid-steer. 
"They went in with like flashing lights, so they looked cool, they didn't look anything out of place, they weren't nervous, they just walked in and acted like they had every right to be there and take what wasn't theirs," said Brandon Ramsey.
Ramsey said the skid-steer was being used at the jobsite, but it's also used for so many other things, like brush hogging or moving dirt or gravel on their property. 
"That thing was so handy and anybody who owns a skid-steer they will realize how detrimental of a loss it can be to a small business," he said. 
Ramsey said several people were involved in stealing it, and he said he gets chills watching the video. He said they didn't have insurance on it, so it's a huge loss, both financially and while on the job. 
"It's around a $70,000 machine and for them to take that, what gives them the right to do that, I would never do it myself so I just can't understand that," Ramsey said. 
Ramsey said they have filed a police report and he's hoping someone will come forward so they can get it back. 
"We worked hard to get that equipment and pay it off, and for someone to come take it, without asking, it's just very disturbing," Ramsey said. 
They are offering a $7,500 reward. If you have any information, call 918-923-7272.