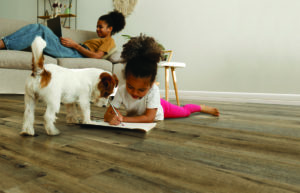 Fall flooring intros for 2022
WAs port congestion begins to ease, many flooring manufacturers are in a position to face overstocking as they head into the fall sales season. That's certainly good news for retailers hoping the infusion of new fall flooring products will breathe new life into the market at a time when dealers are trying to lure consumers back to the showroom.
---
Builder's Choice Cali
Cali is expanding its popular Builder's Choice XL vinyl collection with three new colors. BCXL Shelves (60 x 9) are designed for industry professionals and are competitively priced to support inventory options and large scale projects. BCXL features high-speed click-lock milling and SPC limestone composite core.
soft step COREtec
Quiet, warm and durable, COREtec's new patent-pending Soft Step underlayment provides comfort and warmth underfoot and is made from 100% recycled plastic bottles. The new underlayment complements COREtec's existing cork backing and is used on 10 new styles within the COREtec Originals collection.
Scrapbook Daltile
Daltile's new Scrapbook Glazed Porcelain Tile offers vintage-inspired 8-inch hexagons with 2 x 8 floor tiles in muted colors. Inspired by ancient heritage and encaustic tile traditions, Scrapbook weaves old and new to create an instant heirloom effect. Suitable for floor, wall and countertop.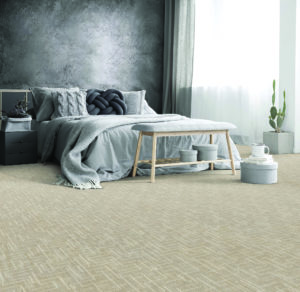 Script Technical floors
Manuscript is the latest DW Select introduction from Engineered Floors featuring a high-contrast geometric pattern that utilizes the company's proprietary PureColor solution-dyed PET twistX technology.
Available in nine colors, the Color-Enhanced MLCL (multi-level cut loop) pattern uses state-of-the-art tufting technology to create a sophisticated image that's great for bedrooms, living rooms and entertainment areas.
Herringbone drop lock i4F
i4F's new herringbone drop-lock system makes installation, disassembly and replacement easier for DIYers. The latest addition to i4F's portfolio of drop-lock technologies, this new patented system facilitates the installation of herringbone panels through an easier fit of the short side of a herringbone panel into the long side of an adjacent herringbone panel. Disassembly is also much easier.
Poplar Hill Indus parquet
Poplar Hill is a new direct-to-retail SPC brand that focuses on simplicity and is available in one compact display fixture. The Riverwood collection has 7 x 48 planks with a 20 mil wear layer, while Riverwood XL has 9 x 60 planks that also have an upgraded 30 mil wear layer for high traffic applications. Both collections feature clean patterns with minimal character to provide the perfect foundation for any style of decor.
Joy lion floor
The latest Delight collection from Lions Floor, measuring 1.80m x 9in, features refined European oak designs depicted directly from real wood using the latest EIR embossing technology with eight to ten iterations on film designs.
Also new this fall is the Lone Star Spirit collection. Lone Star Spirit offers performance capabilities, including waterproof, scratch-resistant, ease of installation and low maintenance, along with a range of price points – from the budget-conscious DIYer to the luxury-minded homeowner.
SolidTech mohawk
Mohawk's latest SolidTech Plus introductions, Poppy Reserve and Amber Escape, launch this fall and expand into "durability for any room, any style" with cleaner, lighter wood looks. Poppy Reserve has a modern, rustic look with six color options spanning browns and grays. Amber Escape is distinguished by sleeker lines that match more modern decors. This style also has six color options, but with lighter shades of beige, brown and gray.
Emerald green MSIA
MSI's latest product introduction – Evergrass Artificial Turf – comes just in time for fall. The product provides an attractive, authentic looking lawn that will remain beautiful all year round. The unique wavy leaf shape allows light to travel in many directions for a realistic look. Evergrass has four artificial grass styles—Emerald Green (76 oz. and 110 oz.), Veridian (91 oz.), and Putting Green (78 oz.)—that provide an eco-friendly and green alternative to natural lawns in outdoor spaces.
Designer Pro Republic Floor
The Designer Pro Series is based on Republic's strongest and most stable Pure SPC Max flooring range with a thicker, soundproof underlayment and textured vinyl overlay. Reinforced with the latest manufacturing techniques, Designer Pro wood-style floors come with a 50-year residential limited warranty and a 10-year commercial warranty.
Home Inside Shaw Floors
Home Within, part of the Pet Perfect+ collection, is a plush linen rug with dimension and texture. This pattern has a balanced color palette that offers a clear presence with a matte base and a glossy accent. Home Within comes with LifeGuard Spill-Proof technology. Anso fiber offers built-in stain protection, plus fade and bleach resistance.
Tattersall III Stanton
Crescent's Tattersall III has added five new colors to its fall launch. Tattersall III is made from 100% New Zealand wool and offers striking color combinations in a traditional fitted check design. Tattersall III can be used in a wall-to-wall installation, custom rug, stair runner or hallway runner. It is also available in filled carpets.
Tymbr XL from TRUCOR The Dixie Group
TRUCOR's new Tymbr XL collection is constructed with a durable wood fiber core (WFC) and is built to perform with exceptional durability. From commercial to active living spaces, Tymbr XL provides a natural foundation for life's real moments. Tymbr XL includes eight SKUs in 9.68 x 70 inch planks, from light blonde to deep brown. These trendy visuals are combined with the AC6 wear rating.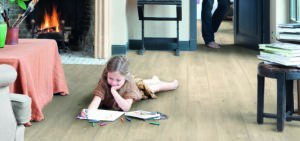 Direct-to-board digital printing Unilin Technologies
Over the past ten years, Unilin has carried out an extensive R&D program that has led to recent introductions into the direct-to-board digital printing market. Unilin's intellectual property and extensive know-how were key factors in combining the right equipment, inks and other consumables for viable digital flooring printing.
Välinge Rigid Core floors Look after
Designed in Sweden with the look and feel of luxury wood floors, it is a premium flooring experience, without the high cost. Välinge Rigid Core Flooring, a new collection, includes some of Välinge's most advanced technologies: 5G Dry, 5G Climb and Liteback. The result: A winning product in terms of versatility, sound absorption, weight, strength and waterproofing. The XL panels (9 x 72) are suitable for high traffic commercial areas and are offered in eight colours.
Premium EIR rigid core Well made
Wellmade's proprietary HDPC/SPC hard core waterproof vinyl floors are now available in a premium plank, with a 20 mil commercial wear layer and HardMax finish along with EIR surface texture. With striking hardwood visuals, EIR technology creates the ultimate in realism in vinyl planks, accurately reproducing the appearance and wood grain structure of natural hardwoods. Painted treatments with bevels enhance visual realism and aesthetics.