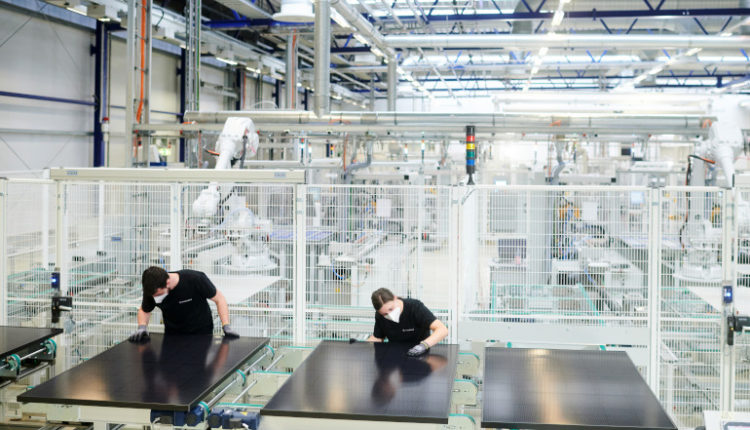 Everyone wants to start a solar panel factory in the United States
The U.S. solar industry, which today can deliver less than 8 GW of assembled modules if each facility pumps at full volume, could nearly double within two years — if every company that has claimed to start a new factory in 2021 pushes through.
The Gold Rush-esque dash to the module-thirsty US region (with annual demand exceeding 30 GW, the country is desperate for unregulated, domestic modules) is the Solar Energy Manufacturing for America (SEMA) Act, as included in the Build Back Better Trading (BBB). Although the law has not yet been passed, just the hint of manufacturing aid led companies to announce their plans to make solar panels in the United States. The proposed federal legislation would provide tax credits to U.S. manufacturers at every stage of the solar panel production chain, from polysilicon manufacturing to solar cells to fully assembled solar panels.
Credits to manufacturers included in the current draft of BBB:
solar grade polysilicon ($3/kg)
PV wafers ($12/m2)
thin film and silicon PV cells (4¢/WDC)
thin film and silicon PV modules (7¢/WDC)
The credits would start to taper to 75% for products sold in 2027, 50% in 2028 and 25% in 2029, before disappearing completely after that. With savings like that, there's no reason the domestic market won't explode with manufacturing activity, likely even more than the "maybe" list announced in 2021.
Established solar power plants revealed their loose plans to enter the US manufacturing market last year: Maxeon is considering up to 3 GW of cell and panel assembly in the state, Meyer Burger chose Arizona for a 400 MW facility, and REC is considering 1 GW.
Then there are the new names: Philadelphia Solar (a module maker from Jordan) claims to buy a site for 1 GW, newbie Ubiquity Solar plans to open a 350 MW solar cell facility in New York and NanoPV (an Asian company producing 100-W a-Si thin film modules) wants to open a factory in Georgia with an unknown capacity.
It will be interesting to see what actually happens next year. Virtually unknown NanoPV said it only needs $36 million to start a plant in Georgia that will support 500 jobs. Maxeon, meanwhile, has applied for a DOE loan to support its manufacturing plans and has reiterated its goal of starting solar panel production by 2023.
Any of these announcements are likely to be subject to the passage of the BBB bill with intact solar production credits. We are still waiting for the final vote.
"The bipartisan support for domestic solar infrastructure production has encouraged us to contribute to the country's energy independence and sustainability," said Ardes Johnson, president of Meyer Burger Americas, when the plans were first announced in September 2021. "It is vital for the US to expand its domestic supply chain and break its heavy reliance on Asia. We are pleased to contribute to this important goal and are poised to meet the rapidly increasing demand for clean energy."
The tax cuts would also boost existing domestic manufacturers, leading to potential production capacity expansions. Minnesota and Florida-based panel assembler Heliene welcomes new entrants to the US market to expand its domestic offering.
"We all say we need a local/regional supply chain; however, it will not happen unless investors have a clear enough horizon to ensure that there is a potential return on their investment ranging from the production of polysilicon, ingots, wafers, cells and modules," said Martin Pochtaruk, CEO of Helene. "A potentially refundable tax credit would support return on investment in existing and new production lines, as well as expansion up or down the solar value chain."