ESS iron-flow battery system installed at Pennsylvania industrial recycling facility
TerraSol Energies has installed an ESS Energy Warehouse system at an industrial recycling facility in West Grove, Pennsylvania. The long-life ESS battery system will integrate with a 115 kW solar panel to form a microgrid that will reduce peak electricity demand and provide backup at Sycamore International, a technology recycling company working towards a global circular economy.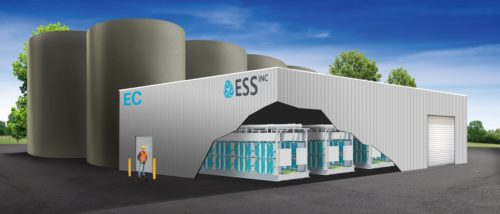 "This project represents the kind of forward-thinking solution we need to build a low-carbon, resilient energy system," said U.S. Representative Chrissy Houlahan (PA-06). "Having passed landmark energy provisions in the Inflation Reduction Act, I was excited to talk about how these paid investments will boost U.S. manufacturing and save consumers money on their energy costs."
"By partnering with TerraSol, we have identified ESS's renewable American-made energy storage technology as the best solution on the market to achieve our climate and operations goals. This solar and energy storage microgrid provides backup power when needed to keep our facility fully operational, has a very reasonable return on capital investment from both power generation and peak load, and allows our facility to operate comfortably with a net zero carbon footprint," said Steve Figgatt, CEO of Sycamore International.
News item from ESS