Enel X installs solar microgrid as part of state resiliency initiative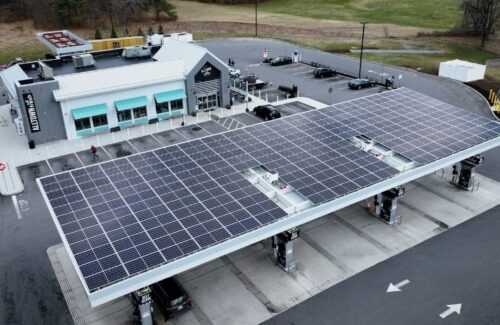 Enel X has announced it has installed a new microgid for one of the largest independent owners, suppliers and operators of power stations and convenience stores in the Northeast – Alltown Fresh in Ayer, Massachusetts.
The Alltown Fresh Ayer microgrid encompasses Enel X's portfolio of distributed energy and electric mobility solutions, including an 87 kW/174 kWh battery, an 87 kW rooftop solar panel and a 50 kWDC fast charging station, powered by Enel X's Distributed Energy Resources (DER) Optimization software (DER.OS) and JuiceNet software and JuicePass for EV drivers. By integrating the system behind the same meter, solar energy on site helps to charge electric vehicles (EVs). During a power failure, the critical loads of the installation can be supplied.
"The increasing frequency and impact of extreme weather events underscore the need for much more sustainable and resilient energy, especially for critical infrastructure," said Surya Panditi, head of Enel X North America. "However, solar energy combined with battery storage is not only valuable during emergencies. The Alltown Fresh microgrid is attractive to EV drivers looking to power their vehicles with renewable energy, and it is valuable for businesses to support the local grid by reducing overall demand and emissions while lowering costs."
The microgrid is the first project to be completed as part of InnovateMass' Resilient Service Stations Challenge, which aims to provide continuous power to gas stations near state evacuation routes.
Enel X also partnered with National Grid under the EV Make Ready program to upgrade the network to support electric vehicle charging, gas station power and interconnection of the distributed energy sources located behind the same meter. This is expected to be the first commercial deployment of its kind, demonstrating the efficient use of utilities.
"National Grid is proud to support the first Massachusetts location to combine DCFC with solar panels and a battery storage system," said John Isberg, VP of Customer Sales and Solutions at National Grid. "Our partnership with Enel X will help National Grid prepare for increased demand for electric vehicle charging stations by leveraging innovative system design to reduce the impact of DCFC charging on the grid and reap the benefits of greater adoption of maximizing electric vehicles. We are proud to support this initiative and look forward to the future lessons of launching this project."
Enel X's innovative microgrid solution is modular and scalable for the growing number of fleets and companies that sustainably electrify their infrastructure while saving on energy costs. Enel X offers a flexible financing solution that bundles all microgrid assets to support companies in their resilience efforts. The customer pays a flat rate for the generated solar energy, receives a share of the financial benefits of the energy storage and retains the revenue from charging EVs.
Massachusetts Clean Energy Center (MassCEC) launched the Resilient Service Stations Challenge to seek innovative solutions to provide gas stations with measurable energy resilience while driving clean energy adoption across the state.
"MassCEC is committed to accelerating clean energy technologies, businesses and projects that support the vibrant and growing clean energy industry in the Commonwealth," said Jennifer Daloisio, CEO of MassCEC. "We are pleased to support the Enel X microgrid project as it provides a clean, renewable solution to simultaneously reduce a gas station's electricity costs and ensure its resilience during a power outage."
News item from Enel X