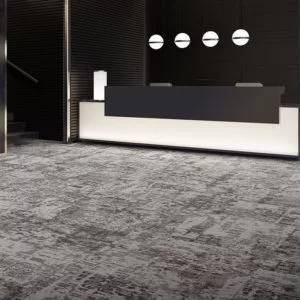 EF Contract debuts Elan and Esprit
Dalton—As part of its Fall 2022 launch, EF Contract, a division of Engineered Floors, debuted Elan and Esprit. According to the company, both patterns are inspired by the brilliance of energetic yarn styling and the use of nuanced colors and place a strong emphasis on texture through the use of mass-dyed fiber techniques, tea stain space paint and metallic accents, as well as tip-permeable construction.
"EF Contract is pleased to announce the introduction of Elan and Esprit, who use the latest fiber technology to create energetic patterns," said Susan Curtis, director of product design and development at EF Contract. "The colorways and two patterns make this collection perfect for so many indoor spaces, both together and alone."
Elan features small-scale custom patterns, which are more defined and structured in its styling and share the same color technique and tip-permeable construction as Esprit.
Esprit has large-scale patterns that combine geometric and natural shapes that are taken apart and put back together, creating a trick of the eye that, according to the company, gives an unexpected take on traditional geometric patterns. The colors in this collection carry soft color nuances throughout and show variations from light to dark.
Elan and Esprit are both available in 18 x 36 modular tiles in seven colorways.