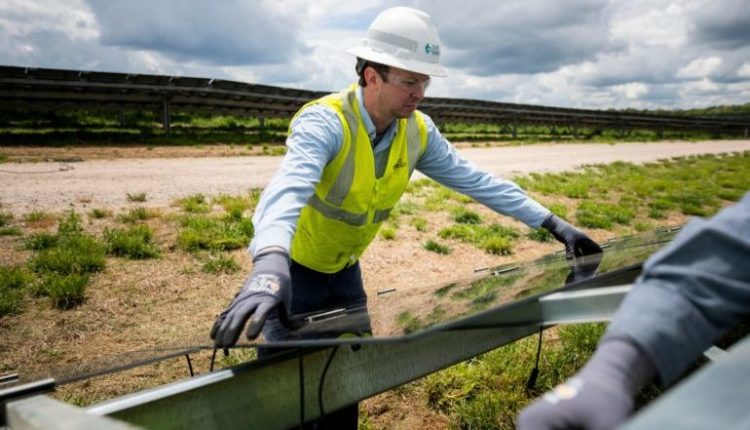 Duke Energy constructing 22.6-MW solar array in northwest North Carolina
Duke Energy continues to expand solar power in North Carolina with the construction of its 22.6 MW Stony Knoll Solar power plant. Once completed, it will be the largest solar panel in Surry County, North Carolina.
The project will be owned and operated by: Duke Energy sustainable solutions. Stony Knoll was selected as part of the competitive bidding process established by the 2017 North Carolina solar law.
The solar power plant will consist of 76,600 Trina Solar bifacial modules with uniaxial tracking and located on 195 acres in Dobson. The facility is targeted for commercial operation by the end of 2021.
"Duke Energy is bringing more carbon-free, renewable energy to customers in North Carolina. We are excited to add Surry County to our ever-growing list of solar sites as we significantly reduce carbon emissions on our path to reaching net-zero carbon emissions by 2050," said Stephen De May, president of Duke Energy in North carolina.
Under North Carolina's Competitive Procurement for Renewable Energy program, proposed projects are to be built where there is a need for energy capacity on the Duke Energy system in North Carolina or South Carolina. The bids can come from any company, including Duke Energy, and can take the form of power purchase agreements, proprietary facilities, or utility acquisitions.
"We are excited to build on the renewables in the state. The Stony Knoll solar project marks the third facility we announced this year in North Carolina and demonstrates our continued commitment to increasing clean energy generation in the state," said Chris Fallon, president of Duke Energy Sustainable Solutions.
During the peak of construction, Stony Knoll Solar will create approximately 70 jobs. In addition to indirect economic benefits associated with developing solar projects, such as increased local spending in the service and construction sectors, Stony Knoll Solar will also provide local tax revenue to the county and local school districts and payments to participating landowners.
In January, the company awarded Copeland Elementary School in Dobson $10,000 to fund the purchase of Chromebooks for students through the Duke Energy Foundation.
The facility design, inverter procurement, plant systems balance and project construction will be performed by: Swinerton Renewable Energy. The energy generated by Stony Knoll is provided through a 20-year PPA with Duke Energy Carolinas.
News release from Duke Energy Sustainable Solutions