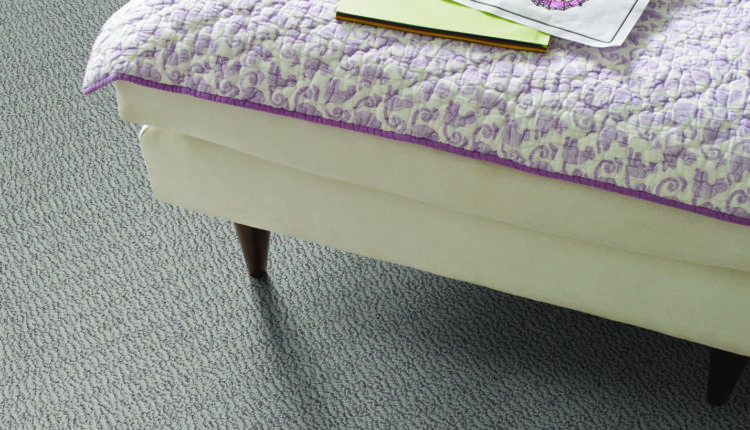 Don't call it a 'comeback': Carpet, sheet, laminate
"Carpet has seen a surge in popularity because of its inherent comfort, warmth and quiet that hard surface/waterproof products simply can't mimic. With the whole family spending more time at home and people cocooning themselves indoors to a larger degree, attributes like warmth, comfort and sound abatement have risen in priority. Carpet is unrivaled in its ability to mitigate unwanted noise—a quality that's become essential to many homeowners and has long been a priority for multi-family renters."
TM Nuckols, president, The Dixie Group residential business unit
"Carpet remains one of the largest, if not the largest, product segment of residential flooring today. In fact, over the last 18 months, we have seen a resurgence in carpet. I believe the impact of COVID-19 has a lot to do with this. During the pandemic, many people were either out of work or possibly working from home. Post COVID-19, many people have continued working from home and there are more kids being home schooled or attending school remotely. Another attribute of carpet is safety. Carpet is less likely to cause slips and falls. And, in the event of a fall, carpet is less likely to cause an injury. This is a key part of the decision process for some consumers. Last, but certainly not least, there is a style and fashion element in today's carpet options. We have beautiful patterns, loops and differentiated looks."
What retailers had to say…
"The uptick we've seen in carpet sales has been a welcome reminder of what it used to be like. People are spending and have spent more time at home and want that comforting feel." —Mike Foulk, Foulk's Flooring America, Meadville, Pa.
SHEET VINYL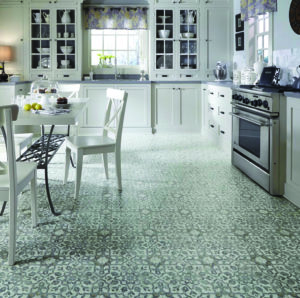 Blakley Satterfield, product manager, residential resilient, Mannington Mills
"Sheet vinyl offers customers the best value per square foot where a waterproof, high-performance flooring material is needed. With prices increasing at alarming rates on sourced products (such as rigid LVT) paired with extensive lead times, domestically produced products like sheet vinyl offer customers more value and faster turn-around times today. And, as millennials are now the largest segment of home buyers, sheet vinyl appeals to their desire to express their own personal style; they don't want cookie cutter looks or designs. Sheet vinyl provides a wide range of unique looks that can help them express that style."
David Thoresen, senior vice president, product and innovation officer, Armstrong Flooring
"Consumers are often pleasantly surprised by residential sheet, as it has tremendous value in both installed cost and performance. Sheet's visuals have dramatically improved to suit all of the latest on-trend designs, and its ease of installation has made it more of a DIY product than in the past. Traditionally used in laundry rooms, we're finding that sheet is making its way to other areas of the house like hallways and kitchens. When compared to rigid/flexible LVT, sheet can be half the price to install, which makes it enticing to use in other areas of the house."
What retailers had to say…
"To me, sheet vinyl is still the most economical floor that you can put down. It accounts for about 20% of our business. Sheet vinyl also contours to the subfloor if you have some unevenness. And you can't beat the ease of maintenance on it." —Mike Jones, Carpet Express, Dalton
LAMINATE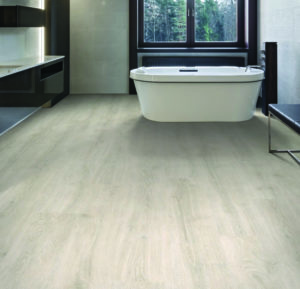 Seth Arnold, vice president, residential marketing, Mohawk
"Without a doubt, laminated wood has never left. Laminated wood provides the best value in the wood category without exception. Our formula is a waterproof wood with exceptional durability that is easy to clean, at a price she can afford
and retailers can turn a profit. That's why laminate is at the convergence of performance and value. While other manufacturers are trying to decide
whether to get in or out, Mohawk continues to innovate and expand the category every day."
David Sheehan, VP, Residential Hard Surface, Mannington Mills
"Laminate presents quite a few advantages that are appealing to the retail salesperson, the installer and the consumer: easy-to-install mechanical locking systems; embossed-in-register design for an extremely realistic texture; digital printing for crisp and clear visuals; extraordinary scratch and dent resistance and waterproof technologies."
Derek Welbourn, CEO, Inhaus
"Laminate is one of the flooring categories with the lowest cost, complemented with leading scratch and wear resistance. The combination of leading design, wear performance and cost is a value proposition for laminate that is very powerful."
What retailers had to say…
"The resurgence of laminate is great. We are able to provide a more scratch-resistant and water-resistant product at a fabulous price to our consumer with active families and dogs." —Cathy Buchanan, Independent Carpet One Floor & Home, Westland, Mich.