DOE study finds energy sector employment is outpacing overall U.S. numbers
The United States Department of Energy has 2022 US Energy and Employment Report (USEER)a survey of employment in multiple sectors of the energy industry.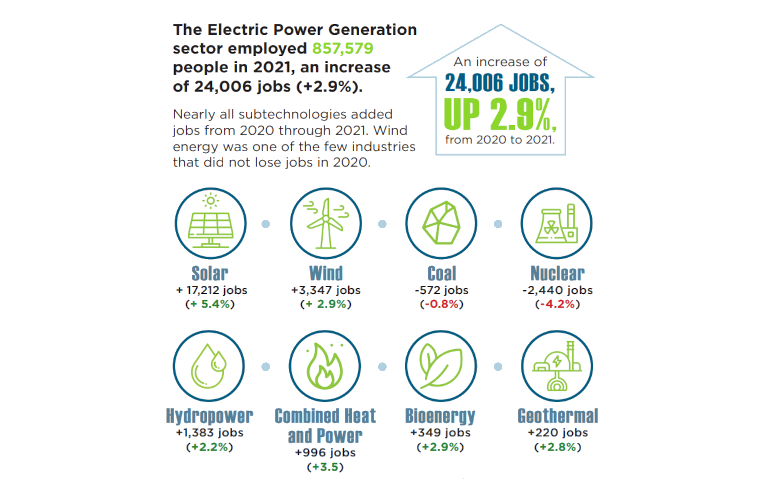 Covering 2021, the report finds that the energy sector experienced positive job growth, rising 4.0% from 2020 to 2021, surpassing total US employment, which grew by 2.8% over the same period. Overall, the total number of jobs in the energy sector has increased from 7.5 million in 2020 to more than 7.8 million in 2021, after a sharp decline in 2020. There are more than 3 million jobs, 40% of the total energy jobs, supporting the reduction of US emissions to zero in several sectors.
"Amid the unique challenges of a country emerging from a global pandemic, the US energy sector stands out with significant job growth in nearly all sectors," said US Secretary of Energy Jennifer M. Granholm. "DOE's USEER report shows that jobs critical to our clean energy transition are increasing and poised for further expansion thanks to the landmark investments of the Presidential Bipartisan Infrastructure Act."
USEER 2022, originally launched in 2016, covers five major energy sectors: electricity generation; motor vehicles; energy efficiency; transmission, distribution and storage; and fuels. The findings show that all sectors, except fuels, experienced net positive job growth in 2021.
Sectors with notable job growth:
The number of jobs in electric vehicles increased by 26.2%, creating 21,961 new jobs.
The number of jobs in hybrid electric vehicles increased by 19.7%, creating 23,577 new jobs.
Solar jobs grew by 5.4%, creating 17,212 new jobs.
The number of jobs in wind energy increased by 2.9%, creating 3,347 new jobs.
Energy efficiency jobs grew by 2.7%, creating 57,741 new jobs.
Transmission, distribution and storage jobs grew 1.9%, creating 22,779 new jobs.
USEER's 2022 workforce and demographic analysis shows that 10% of workers in the energy sector are represented by a union or contracted contract, compared to 6% within the private sector nationally. The energy workforce also has a higher concentration of veterans than the US workforce average (9% vs. 6%).
Despite job growth, energy jobs still have not recovered to pre-pandemic levels in 2019. While nearly all jobs in zero-rated areas showed positive growth in 2021, only a few industries, including wind power, electric vehicles and hybrid vehicles, had electric vehicles, more jobs in 2021 than before the pandemic. In addition, jobs in nuclear power, coal and petroleum declined in 2021.
The USEER shows that achieving a just transition to a zero-emission economy by 2050, with a diverse workforce, requires additional public and private investment in the clean energy sector. It also requires industry commitment to support workers, creating stable and certainly well-paid jobs and investing in education and training programs to help workers, regardless of background, advance their clean energy careers.
The 2022 USEER is based on surveys of approximately 33,000 private energy companies combined with public employment data to provide estimates of employment and workforce characteristics.
The full report, state report and fact sheet can be found at:www.energy.gov/user†