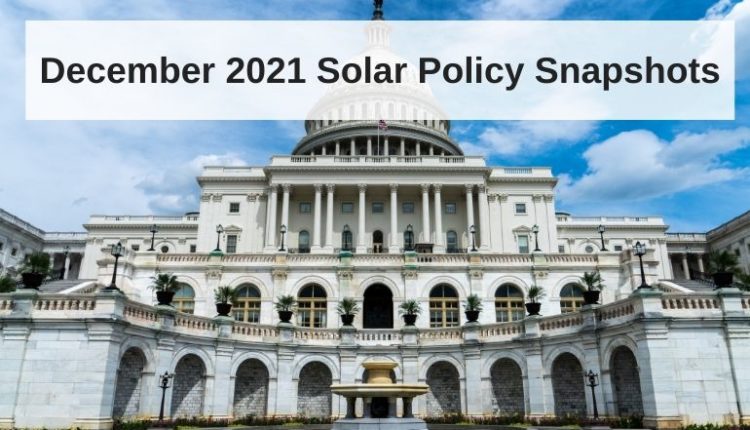 December solar policy snapshots
Build Back Better Act Makes Progress
Washington, DC
The House of Representatives passed the Build Back Better Act in November, which contains numerous provisions to help all solar markets and domestic production grow. The bill now goes to the Senate. If changes are made in that chamber, the bill will go back to the House for approval before making its way to President Joe Biden.
New York State Promises to Expand Solar Training Resources for Puerto Rico, Virgin Islands
Albany, New York
On a recent visit to the area, New York Governor Kathy Hochul pledged to expand solar deployment and support for workforce development in both Puerto Rico and the Virgin Islands. The state will provide a new curriculum and expertise in licensing and financing to support the growth of solar energy in the islands.
Solar industry asks Massachusetts to expand SMART program
Boston, Massachusetts
Massachusetts State Representative SEIA and Jeffrey Roy urge the Department of Public Utilities to implement the Solar Massachusetts Renewable Target (SMART) program or risk compromising the 2030 clean energy targets . The SMART program was completed in 2020, but has not yet been implemented due to bureaucratic delays.
New Jersey Governor Sets New Interim GHG Reduction Goal
Trenton, New Jersey
New Jersey Governor Phil Murphy signed an executive order setting an interim target for reducing greenhouse gases to 80% by 2050. The new decision sets an early target of 50% below 2006 levels by 2030 .
Florida legislator considers ending solar metering
Tallahassee, Florida
Florida Sen. Jennifer Bradley introduced SB 1024, which would "redesign" grid metering to avoid "cross-subsidizing electrical service charges between classes of taxpayers." Solar industry groups are asking lawmakers to reject the bill.
California Solar and Storage Licensing Discussion Continues with Stakeholders
Sacramento, California
The California Contractors State License Board (CSLB) held a virtual meeting in late November to discuss the licenses needed to install solar + storage systems in the state. The board has decided to bring the solar industry and union electricians together to come up with new regulations by the March 2022 CSLB meeting.
US International Trade Commission recommends extending solar tariffs
Washington, DC
The US International Trade Commission on Nov. 24 recommended an extension of the general Section 201 safety tariffs on solar cells and modules. President Biden now has the freedom to consider this recommendation and make a final decision.
Solar proponents partner with Duke Energy on new grid metering program in North Carolina
Raleigh, North Carolina
Solar and clean energy advocates have signed an agreement with Duke Energy to support the implementation of a new grid metering program in North Carolina. If approved by the NC Utilities Commission, customers are eligible for an instant discount for installing solar.