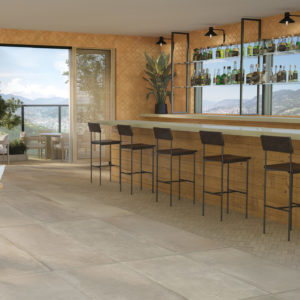 Daltile launches Rekindle collection – Floor Covering News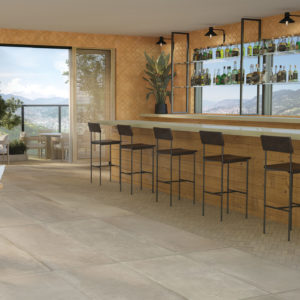 Dallas-Daltile is currently launching its new Rekindle collection of porcelain tiles that not only look great, but are twice as slip resistant than regular tiles, while also eliminating 99% of bacteria on the tile surface. These superior performance characteristics are made possible by the addition of StepWise and Microban technologies that the company says will not wear out or wash away. The Rekindle collection is suitable for floor, wall, countertop, shower and outdoor flooring applications. This large-format concrete-look tile is available in five earth tones and is made in the USA.
"The aesthetics of our new Rekindle collection were inspired by serene, spa-like garden spaces that are very popular in contemporary interior design," said Laura Grilli, director of product design for Dal-Tile LLC. "Beautiful beiges, soothing whites, varying shades of gray and a modern terracotta combine with the rustic comfort of a soft concrete sculpture to bring peace and harmony to the energy of a space."
Grilli also said the Rekindle collection responds nicely to the current interior trend of restorative nature. "The trend of restorative nature encompasses many of the principles of Biophilic Design: establishing close contact with nature, bringing nature into our homes so that we can benefit from the invigorating power of nature," Grilli said.
It is available in 24 x 48, 24 x 24 and 12 x 24 floor tiles for indoor and outdoor use. The Rekindle collection also includes 2 x 6 herringbone mosaics and canvas dot mosaics to add shape and dimension.