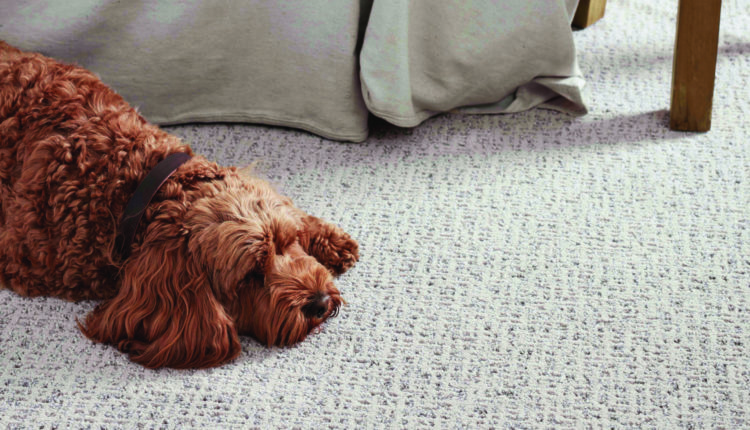 Customers share A+ products from 2021
NovoCore Q by CFL
About the product: NovoCore Q (the "Q" is for quiet) is the sound choice in waterproof floors. It's an engineered vinyl flooring that truly champions the quest for a quieter, high-performing, hard surface solution, adding sound absorption to all the other advantages a waterproof click floor has to offer consumers.
Largo by Indusparquet
About the product: Largo achieves a fresh, clean and modern aesthetic in a wide-plank format most popular with today's designers and homeowners. The Brazilian oaks (Tauari) make an impact with an ultra-clean and contemporary appearance.
Sono Eclipse by Inhaus
About the product: Manufactured using Ceramin technology, Sono Eclipse is a new generation of sustainable, health-conscious flooring. Its proprietary production process uses propylene and mineral powder to create a high-performing floor that is healthy for the home and the environment.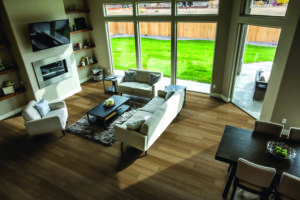 Bella Vista by Johnson
About the product: These high-performance floors are 13.5mm thick and include an attached underlayment, WaterShield Core and Välinge 5G Dry Clic for optimal water resistance. Featuring painted bevels and EIR for phenomenal aesthetics. Each plank is 7 5⁄8 inches wide and comes in three lengths (23.5, 47 and 71 inches).
Korlok Select and Reserve by Karndean
About the product: New Korlok woods capture the returning preference toward mid-and dark-warm woods currently underrepresented within the rigid core category; along with the pandemic-related consumer trend of casual, at-home luxury.
Natural Essence Plus by Lions Floor
About the product: Natural Essence Plus offers rich, distinct colors and textures with the latest registered embossing technology, featuring intricate hardwood aesthetics and authentic finishing touch of natural wood.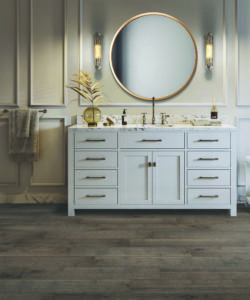 UltraWood by Mohawk
About the product: Slated as the ultimate performance hardwood, UltraWood is domestically produced and features the latest technologies: Everlast, WetProtect andEasyClean. These innovations, including a lifetime surface and subfloor waterproof warranty, give retailers a differentiated product to sell.
Smithcliffs by MSI
About the product: Hybrid rigid core is the next big thing in worry-proof flooring. Featuring MSI-exclusive engineering, Smithcliffs features extrathick solid core construction with a pre-attached, 2mm closed-cell comfort and acoustic pad for a true luxury experience. With MSI's proprietary DryLuxe technology, Smithcliffs collection provides 100% waterproof protection, along with the new, innovative CrystaLux Ultra layer, which offers outstanding scratch resistance.
Dansbee by NovaFloor
About the product: With refreshing tones, clean visuals and generous proportions, Dansbee emulates effortless style inspired by Southern California living. Designed to accentuate the organic elements of home, Dansbee's clean aesthetic is sure to lighten your space and your mood. Style options include French oak, white ash, brushed oak and contemporary maple.
About the product: Repel Splash-Proof Hardwoods offer beauty that's built to last in a 100% homegrown hardwood. These engineered planks offer greater household protection against topical moisture. The new Landmark oak and hickory styles feature a premium sliced-face visual.
About the product: Stanton continues to elevate design boundaries with innovation in pattern, color and texture. The Kilimanjaro collection, in particular, commands attention with animal print styles that add personality and sophistication to any space. One noted standout style is King Cheetah, now offered in 12 colors.
About the product: WFR 930 is an alcohol-based adhesive containing no chlorinated solvents or other harmful chemicals to make it ozone and environmentally safe. It eliminates hollow spots under wood flooring, spreads and cleans up easily and has a non-slump formula to ensure contact and adhesive transfer.
About the product: XXL brings innovation in plank width and length to the market, offering extremely wide and long WPC planks. At 10 x 84, the Prime XXL collection makes a bold and stunning statement.