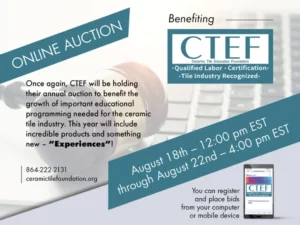 CTEF to host August online auction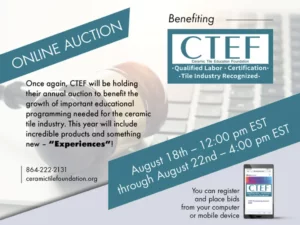 The Ceramic Tile Education Foundation (CTEF) held an online auction in August to raise additional funds to support its mission. The CTEF online auction will take place from Aug. 18 at noon to Aug. 22 at 4 PM EDT and will feature over 50 items relevant to tilers.
"This online auction is a great fundraiser event as it brings together users and manufacturers of tile installation tools and supplies," said Scott Carothers, CTEF's director of certification and training. "With the proceeds from this online auction, we can expand training and certification programs such as the Certified Tile Installer (CTI) program and the Advanced Certifications for Tile Installers (ACT) program."
Donated by supporters, suppliers and manufacturers of the tile and stone industry, these items include:
Tools such as mixers, saws, trowels, floats, sponges and knee pads
Materials such as tiles, GPTP, backing board, subfloor, mortar and grout
Floor products
NTCA Football/Golf and Fishing Experience Packages
Interested parties wishing to participate in the online auction can do so via their computer, text message or by contacting Cathey McAlister of CTEF. Bidding is free. The first step is to register and participants do not have to wait for the auction to start.
"This online auction gives tilers and contractors the opportunity to stock up on the tile installation products and materials they know, love and depend on," said Brad Denny, CTEF Executive Director. "In the process, they can directly benefit CTEF so that this foundation can continue to provide ceramic tile education and installer certification."