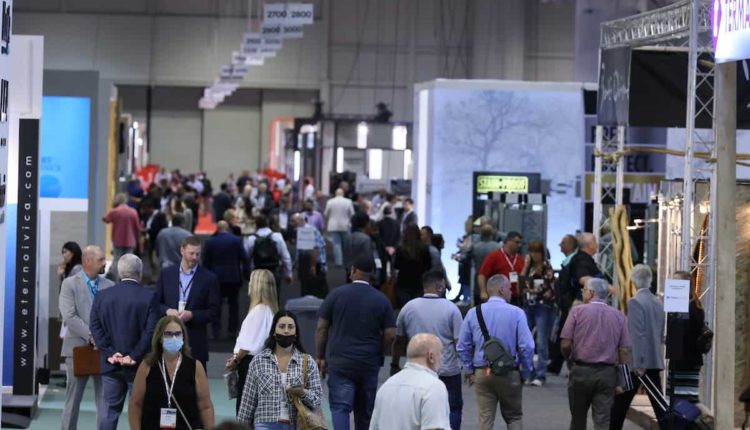 Coverings 2022 shines light on innovation, design
LAS VEGAS—The flooring industry is witnessing a burst of color and bright, fresh patterns—such as contrasting art deco looks or crisp florals—in a wide arrange of hues. These were among the trends showcased at Coverings 2022, held here earlier this month.
The preeminent event for the ceramic tile and natural stone industry provided visual insight into what consumers will be seeing on their walls and underneath their feet this year.
Here are five trends:
Organic Texture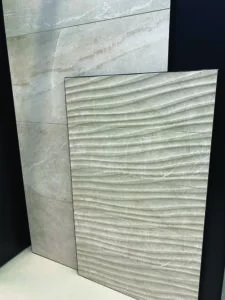 Think creamy beige with a windswept texture or a cool gray tone made to resemble stone. Simple, neutral-toned tiles with clean, organic textures give a modern, streamlined look to any room and is projected to be a popular stylistic choice in 2022. Companies showcasing their own "organic texture" looks at Coverings opted for muted beiges, light grays and stark whites.
Earthy Jewel Tones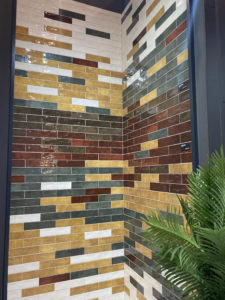 Emerald greens, aquamarines, dusty roses and rust tones pair perfectly with an existing interior space as an accent wall or to make a bold statement installed in a bathroom or kitchen floor. At Coverings, designers embraced this trend by weaving these featured colors into graphic or floral patterns or allowing the color to be the focal point in large-format tiles.
Floor-to-Ceiling Marble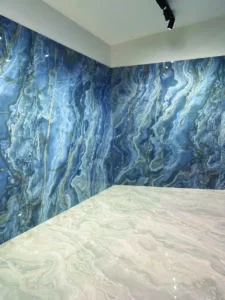 A recurring theme throughout the show was a resurgence of 80's opulence as seen in the floor to ceiling marble trend. Creamy ivories with pearlescent accents or rich charcoals with gold, metallic veining pay homage to the lux look and feel of vintage 80's decor made popular by Italian designers such as Versace.
Shapes Scaled
While bold and bright colors make quite the statement when incorporated into an interior space, large- (or small) scale geometric designs can do the same, even in muted neutrals. Designers utilized these trending geometric shapes and patterns by displaying salmon pink and cinnamon hued art deco wall arches; also shown was a classic take on a black and white kitchen backsplash redesigned in a more faded color palette featuring various-sized ovals in place of the typical black and white squares.
florals
While a floral trend seems to pop up every spring, tile suppliers at Coverings were bringing a new approach by mixing different finishes, contrasting colors and producing large slabs that can be fitted together to resemble wallpaper. This unique take on a familiar trend creates a homey and eclectic feel to one's space and brings in pops of color and pattern to an otherwise simple, neutral room.