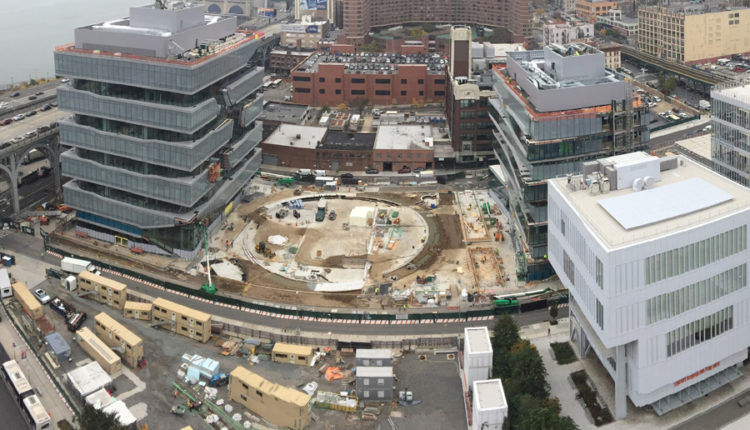 Construction Update: Weeks of 5/24/21 and 5/31/21 | Columbia
Check out a PDF version of this week's update
What is happening
Columbia Business School
Site 7 (Western Site)
Completion of exterior wall installations of glass fiber reinforced concrete (GFRC) on floors 4 to 11
Testing of the fire alarm system will take place on Monday, May 24 at 2:30 PM to confirm the pressure of the fire extinguisher line. While testing is in progress, a hose will pour water from the top of the building to W. 131th Street. Flag people will be available to guide pedestrians and vehicles.
The water testing of the outer wall will take place in the week of May 24. All tests take place on the construction site.
Preparation and installation of exterior glass doors
Interior fittings (walls, glass partitions, ceilings, floors, millwork, GFRG) and above-ground mechanical, electrical and plumbing installation (MEP) on floors 1 to 11
Site 6B (Eastern Site)
Below Grade Activity / W. 131st Street Utilities
Installation of permanent lighting, sockets and appliances, security cameras and wireless access points
Installation of toilet and sanitary facilities
Fire alarm testing is complete
The construction of the loading dock is progressing
The comeback of metal panels is almost complete
Spackling and painting walls are going on everywhere
The ramp ceiling of the truck is almost complete
Installation of acoustic ceiling tile ceiling. Countertops and ceramic tiles are completed. Painting is underway.
Open spaces between 130th and 131st Street and along 12th Avenue
Continuation of living roof layer
Structural replenishment, reinforcement, formwork and concrete top plate in progress
Installation of power lines, cobblestones and ditch drains. Hanover pavers / hardscape to start
600 W. 125th Street
This phase of the remnant wall project for the adjacent property, Tiemann Place 31, has been completed. Wall repairs, wall adjustments and exit stairs have been completed.
Excavation and Foundation Contractor begins excavation in support of Excavation Systems (SOE) and begins installation of SOE in the week of May 31
Con Edison is improving utilities on W. 125th Street, west of Broadway
Please note that all activities are subject to change based on weather and other field conditions.
What to Expect
Construction activity
Normal working hours on working days: 7:00 am to 6:00 pm Working hours on Saturday and Sunday: 7:00 am to 5:00 pm After office hours permit issued before 6:00 am, construction starts to allow physical distance for workers on entry to the site. Permit issued Monday through Friday from 6:00 pm to 11:00 pm for installation of exterior walls in the Business School buildings outside of office hours.
Material deliveries to the site are underway
Temporary consequences for traffic and transport
Please refer to street signs for the west side of Broadway from 129th to 130th Street – parking is allowed after 6pm and on weekends
W. 131st Street between Broadway and 12th Avenue is open to westbound one-way traffic
The parking lot closes on the south side of W. 125th Street from Broadway to St. Clair Place. There is no parking on the south side of W. 125th Street from Broadway to the center block for the entire length of the 600 W. 125th Street fence.