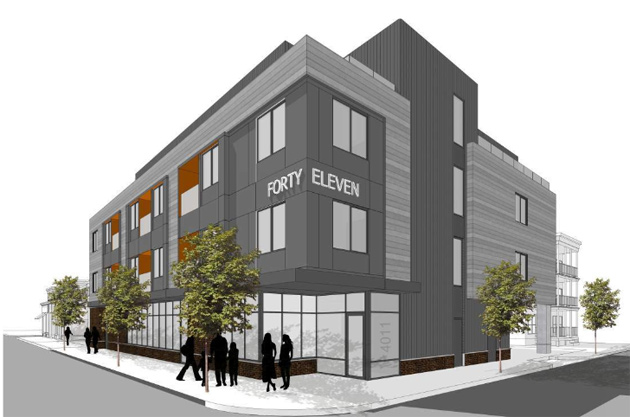 Condo building proposed to replace daycare, former plumbing office at Washington and Lesher streets in Roslindale
The children of Benjamin Gold, who ran a plumbing business in The streets of Washington and Lesher in Roslindale until his death in 2005, the company and neighboring Little Peoples Playhouse nursery have proposed razing to the ground for a 19-apartment building topped with a "green" roof covered with soil and vegetation.
In a filing with the BPDA, the Golds say they hope to offer the ground-floor commercial space to Little Peoples Playhouse, but no agreement has yet been reached.
Three of the units would be sold as affordable.
The building would have 16 or 19 parking spaces – the application lists both numbers.
As suggested, the four-storey structure is quite consistent with other four-storey mixed-use buildings in the general neighborhood. The facade of the building connects to the front edge of the site and is therefore compatible with adjacent buildings. From a functional design standpoint, it seems reasonable to conclude that other proposed buildings will offer a similar height and scale to the proposed project. As proposed, the single-tenant space ensures that the building's facade has a unique cohesive aesthetic and is not confused by external signage and visual congestion. The design philosophy was to promote a simple yet effective approach to try to preserve the ground floor as a daytime commercial space with residents living above it and able to enjoy the solitude outside office hours.
The green roof will reduce storm runoff from the building, extend the life of the roof and lower air conditioning costs for condo owners, the Golds say.