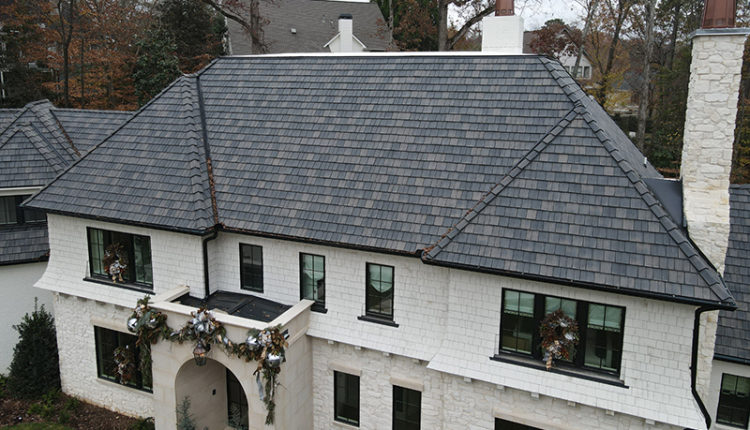 Composite Shake Roofing Adds to Curb Appeal
Restraint is everything. Whether you're working on a new build or remodel project, creating a home with a striking appearance is a goal for every construction professional.
One element that can "make or break" the visual appeal of a home is the roof. From choosing the roofing material to choosing the right color, it helps to create a long-lasting look.
However, there is more at stake in choosing a roof than just good looks. Low maintenance, a strong warranty, and reduced long-term homeowner insurance rates all play a part in making a roofing decision. Those are just some of the reasons why a growing number of builders and renovators are opting for composite slate and shake roofing for their homes.
Roofing that steals the show
Last year in Atlanta, builder Chris Davis had to decide which roofing material to use on the high-profile 2020 Home for the Holidays Showhouse presented by Homes and Lifestyles in Atlanta magazine. He chose Select Shake from DaVinci Roofscapes.
"I wanted to use an upgraded roofing product for a variety of reasons," said Davis, owner and founder of KBD Development & Construction. "This Nantucket-style house has a hipped roof that is easily visible from the street. I knew the roof would play a big part in the look of the house, and I wanted the roof to 'match' the other elements of the house's exterior.
"With so many creams and whites on the facade of the house, it was important to anchor the house with a natural, contrasting color. The Black Oak color of the composite roofing did a great job. "
According to Davis, the Select Shake product adds dimension and character to the 6,500 square foot custom home.
"This DaVinci roof does as much or more than any other aspect of the home in terms of curb appeal," says Davis. "The compound shake looks realistic, looks very authentic and very expensive. However, this is not a 'bust the bank' product. It is simply a well-priced shingle with exceptional properties.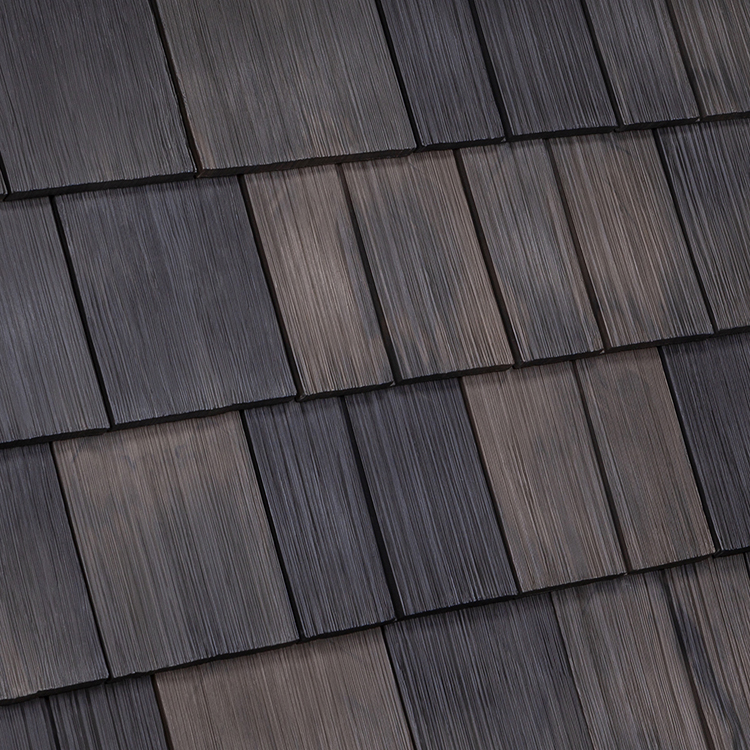 "In my opinion, builders too often rely on asphalt roofs. The DaVinci roof on this house shows how important it is to create a strong appearance. In general, builders should know that composite roofing adds long-term value to a home. With this DaVinci roof, we were able to give the new homeowner a lifetime limited material warranty. "
Authentic Shake look
Select Shake, the fourth shake profile available from DaVinci Roofscapes, has the true look of real cedar shake. The multi-width shake tiles are made from natural wood profiles and resemble a traditional cedar shake.
Each DaVinci Select Shake tile is available in 8 and 10 inch widths, is 22 inches long, and 5/8 inch thick. The 10-inch-wide pieces have a simulated keyway to give the appearance of four- and six-inch-wide shakes placed together. DaVinci Select Shake's unique tile design ensures quick installation.
Realistic color blends
DaVinci Select Shake tiles are available in eight color blends, including Autumn, Chesapeake, Mountain, Tahoe and Weathered Gray. The additional three color blends are from the Nature Crafted Collection and include Aged Cedar, Black Oak and Mossy Cedar.
The Black Oak color, which Davis used at the 2020 Home for the Holidays Showhouse, reminds people of natural cedar shingles that have been saturated with moisture and mold for many years. The color tells the story of a dark, aged, mature-looking cedar in a home.
The Aged Cedar color reflects a burnt reddish cedar hue. This color is generally found when there is a transition from a new cedar shaker roof to the weathered deeper tone.
Mossy Cedar has a moist, greenish character. While in true cedar this is achieved by moss and lichens which are not good for the life of the roof, the color is one that people crave for their natural looking shake roofs.
"The Nature Crafted Collection is for people who are true lovers of cedar shake shingles," said Wendy Bruch of DaVinci Roofscapes. "They get the desired colors from the first day that the roof tiles are installed, without waiting years for the aging process.
"The shades are remarkably realistic and remain 'locked' on the roof for a lifetime. Best of all, people with composite roofing don't suffer from the upkeep or decay worries they would normally experience with real cedar shingles. "
DaVinci Select Shake products meet the same test ratings as other DaVinci roof products. The tiles have a limited lifetime warranty and are resistant to discoloration, rotting, cracking and insects. They are rated Class A for fire resistance, Class 4 for impact and are certified for high winds up to 220 km / h.
For more information visit www.davinciroofscapes.com or call 800-328-4624.