Clearway completes 39-MW solar, 156-MWh storage project on O'ahu
Clearway Energy Group has completed construction and achieved commercial operations at its Mililani Solar I plant. This is Clearway's fourth solar power plant on O'ahu and the island's first solar and battery storage plant.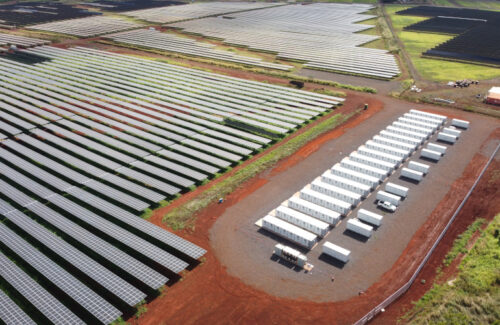 The 39 MW Mililani solar power plant is linked to a 156 MWh battery system.
"Hawai'i has long led the nation in the transition to reliable carbon-free energy. The celebration of O'ahu's first major solar and energy storage facility is proof that that ambition is within reach," said Craig Cornelius, CEO of Clearway. "We are proud to help Hawai'i achieve its clean energy goals and are grateful to Hawaiian Electric, whose collaboration has been instrumental in achieving this important milestone."
The $140 million project broke ground in April 2021 and the installation of the panels and battery storage was completed ahead of schedule. Mililani Solar and Clearway's second solar and storage plant under construction in Waiawa are expected to jointly contribute $9 million in taxes to the City and County of Honolulu. More than 240 local union jobs were created during the construction of both plants and a permanent workforce will support ongoing operations and maintenance.
Wärtsilä supplied the energy storage components and Moss led the project construction.
"Wärtsilä is proud to lead the clean energy economy in Hawaii and tackle climate change in partnership with Clearway Energy Group and Hawaiian Electric. Energy system optimization technology and flexibility solutions such as energy storage play a key role in balancing the state's energy systems in terms of renewable energy and ensuring the reliability of power supply for island residents," said Håkan Agnevall, president and CEO from Wartsila.
Construction of Clearway's second solar and battery storage plant in Waiawa, built on the Kamehameha Schools site, is expected to be completed later this year. In total, Clearway's five solar power plants totaling 185 MW will serve Hawaiian Electric's power grid.
News item from Clearway