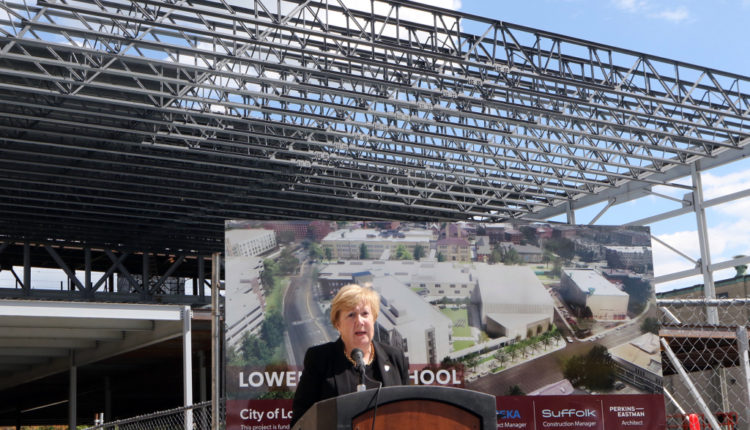 claims about Lowell High project bidder overblown
LOWELL – In a memo to city council, city manager Eileen Donoghue refuted claims that a subcontractor who had bid on part of the Lowell High School project had previously had safety concerns that led to the death of an employee.
According to the memo, the subcontractor is Harold Brothers Mechanical, Inc. – with which the city is currently finalizing a contract for both plumbing and HVAC work – and the employee's previous death was "unrelated to the work environment".
The memo came in response to a motion by Councilor Rita Mercier at the last council meeting, in which Mercier asked Donoghue to "pay close attention to information about a bidder" about the project.
At that meeting, Mercier and Councilor John Drinkwater expressed concerns about the then-unnamed subcontractor and alleged attempt to cover it up, with Drinkwater claiming the company had had a previous Occupational Safety and Health Administration violation that involved a fatality. fallen at work.
According to Donoghue's memo, Skanska, the town owner's project manager, started a pre-qualification process for subcontractors late last year. Harold Bros. got pre-qualification for both plumbing and HVAC, by submitting a statement of qualification, or SOQ, indicating that there were no employee deaths related to the company's projects.
"In the interests of transparency and with an abundance of caution, Harold Bros. later filed an amendment to the SOQ to disclose an employee's death in March 2019 due to circumstances unrelated to the work environment," Donoghue wrote. . "The person was 74 years old, a heavy smoker and had chronic obstructive pulmonary disease (COPD) when he had a heart attack while tightening a bolt, an incident that ultimately resulted in the person's death."
She said the workers' compensation insurer denied the claim based on the cardiac event and also considered it "unrelated to the work environment."
In a Dec. 31 letter accompanying the memo, Patrick Harold, president of Harold Bros., said that the company initially did not disclose the death due to the employee's pre-existing condition and that he was conducting warranty work to address a leak. in place of an ongoing construction project.
"Accordingly, we did not see this as a job site safety issue related to a project and submitted the document with the box ticked" no, "wrote Harold. "However, we have decided that, with great caution, we should tick the 'yes' box and provide additional information about the event."
In his letter, Harold said the Weymouth-based company has also changed a separate section of the document related to legal or administrative proceedings from 'no' to 'yes'. He said this was done to reflect both the employee's death and an OSHA fine the company received for a 2020 non-injury event where an employee drilled a hole in concrete without a vacuum attached to it, something required by OSHA regulations.
Harold said the company "took immediate action with the employee," retraining him on the proper use of the drill and giving him 30 hours of OSHA training. He notes that the employee also received training on silica in 2017.
Additional documentation provided by the city showed that both incidents were subject to OSHA citations that "were eventually resolved without any acknowledgment of liability by Harold Brothers."
According to Donoghue, only two bids were received each for plumbing and HVAC for the LHS project, and Harold Bros. was the lowest bidder with $ 832,000 on plumbing and $ 9.7 million on HVAC, together $ 10.57 million.
Donoghue said Skanska has vetted all subcontractors thoroughly and has been "extremely exhaustive in assessing the implications of the change submitted by Harold Bros.". She said that inclusive consultation with both the state attorney general and city officials before determining the company's pre-qualification would hold up.
"I appreciate the City Council's interest in job site safety during the construction of Lowell High School," wrote Donoghue. "Given the thorough process followed by our project management team, I am confident that all subcontractors hired for the project will meet a high standard of safety for their employees."
However, Mercier and Drinkwater are not satisfied with Donoghue's response and still believe the company poses a safety risk. They both said the employee's death is more.
Drinking Water is employed by one of the state's largest unions, the AFL-CIO of Massachusetts, as a personnel development specialist.
Mercier also has a history with unions and the LHS project. In 2019, she unsuccessfully urged the city to pass a project labor agreement, or PLA, that would set minimum percentages for certain types of workers on the project, such as union workers, residents of Lowell, people of color, women, and veterans.
Donoghue said at the time that such an agreement would entail high costs, based on her discussions with consultants hired for the project. The PLA was never passed.
According to an OSHA accident report, the 71-year-old Harold Bros. stop a leak in a hot water central heating system when the treated boiling water began to spout. The man experienced respiratory distress due to his COPD, "aggravated by inhalation of propylene glycol aerosols and possible thermal burns from pressurized hot water," resulting in his death.
"OSHA is really the authority to determine whether something was a workplace fatal outcome or not," Drinkwater said.
He said he does not dispute that the company was considered a qualified bidder, but wants to ensure that the public receives accurate information.
Mercier said she is aware of two other communities, Arlington and Sharon, who have declined Harold Bros. to do HVAC work for their school projects because they shared the same concerns.
The Sun has received letters sent to Harold by both communities in the past seven months refusing to work with Harold Bros. for omitting OSHA violations from the Company's SOQ submissions.
As a city councilor, Mercier said it is her duty to look after the interests of the city, and she believes Lowell should follow Arlington and Sharon's lead and turn down the company's bids.
"I hope I never have to say to the city, 'I told you so,'" Mercier said.
Harold did not respond to a request for comment.