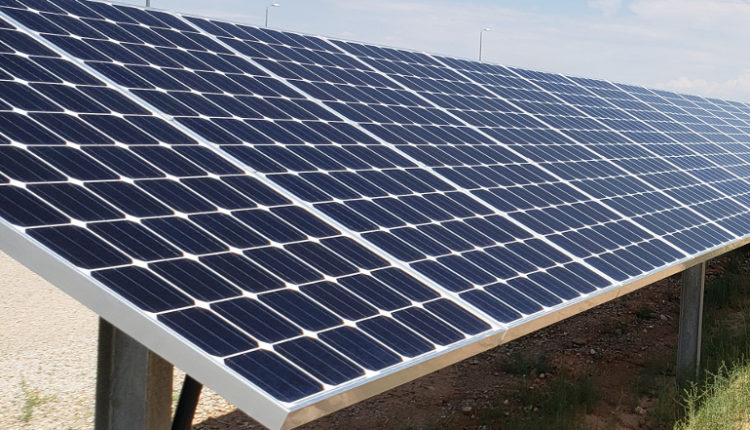 CIM Group's 250-MW Aquamarine solar project set for completion this fall
CIM GroupThe 250 MW Aquamarine solar photovoltaic project, part of the first phase of the Westlands Solar Park (WSP), will be fully operational in the fall of 2021.
The project is on track to meet the contracted supply of 50 MW of capacity to Valley Clean Energy Alliance, which completed a contract with WSP in early 2020. Valley Clean Energy is a locally controlled electricity supplier to the California cities of Davis, Woodland, Winters and unincorporated parts of Yolo County.
"We believe Westlands Solar Park is ideally positioned to be a leader in California's program to reduce the state's carbon footprint and meet the goals of the Renewable Portfolio Standards. With Aquamarine becoming fully operational by the end of the year, we are realizing our vision for Westlands Solar Park to become a major clean energy provider and are meeting a significant commitment to our company's ongoing sustainability program, "said Avi Shemesh, Co-Founder and Client, CIM Group. "With Aquamarine and the future phases of Westlands Solar Park, we will also bring clean energy jobs to the region and generate revenue for local government and local businesses."
WSP has the potential to create 400 clean energy jobs, both in construction and operation, under a union contract governing the entire project. WSP is also ready to generate direct and indirect income such as local taxes, procurement and ancillary expenses.
"With Aquamarine's imminent completion, we are in active discussions with numerous entities to provide the clean energy essential to meet the short- and long-term renewable energy goals – vital to improving communities," said Shemesh .
Aquamarine recently entered into a 75 MW power purchase agreement (PPA) with Santa Clara, joins other Anaheim Public Utility customers and is currently negotiating additional PPAs with other potential counterparties.
WSP has the capacity to grow to more than 2,700 MW of renewable energy with full expansion and the potential to provide clean energy to more than 1,200,000 homes. The master-planned energy park spans more than 20,000 acres in California's San Joaquin Valley in western Fresno and Kings Counties. CIM reuses selenium contaminated farmland and farmland that has been disturbed by drainage for the development of clean energy at WSP.
News item from CIM Group