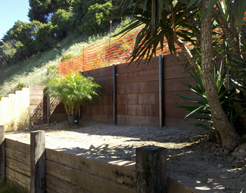 Choosing the Right Contractor to Build a Cinder Block Retaining Wall
Many San Diego backyards can take advantage of one of the simplest and most affordable landscaping design solutions; a cinder block retaining wall. This cost-effective and reliable landscaping helps slow soil erosion, direct water runoff, and can increase your backyard's usable square footage. Plus, San Diego's top contractors come up with creative designs and smart solutions for building cinder block retaining walls that aren't just protection against erosion, but also serve to add an interesting visual feature to your landscape. Here are a few tips for choosing a great contractor for your retaining wall project.
Find a team with knowledge of hills and water runoff
San Diego is known for its beaches, burritos, and palm trees, but what many people don't realize is just how hilly the local landscape really is. Many of San Diego's homes are on slopes or in arid areas where downhill erosion is a problem. A knowledgeable local contractor can assess your landscape and provide a retaining wall solution that minimizes the slope angle and keeps the soil in place. They can also build cinder block retaining walls designed to promote safe water drainage. This is especially important for San Diego's tendency for unpredictable storms and floods during the winter. A good contractor knows how to achieve the correct drainage, minimize the pressure build-up within the retaining wall and optimize the safety and durability of the construction.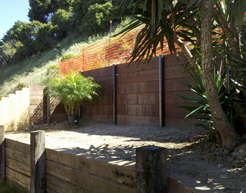 Choose a contractor who can handle a variety of spaces
Real estate prices in San Diego are significantly higher than in the rest of the nation. Consequently, homeowners are trying to maximize their square footage by building backyards in hills, optimizing space and saving money. A good contractor will have experience working with both large and small spaces, and will have an eye for determining the best ways to use the landscape by adding cinder block retaining walls, pathways, drainage and more.
Work with a contractor who owns quality equipment
Have the best contractors the right tools to get the job done. If your goal is to build a retaining wall, find a contractor who has their own drilling rigs, excavators, trailers and storage equipment. When your contractor has immediate access to the right tools, you can expect fewer delays to your retaining wall project, faster service and less hassle without having to plan and coordinate multiple different rental services. Contractor-owned equipment is also often times better maintained than the oil rigs and excavators provided by a third-party service.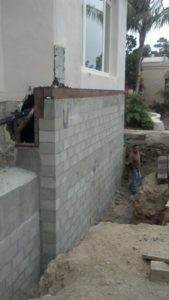 If you want to protect your home from downhill erosion, improve water drainage in your yard, or make your landscape visually interesting, a cinder block retaining wall can be the perfect solution. In your search for the perfect contractor, don't be afraid to ask the right questions: Have they worked in a space similar to yours? What is their experience working on very areas? Do they have their own equipment? What do they know about waterproofing materials and techniques? Going with a great contractor can often mean the difference between a successful, long-lasting result and a poorly constructed wall that has to be redone in a short amount of time.