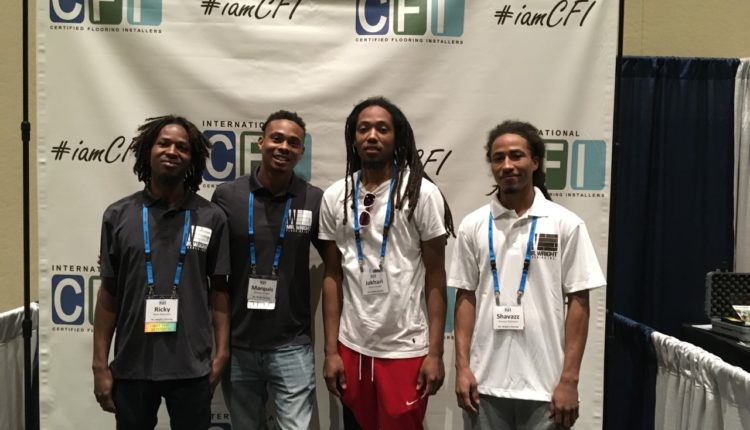 CFI convention: The wait was worth it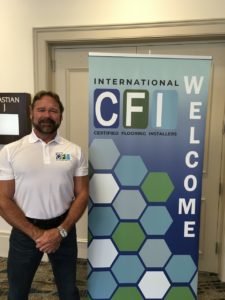 By Ken Ryan—Orlando—Twice postponed by the COVID-19 pandemic, the International Certified Flooring Installers (CFI) gathered here for the first time since 2019, and the turnout and response exceeded everyone's expectations.
Of the 175 in attendance, 73 were first, a testament to the organization's evolution, according to Executive Director Robert Varden. "In the [early years], if we could get 100+ to the event, that would be good. Then the number was 120, 140, 150 and so on – and it's not just the number of people here, it's the kind of people that are here and their involvement. The response has been phenomenal."
The conference featured a number of younger installers (30 and under), precisely the CFI demographic – and the larger flooring industry – that has been trying to pick up during the ongoing shortage.
Among the new children attending the convention were four relatives (all aged 30 and under) of Mr. Wright Flooring in Jacksonville, Florida. The installation company was founded in 2012 by the then 21-year-old Marquis Wright and is praised by customers for their craftsmanship. and pleasant attitude. Wright's introduction to the profession came quite harmlessly. "One day my neighbor came up to me and asked if I wanted to work for $70 a day," Wright said FCNews. "I was looking forward to that." Wright, 30, recalled a job that sealed the deal for him as an installer. "I saw the finished product and was so proud of it – I thought even prouder than the customer would be. But when the customer saw it and started crying, she was so excited. That was an amazing experience. I love that I can use hands and make something."
Wright's team includes brother Jakhari, who is 25; and cousins, Ricky Robinson, 30, and Shavazz Robinson, 29. Shavazz has been installing for six years. "At first I didn't think I would continue [with installation]. I was just looking for a check at the time." Over time, he said he started to enjoy the craft "mainly by creating something and seeing the floors come together. That was cool."
Evolution of CFIA
For most of its history, CFI has provided training and certification to installers across the industry. And while he still does, recruiting new installers has become a critical objective of the association. Perhaps CFI's best example of recruiting is through Build My Future-Flooring Edition. The first meeting in Plano, Texas, two years ago (COVID-19 sidelined last year's scheduled event) drew 118 high school students, many of whom learned about laying floors for the first time. Based on the success of the program, Build My Future plans to expand to other US cities. "We learned that you have to be interactive, you have to interact with the kids," Varden said. "We found that kids liked working with their hands and liked building things with their own hands."
Varden said a high school graduate who successfully completes the 5-week CFI training course would be ready for a job anywhere in the US with a starting salary of $35,000 or more, with no college debt. Many high schools that had dropped retail classes now offer building programs, although most do not include flooring as part of their curriculum. Varden said he encouraged flooring professionals to get involved by contacting their local high schools and raising awareness of the flooring option.
Dynamic dealer installer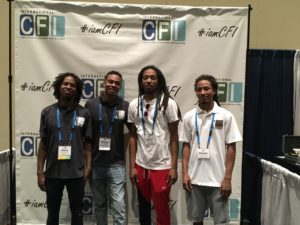 A highlight of the CFI convention was a panel discussion between installers and retailers about their working relationships, which can get tricky at times. Dwayne Pruitt, president of Pruitt Home Services and a CFI installer/certifier, said he felt installation was "always treated as a necessary evil. If that's still the case, we still have a lot of work to do."
However, retailer panelists suggested the opposite is true. Mac McIlvried, vice president of operations for Empire Today, said he sees his installers as "our lifeblood."
"We know where our bread is buttered, and it is buttered on the installation side of the business."
In a similar vein, Don Roberts, who owns five stores in Alabama and is secretary of the World Floor Covering Association (WFCA), said they are inclusive when it comes to subcontractors and treat them like employees. "Every company takes care of the salespeople because they generate the revenue, but we include our back office people, installers, subs — everyone in our staff," Roberts said. "When we have outings like Topgolf and the Mario Andretti Racing Experience, we invite our subs. My experience is that subs want to go where they are treated well and unfortunately they are not treated well everywhere.
Scott Humphrey, CEO of the WFCA, who acted as one of the moderators, told installers, "You've never been more valuable to this industry than you are now, but let it shine. Although it is often portrayed that the two sides – retailers and installers – to be against each other, we have to work together."
One area that both parties agreed on is that it all comes down to customer satisfaction. "If my installers don't treat my customers well, they won't be working for me for long," said Roberts. He noted that he would rather employ courteous installers with average skills than an excellent technician who did not treat customers well.
Roland Thompson, who has a unique position as a salesperson and installer, said his company (Thompson Flooring in Frederick, Maryland) calls the customer after installation to ask about the job and how the installers are treating her. "We ask questions like, 'Did they clean up after that?' 'Were they courteous?'" Those who tick the boxes are likely to be better compensated.
Roberts said his idea of ​​the perfect installer is one that "leaves the customer happy. It's also about trust. If they can only work three days a week, that's fine, work those three days. Don't say you can do three." work and come for two.'
When asked about his vision of the perfect retailer, 50-year-old installer Alan Ellis simply said, "A retailer who treats you like family."
The post CFI Convention: It Was Worth the Wait appeared first on Floor Covering News.