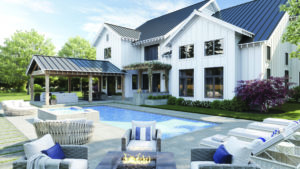 Ceramic: Latest trends evolve with consumer habits
TThe ceramic tile category is arguably the closest link of flooring to the interior design community. Ceramic tile trends draw their design elements directly from consumer habits in the home and build on those needs to create the look, textures and technologies. It is for this reason that ceramic tiles tend to lead the industry in terms of style and design and why ceramics are considered the most stylish and progressive product category in the industry, proponents agree.
In 2022, there are several consumer habits in and around the home that have driven the ceramic tile trends. Consumers today are still evolving to overcome the challenges posed, for example, during the COVID-19 pandemic. That includes the 2020 lockdowns, frequent and ongoing quarantines, and even the new work-from-home lifestyle that has changed the workplace landscape forever and likely will continue into the future. These events have helped shape several tile trends that are currently thriving in the market.
For example, due to the consequences of the pandemic, outdoor life has become more important. "It's no surprise that homeowners are spending more time at home," said Amber Leigh Martinson, Dal-Tile Corp's senior marketing director. "They eat, visit, work and relax outside in their own home. The outdoor space is therefore used more as an extension of the home."
Another housing trend that has been gaining ground for several years now is the concept of biophilia, or the addition of natural elements to interior spaces. Just as the pandemic ushered in the era of the great outdoors, its insulating effects have seen consumers return to nature for a sense of security and tranquility. This idea of ​​bringing nature inside is reflected in many elements of tile design and is now reflected in ceramic tile trends. "Biophilia coupled with wellness remain key drivers of tile design as the benefit of bringing nature into the space for stress relief and general wellness is widely recognized," said Suzanne Zurfluh, director of design and trend, Emser Tile. "Since the onset of the pandemic, individuals have become more connected to the outdoors with biophilic design. Therefore, they recognize the overall importance of nature and the benefits of bringing these elements into a space. This behavior encourages more people to adopt a healthier and more sustainable lifestyle and therefore increases the importance of environmentally friendly building products such as tiles in both their homes and offices."
Shapes and sizes are also key when it comes to ceramic tile trends. Somewhat removed from the effects of the pandemic, consumer desire for shapes beyond the traditional square and rectangle has been growing for several years now. The demand grew out of the need to express individualism in a sea of ​​equality when basic subway tiles and muted grays dominated the day. For example, large format tiles have been steadily increasing in popularity for about a decade. From oversized wood-look planks to marble-inspired porcelain slabs large enough to cover a bathroom wall, size matters when it comes to tile trends. "Ceramics/porcelain is growing exponentially in size due to increased factory capacities," said Suzi Portugal, vice president of design and sourcing for Mosaic Companies. "Tile is fashion, so design is very important."
---
While the outdoor living trend was nascent before the start of the pandemic, the aftermath of global shutdowns and forced quarantines have pushed the trend to the forefront. Consumers today are building outdoor oases to complement their indoor spaces in an effort to get more square footage of livable, safe space in their homes. Here are several collections of outdoor tiles from Daltile on display.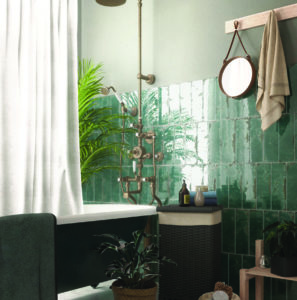 Along with the trend of the outdoors, biophilia has been growing for several years and has finally cemented its place in the home as consumers continue to view nature as a safe space to rest and recharge. Consumers bring those biophilic elements into their homes through color, texture and even shape. Shown here is Emser Tile's Inhale tile collection, with blue and green hues as standout features as the mixed finish mimics the way light reflects off the surface of ocean water.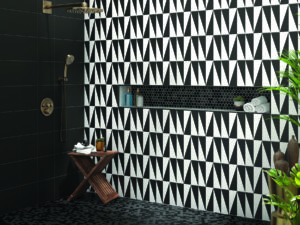 Sizes in tiles have evolved from the traditional 12 x 12 formats to encompass everything from huge porcelain panels to large format planks in countless design options. Shown here is Mosaic Companies' Pop Culture collection, which features large-sized shelves in a variety of black and white options.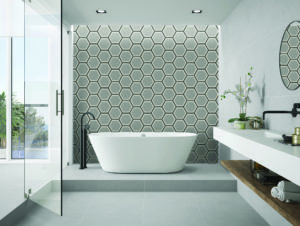 Moving beyond tradition, Tile includes options that help consumers express their individualism at a time when the home lifestyle is thriving. Today, the home has become the most important space for consumers and a place where they end up living for most of their lives – as opposed to the workplace, which used to dominated. As such, and varied shape options evolve. Hexagons, for example, have become a wildly popular shape in the tile world in recent years. Shown here is MSI's Hexley Hive.