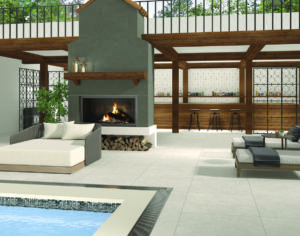 Ceramic: Consumers yearn for outdoor living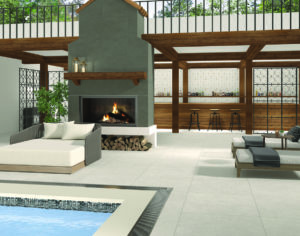 The past more than two years have shown the strength of the tile industry as consumers flocked to the ceramic tile aisle for their home renovation needs during the height of the pandemic. It's no surprise, as the ceramics category is the most visually dynamic and proven flooring material available, as well as being one of only two truly ambitious flooring categories in the industry. As the category continued to grow due to the pandemic, consumers sought to fill their homes with ceramics both inside and out. As a result, outdoor living has become a popular design choice for many homeowners buying new homes or renovating their existing spaces — and that demand seems to be getting stronger.
"Outdoor projects are still on the rise as people rediscovered the outdoor spaces of their homes during their time at home and enjoyed the revived practice of enjoying the outdoors together," Patrick Warren, vice president of residential sales, dealership and showrooms, Dal-Tile Corp. , told FCNews. "The desire to create an open-air reserve to relax or a space to socialize has not abated. In fact, many people now aspire to recreate a beautiful outdoor space that rivals something previously experienced only on vacation."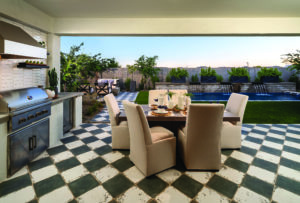 Mara Villanueva-Heras, vice president of marketing at Emser Tile, agreed, noting, "With an ongoing appreciation for outdoor spaces, homeowners use these areas to relax,
spending quality time with family and friends and simply enjoying nature in the comfort of their own backyard. Some homeowners are investing in extensive covered outdoor kitchens and bar areas with large islands, grills, smokers, refrigerators and heaters that can be used essentially year round. For those unable to invest in a complete transformation, paved patios, feature walls, fire pits, outdoor fireplaces and seating areas can provide sophistication and warmth, along with comfort and design for outdoor spaces at a fraction of the cost. Simply put, the outdoor living trend is only growing."
Paulo Pereira, senior merchant for MSI, put it this way: "What better place to host family and friends than in your backyard? Everyone loves a pool to cool off in during the hot summer months or to gather around the fireplace [during the cooler months] or practice their grilling skills with their [outdoor] BBQ grill and oven."
Ability to earn money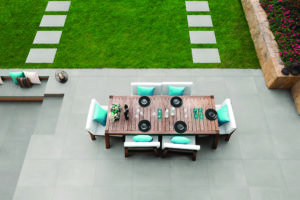 When a thriving new trend emerges in the flooring industry, dealers are usually quick to seize the opportunity in an effort to provide consumers with what they want. It's no different when it comes to the growing "outdoor living" trend, which is a key piece of the sales puzzle that flooring dealers should take full advantage of by 2022.
"Whether it's a pool deck, formal garden space, or patio/porch, it's vital that the floor—the canvas on which the rest of the space will be designed and built—is paramount," explains Tim Hanno from, National Director of Strategic Accounts, DecoVita USA. "There is a big difference between a concrete floor that resembles your driveway and a calacatta marble pavement that matches the floor of your kitchen or great room. Flooring retailers who embrace this new space with just a little flair for design are opening themselves up to a great opportunity for additional sales. And many of these spaces occupy significant square footage."
Lindsey Waldrep, vice president of marketing, Crossville, noted that consumers want a one-stop shop, and if they don't get what they need in one location, they will look elsewhere for total sales. "Not offering solutions for outdoor spaces can mean the loss of sales for interiors," she explained. "Whether it concerns homes or businesses, we want spaces to flow. And if interiors and exteriors are not thought of at the same time – and possibly even with the same tile on a different surface for each space – consumers will be dissatisfied."
Some suppliers point out that floor dealers can put money on the table by ignoring this part of the market. "In many parts of the country, porcelain pavers represent an additional market segment not yet covered by traditional tile dealers," said Paolo Mularoni, president of Del Conca USA. "They are also an additional way to appeal to architects and designers who can match interior and exterior design for a seamless transition. The sheer size of outdoor projects should drive any dealer to work with the outdoors."
When it comes to working with the R&D community, Suzi Portugal, vice president of design and sourcing for Mosaic Companies, noted, "Designers and architects want solutions to bring the outdoors inside. creating an open-air museum at home – and using balconies, terraces and gardens is the perfect way to increase sales.Many designers and architects want solutions to bring the outdoors in."
Trends in the outdoors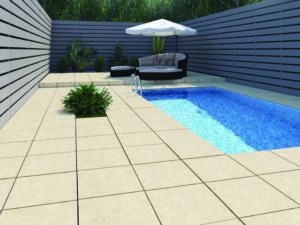 So, what exactly is trending in terms of style and performance within the outdoors? Turns out it's similar to what consumers currently crave in the home as well. "Outdoor living in the form of wooden terraces, swimming pools and verandas has been around for a long time," says Hanno of DecoVita. "The trend now is to make those spaces feel like they are more of an extension of the home and not just a place to lift a chair and sit outside. People want a space where they can relax, play, entertaining, doing yoga or just being able to bring the indoors out."
Regarding style, Emser's Villanueva-Heras said, "As many homeowners want to create their own outdoor oasis with a minimalist aesthetic, they opt for warm, inviting neutrals and earthy tones for floors and wall tiles. Tile products with natural, tactile qualities that resemble stacked stone. Natural wood, concrete and brick are also popular choices.These looks can be visually interesting while also providing a perfect backdrop to the overall space.
When it comes to performance, Warren from Dal-Tile noted, "It's waterproof, stain-resistant, scratch-resistant, freeze-resistant and fire-resistant. Add to that the advantages that brands like Daltile offer in terms of size, design, colour, texture and slip resistance and tiles become a very attractive material for indoors, outdoors or flowing between the two."
How Dealers Can Succeed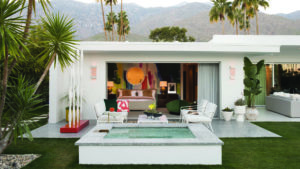 It's no secret that floor dealers in general struggle with the tile category. And it is not without a guarantee, as the category demands high-end installation and high-end prices for a high-end product. But that doesn't mean dealers won't find success with the right strategy.
Focusing on education, suppliers agree, is the key to success. "First, they should educate themselves about the benefits of using tile for outdoor applications," said Doug Hayes, vice president of sales, Florida Tile. "Key benefits include resistance to the elements, durability, ease of maintenance and great aesthetics. They need to clear a space in their showroom to display suitable outdoor products and create a space on their website explaining the benefits and showing different installations."
For Dave Garman, sales director of Tesoro, dealers need to free up merchandising space and train their staff. "Consumers often think of stone or stone yards when they think of outdoor spaces. Train your staff to introduce porcelain as a high-quality, low-maintenance alternative."
Villanueva-Heras added that it is important to offer a wide range of products specifically designed for outdoor use. "By offering brick pavers, stacked bricks, porcelain tiles suitable for outdoor and pool use, as well as the right placement materials [dealers] to deliver the right products for the job. Floor dealers also need to understand the different specifications required for using outdoor tiles so they can help their customers find the right solution, delivering both durability to withstand the elements and the look their customer is trying to achieve. reach."