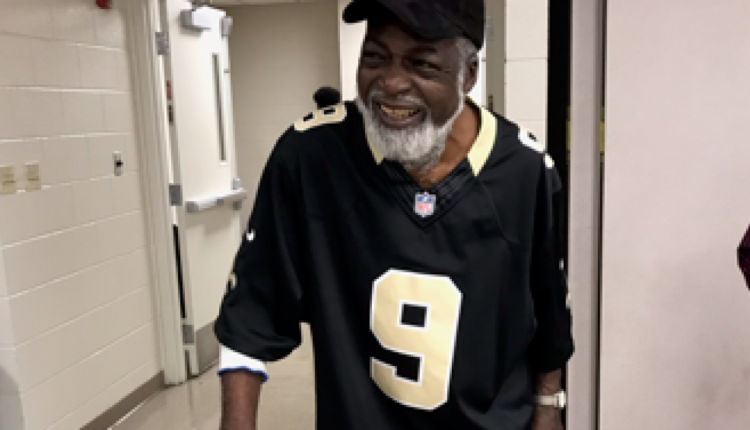 Celebrating B-N's Longest-Serving Plumber | WGLT
Curtis Henry Sr. has been involved with blowjobs and poo for 57 years. The Bloomington-Normal Plumbers' Union is celebrating its longest-serving member. During his career, Henry has seen the profession and the community evolve.
Plumbing was in the family before Henry. His uncle, Louis Garrison, was the first black plumber in Bloomington. Henry affectionately calls him "Old Man Garrison." He was well known in the city and helped many other black men get into the profession.
Henry was born and raised in Louisiana. But his uncle thought he would have a better life here.
"They wanted to bring me here to go to school because I was one of those bad boys — I didn't want to go to school or do anything," Henry said. "I wouldn't do it. I wouldn't listen. One day I got mad at my mom and dad. I jumped in my car and started driving around. And that's how I ended up in Illinois."
This was in the 1940s. Henry was a teenager.
It wasn't easy in Bloomington-Normal either. The first time Henry tried to help with a job, he was filling a hole in someone's yard after his uncle's crew finished work.
When the man returned that Monday morning, he said, "Who leveled this ground here?" Old Man Garrison said, "My cousin did that." And he said, "Man, if they'd caught him on that backhoe, they'd have him locked up in jail." That's exactly what he said. Because black people weren't allowed to get on those machines here," Henry said.
Next time Henry did it all by hand. He dug a 6-by-5-foot hole with nothing but a shovel in less than four hours — much to his uncle's surprise.
"(Old Man Garrison) jumped out of that truck to come have a look. I had cleaned everything under the pipe and done everything — the whole thing," Henry said. "He went and got two of the plumbers from his shop to see what I had done. He said if they hired people it would have taken a day and a half to do what I just did in four hours. Then he said, ' We're going to make you a plumber.'"
Henry learned plumbing the same way as many others: in his uncle's basement on Empire Street. Soon he was working on some of the biggest projects in the community.
"My first major job in Bloomington, Illinois was at State Farm. I put the sewer in that building," Henry said. "On the west side of State Farm was nothing but a pond. In that pond people used to fish and hunt. There was the sewer."
Henry also worked at Bloomington High School and on newly constructed buildings on the Illinois State University campus.
Henry said black men weren't always welcome on job boards.
"When I started my job, it was difficult. You were only allowed to do a few jobs. Other jobs, you couldn't go on. It was," Henry said. "But like I said, you just do what you can and if they don't like it or don't want you to do it, that's fine."
That changed in nearly six decades in the industry.
Henry said homeowners were usually respectful if you follow one simple rule.
"When I go into someone's house, I take off my shoes at the door," Henry said. "I'll let them do the plumbing and then walk out right away."
Henry said not all changes are for the better. He said the quality of the construction has deteriorated over the years – and plumbing is no exception.
"I'll be honest with you, I wouldn't put plastic pipes in anyone's house in this world," Henry said. "But you know, I'm not going there to preach that because they'd run out of Bloomington. I have to shut up."
The next generation of plumbers still rely on Henry as a source of wisdom and mentorship.
Henry said he was getting calls for advice on plumbing dilemmas. He said he can fix them without seeing the job.
"The plumbing is not difficult. You just have to understand what you should and shouldn't do," Henry said. "It's easy for me."
Henry hasn't worked in three years. His wife, Cheryl Henry, became ill and needed a full-time carer. She passed away in November. His daughter died of cancer in February.
It has been a difficult year. To top it all off, Henry was injured in the back and can't move properly.
At the age of 87, most people would like to sit back and relax. But Henry is ready to go back to the trade. He said he misses it very much.
"If my back gets better, I might just go out and do another 50 years of plumbing work," he said.
When he's back on his feet, Curtis Henry said, his first call will be to the union hall.
There are no subscription fees to listen to or read our stories. Everyone has access to this essential public service thanks to the support of the community. Donate now and help fund your public media.
window.fbAsyncInit = function() { FB.init({
appId : '1763132750501806',
xfbml : true, version : 'v2.9' }); };
(function(d, s, id){ var js, fjs = d.getElementsByTagName(s)[0]; if (d.getElementById(id)) {return;} js = d.createElement(s); js.id = id; js.src = "https://connect.facebook.net/en_US/sdk.js"; fjs.parentNode.insertBefore(js, fjs); }(document, 'script', 'facebook-jssdk'));