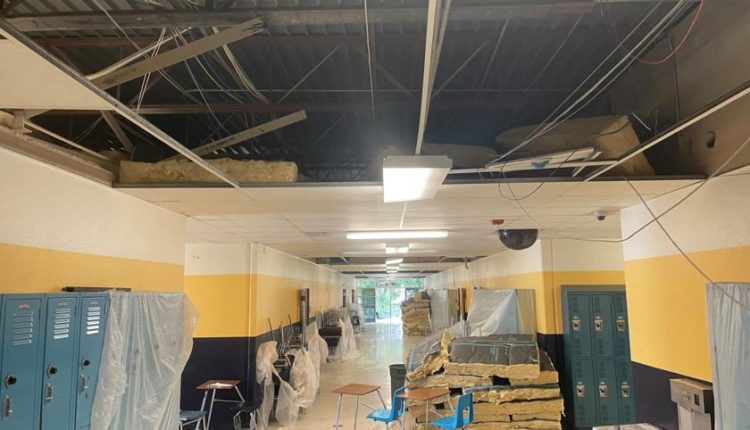 CCISD campuses under construction in advance of August opening | Copperas Cove Herald
Summer means construction in Copperas Cove ISD as the district continues to make improvements to facilities. Eight of the district's 11 campuses have been budgeted for some form of building renovation.
CCISD Deputy Superintendent of Operations and Support Rick Kirkpatrick oversees construction projects in the district.
"The district has undertaken an HVAC replacement project to complete this before school starts on Aug. 18," Kirkpatrick said.
Four campuses will be affected by the project as HVAC systems in specific areas of the schools will be replaced based on the systems' lifespan and budget timeline. The cost of the HVAC replacement project is $3,365,000.
CCHS – 300 wings, fine arts, including the 400 classrooms, auditorium, and athletics annex; units being replaced are original to the building, installed in 2000.
Fairview/Miss Jewell Elementary — gym units and the units in rooms 202-207; units that were replaced were installed in 1999.
Mae Stevens Early Learning Academy – Rooms 27-30 and the gym; units that were replaced were installed in 1999.
Clements/Parsons Elementary – all units on the Clements side; units that were replaced were installed in 1999.
Kirkpatrick said that in addition to HVAC, major renovations and additions will take place at several campuses through next school year.
"To ensure our campuses can handle the expected growth in CCISD, several campuses are undergoing additions and renovations," Kirkpatrick said. "Mae Stevens Early Learning Academy, Martin Walker Elementary and Williams/Ledger Elementary are adding additional classrooms. In addition, new cafeterias are being built at Mae Stevens and Martin Walker to accommodate the increased enrollment."
Construction will take place on five campuses during the school year with a completion date of August 2022.
Mae Stevens Early Learning Academy – New cafeteria, new toilets, renovation of existing toilets, front office renovation, addition of four classrooms, nursing ward renovation, playground addition and renovation
Martin Walker Elementary – New cafeteria, renovation of existing cafeteria to create additional classrooms, front office renovation, addition of six classrooms, nursing room renovation
Halstead Elementary – renovation of classrooms for special education students, renovation and addition to front office, new floors in corridors and classrooms where needed
Copperas Cove Junior High – Renovation of toilets in the 200 wing
Williams/Ledger Elementary – eight new classrooms, four on the Williams side and four on the Ledger side, playground addition and renovation
After Tuesday's monthly school board meeting, Kirkpatrick highlighted the renovation of Martin Walker Elementary.
"The goal at Martin Walker is to open the new cafeteria around spring break, move there and then start renovating the existing cafeteria, kitchen and that classroom space there," Kirkpatrick said.
The renovation of the campus front office includes new secure entry halls with access control and secure transaction windows to further ensure the safety of students and staff.
"It is an exciting time to be in CCISD as we continue to improve our facilities to provide the best possible educational space for our staff and students," said Kirkpatrick.
Upcoming sewerage projects
At the school board's monthly meeting on Tuesday, the administrators approved the district to advertise that it is seeking bids for a drainage improvement project for Copperas Cove High School and Martin Walker Elementary.
Kirkpatrick hopes to have a bid proposal for the board of directors to approve at the next meeting in August.
In both projects it is the intention to lay the drainage pipes underground.
At Martin Walker, the pipe behind the school is above ground, creating what Kirkpatrick called "a maintenance nightmare." The runoff causes the growth of moss and reeds near where students have access.
"So we take that water, we push it all underground, we basically get it all in one box culvert and take it off the terrain," Kirkpatrick said.
He added that it will resolve the flow of the water coming into the backyards of area homes.
At CCHS it will be similar.
"That water right now is all surface runoff, so in a big rain we'll run water over the baseball field, we'll fill the trench in front of the baseball field — it's just not a good situation," Kirkpatrick said. "So by taking all that water and bringing it all underground, it opens up… we can put parking lots on it, we can put practice fields on it, we can put playing fields on it; you just can't place structures."
During the meeting, Burns told the board that the high school project is anticipating a possible influx of students based on the city's projected growth.
He told the board that 5,000 new homes are currently being built in the city — 3,900 of which are where students would attend CCISD — forcing the district to start looking at what campuses should look like.
"We've heard a lot of people say, 'Hey, Dr. Burns, are we building a new high school?'" Burns said during the board meeting. Hey, we'd love to build a new high school, but it's $130 million for a high school, and to do that, voters would have to approve a bond that would raise our tax rate, and I just don't see people voting for it. a 50 cent increase in tax to build one campus that would affect 22, 23 or 25 hundred children."
Kirkpatrick added after the meeting that the district should prepare for the growth in advance rather than wait for them to get here.