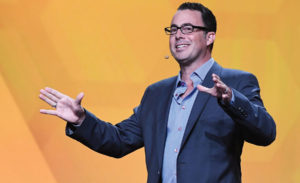 CCA Global looks to future with Retail 2.0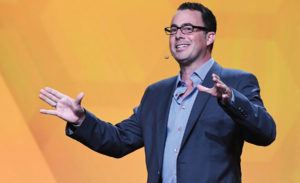 Nashville—CCA Global's 2022 summer convention, themed "The Future is Next," highlights the cooperative's bright future, and nothing illustrates that more than Retail 2.0. Now in the pilot phase, Retail 2.0 was the talk of day one here at Opryland Hotel. Retail 2.0 speaks for a simpler shopping experience for consumers with a less cluttered showroom with fewer products and integration of the online/in-store experience. According to CCA, early results from selected pilot members show that Retail 2.0 has led to higher profits.
CCA executives said the goal of Retail 2.0 is to make the customer journey as simple as possible and ultimately keep customers from other stores. "During this convention, we will board the Retail 2.0 aircraft, ready for takeoff," Keith Spano, president of Flooring America/Flooring Canada, told the estimated 1,600 members in attendance at the Opryland Hotel. "This is the future of CCA retail and the future of Next."
Three CCA retailers who agreed to take on Retail 2.0 as a pilot said there was initially a backlash from the retail sales force, but everyone eventually came to embrace it. Mike Nichols, sales executive for Carpet One Floor & Home in Jacksonville, Florida, said he was dubious about the program's effectiveness at first, but has come full circle after seeing what it's done for his business. "The program works," he said during a panel discussion. "What I like is that a customer can go to four stores in our market and three of them look the same. Ours will look very different."
Matt Silva, general manager of Peabody, Massachusetts-based Bradford Carpet One Floor & Home, says Retail 2.0 reminded him of all the opportunities his company had missed before. "With 2.0, we saw a higher turnover in more expensive products almost immediately. We have no intention of going back to the old system. Our profit has increased. We now have a visually impressive showroom that sets us apart from the competition."
Joey Zenger, president of Top Notch Flooring America, Bel Air, Md., added: "For us, [Retail 2.0] was a quick purchase. When our first sales associate was successful, the others followed. With 2.0 I realized how much time we had wasted with a sale before."
What CCA calls the "launch wave" of Retail 2.0 will begin in March 2023, rolling out in subsequent quarters, culminating in Q1 2024.
In other news, on the first full day of the CCA Summer Convention – the first meeting in more than a year – Carpet One introduced to members Room by Room, a new merchandising platform all about simplifying the shopping experience for consumers. Categories such as carpet, for example, are compiled by styles (patterns, loops, shades, multicolored) rather than fiber type or supplier.
John Gilbert, president of Carpet One Floor & Home, said that while members are not forced to take on Room by Room fixtures — and the associated costs — he noted that at some point Room by Room will be the only merchandising system that is supported by CCA.
ITR Economics: we are now in a recession
One of the highlights of CCA conventions is the presentation of ITR Economics, the economic forecasting agency with an accuracy score of 94.7%. Given that record, ITR economist Connor Lokar gave a presentation here on Tuesday that was a little sobering when he broke the news that the US economy is already "technically" in recession, according to ITR data.
Lokar said ITR does not subscribe to the government's definition of recession, which is two quarters of negative GDP growth. The data from ITR shows an economy that already meets the definition of recession. In addition, he said things will get "a little worse" before they get better. However, he assured CCA members that the sky was not falling.
"We are in a more challenging landscape," he said. "The 2021 growth rates were unsustainable; it was like we were all driving 120 MPH on the highway and now we are back to 65 MPH. We are going back to normal."
The good news, according to Lokar, is that the supply chain is improving, inflation is about to get better and the job market – a bugaboo for the flooring industry – will be less challenging, with fewer retention issues. "You'll have more horsepower to work with," he told retailers.
Lokar pointed out that the economic slowdown is happening on a global scale and by comparison, the US is doing much better than Europe, which Lokar says is entering an "ugly" period.
For the US, Lokar said ITR sees flat to slow growth over the next two to three quarters with improving conditions in the second half of 2023; however, he warned that inflation will still be higher (about 3.5%) than historical norms. "We are entering a period of 'disinflation', which amounts to a slowdown in rising prices."
In terms of housing, a critical metric for the flooring industry, the number of homes is down by one unit by 2022 and issuance of permits for new homes is also in the red. Consequently, builders are retreating, Lokar said. "We've had an unsustainable rise in home prices with buyers getting $50,000 above the asking price and 30 offers. This fall, we may see three listings and homes selling at list price."
The silver lining? Lokar said there are plenty of young people who have "been standing on the sidelines waiting for the madness to leave the market" and ready to enter the housing market. "And that's good news," he said. "We need churn in the market."
Here are highlights from the event: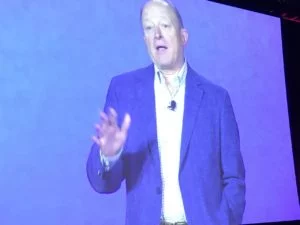 Rick Bennet, co-CEO of CCA Global Partners, opened proceedings at the 2022 Summer Convention on Tuesday by talking about the group's bright future. The event, themed 'The Future is Next', capitalizes on the many young leaders rising through the ranks of the group.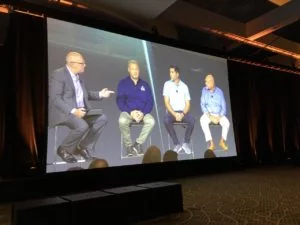 Co-op executives praised the group's new Retail 2.0 program designed to simplify the shopping experience for consumers. Retail 2.0 is still in a pilot phase, but has shown promising results. Three members of the pilot program: Joey Zengel; Matt Silva; and Mike Nichols – discuss their findings with moderator Mark Jeffries, far left.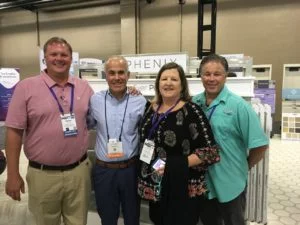 Floor suppliers and CCA members gathered on Tuesday evening for a suppliers' fair at the Opryland Hotel. The action was particularly lively at the Mannington booth where Jay Kopelson, VP Corporate Accounts (second from left), met members of Carol's Carpet Flooring America, Montgomery, Ala. From the left; Drew Courson, Lisa McCarty and Tony McCarty.
Unlike previous years, when Flooring America and Carpet One retailers had separate shows on different days, combining the two groups into one show was a big hit for suppliers.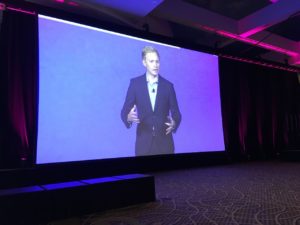 Connor Lokar, economist at ITR Economics, speaks with retail members of CCA. Citing ITR data, Lokar said the US economy is already "technically" in recession, but flooring professionals shouldn't take it as the sky is falling. ITR forecast a period of flat to slow growth, with inflation and labor challenges beginning to ease.