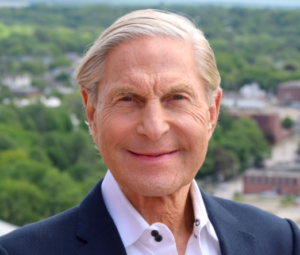 CCA convention kicks off with Brodsky tribute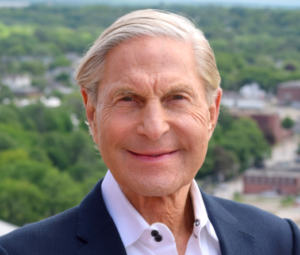 Nashville-CCA Global Partners kicked off the 2022 summer convention here Monday night by paying tribute to Howard Brodsky, the co-founder, co-CEO and chairman of CCA, who is retiring after 38 years.
The tribute included a one-on-one conversation with Brodsky about his career, as well as testimonials from his siblings, college roommates at Wesleyan University in Connecticut, and current and former CCA members. Many of them praised Brodsky for his empathy and warm heart, a man who spent a lot of time on things like Big Brothers/Big Sisters, Tunnel to Towers, and also served as a trustee at Southern New Hampshire University.
Brodsky, who started in the flooring business as a young teenager, said he was determined to make a career out of it after his father, who started the family flooring store in Manchester, NH, died when Brodsky was 13 years old.
Brodsky treated the audience at the Opryland Hotel to stories of how he and Alan Greenberg seized the opportunity to start the co-op 38 years ago, at a time when many of the factories were trying to convince them otherwise.
However, it turned out to be the right decision, because CCA has grown into a powerhouse as the largest flooring purchasing group in the industry. "The cooperative is the great equalizer," Brodsky said. "We can provide the tools to help a small business thrive while maintaining their independence."
Although he is retiring, he will remain chairman of the board of CCA. "Over 38 incredible years, CCA Global has given my life both purpose and joy," he said. "For me, the greatest joy has been building this company and community together for the betterment of all. I feel happy every day that I wake up with a passion and love for what I do. I have deep gratitude for each of you."
Here are highlights from the event: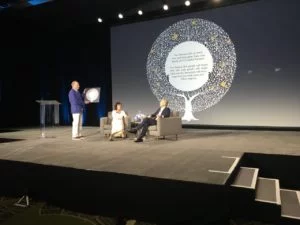 Rick Bennet, co-CEO of CCA Global Partners, presents outgoing co-CEO, Howard Brodsky, with a plaque in recognition of his 38-year contributions. Brodsky, seated with his wife Joan, will remain chairman of the board but will give up day-to-day operations.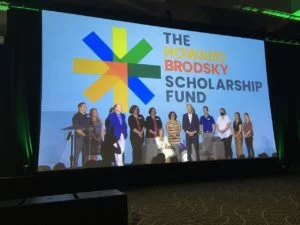 Brodsky addresses CCA members as he is surrounded by graduates of Southern New Hampshire University. Brodsky has been a curator of the university for many years. As a retirement gift, CCA announced a scholarship in Brodsky's name, with initial funding of $200,000. "This is a touching, beautiful gift," Brodsky told members. "You couldn't have thought of a better present for me."
The CCA Summer Convention, which brings together all of the organization's retail groups, continues this week with general sessions for Carpet One Floor & Home and Flooring America, as well as a trade show for suppliers.
Check back this week to learn more about the event.